2023 Fall Break - Pumpkin patch and corn maze attractions are another activity available during fall break at Washoe County Schools.
Andelin Family Farm Harvest Festival Pumpkin Patch & Corn Maze
Opens on Wednesday, September 27, 2023, closes on Saturday, November 4, 2023. Pumpkin Patch times are from 10 a.m. to 6 p.m., 7 p.m. or 8 p.m., depending on the day. Closed Sundays, Mondays, Tuesdays. There are lots of attractions, including access to the U-pick pumpkin patch, hay rides, barrel train rides, gem mining, horse rides, hamster wheel, meeting farm animals, hay bale maze, pumpkin shooting and lots more. Get tickets online for the best deal.
The Corn Maze is open Tuesdays through Saturdays from 10 a.m. to 10 p.m. (extra fee). Visit the website for more details and online ticket sales.
There will be a scary Corn Creepers haunted corn field open Thursdays through Saturdays starting at 7:15 p.m. (see more at "Halloween Haunted Houses").
A popular attraction is Zombie Paintball, where you can do battle with the undead. The battle wagons roll starting September 30, 2023. Visit the website for more details.
The Andelin Family Farm Adventure Farm (aka Pumpkin Patch) is located on a real working farm in the Spanish Springs area of Sparks, at 8100 Pyramid Highway, about half a mile north of Lazy 5 Park. Adventure Farm admission is $13 per person Wednesday through Friday purchased online, $15 on Saturday (kids under 2 are free) purchased online and includes a hayride, barrel train, meeting farm animals, hay bale maze for kids, and lots more. The Corn Maze is $8 purchased online. For more information, call (775) 530-8032. NO DOGS, except certified service animals.
Ferrari Farms Fall Festival
September 30 through October 31, 2023. Ferrari Farm puts on a big Halloween event. There is a pumpkin patch, corn maze, carnival rides, farm animals, food trucks, hay rides, movie nights, haunted corn maze, and pumpkins, squash, gourds and decorations for sale. Entry is free with activities individually priced. Hours are 10 a.m. to 8 p.m. Sunday through Thursday, Friday and Saturday till 10 p.m. You can go out in the field and pick your own pumpkin. Ferrari Farm is at 4701 Mill Street in Reno, a block east of Rock Boulevard. Get more information at (775) 997-FARM (3276).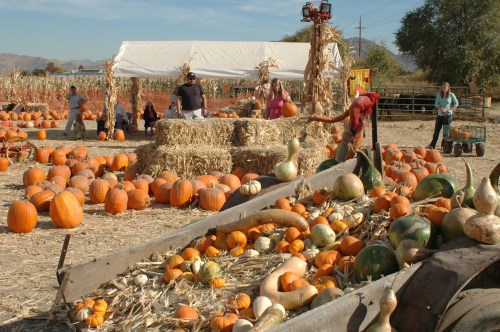 Pumpkin patch and corn maze at Ferrari Farm in Reno, Nevada. Photo © Stan White
Lattin Farms Corn Maze and Fall Festival in Fallon
Open September 30, October 6, 7, 13, 14, 20, 21, 27, 28, 2023, from 10 a.m. to 5:30 p.m. Closed on Sundays. The big attraction at Lattin Farms is a huge corn maze that has a different theme each year. The 2023 corn maze opens on Friday, September 30, and will be open every Friday from 5 p.m. to 8 p.m. and Saturdays from 10 a.m. to 8 p.m. Corn maze admission is $9, kids 3 and under free. Be sure to check the website for additional dates, details and online ticket sales. Lattin Farms is about 60 miles east of Reno / Sparks, at 1955 McLean Road, Fallon, Nevada 89406. For more information, call (775) 867-3750 or toll free at (866) 638-6293.
Corley Ranch Harvest Festival and Pumpkin Patch
October 1 - 31, 2023. Corley Ranch will be hosting a daily pumpkin patch that includes, pig races, farm animals, miniature golf, hay rides, and straw maze, entertainment, and other activities like train and pony rides and a giant slingshot. You can also buy pumpkins and visit sellers of food, crafts, and other vendors. Hours are daily from 10 a.m. to 5 p.m. Weekday admission is $5 per person. Weekend admission is $10 for adults and children, $8 for seniors and free for kids 2 and under. There is an extra fee for things like the train and giant slingshot. On weekdays, some of the attractions may be limited. For more information, call (775) 790-1705. Do not bring dogs (except service dogs) or other animals. Corley Ranch is located south of Carson City at 859 Highway 395 South in Gardnerville, NV 89410.
Wemple's Pumpkin Patch
October 1 - 31, 2023, 9 a.m. to 5 p.m. each day. Wemple's Pumpkin Patch is a family-owned, family-run farm located at 450-525 Wemple Lane in Milford, California (Honey Lake Valley near Susanville). The Pumpkin Patch offers an old fashioned farm experience that makes memories for years to come. There are hay rides, U-Pick pumpkins, squash and gourds, a country store, cookhouse, hay maze and a corn maze. There are lots of animals to view and enjoy. No dogs allowed on the farm.
More Halloween Activities
Sponsored Links
Sponsored Link