The Sparks Parks and Recreation Department provides activities for all ages and abilities, including sports leagues, camps, competitions, aquatics, arts, dance, community classes, senior outings, kids out-of-school programs, activities for people with disabilities, special events and more. Recreation facilities include three community centers, two outdoor swimming pools, and two sports complexes. In addition, there are over 50 public park sites in Sparks where you can make your own fun.
What's in the Sparks Activity Guide
The Sparks Activity Guide is published twice a year - spring / summer and autumn / winter. Contents vary somewhat by season, but here are some of the main topics covered in these guides...
General and Contact Information
Community Centers
Aquatics / Swimming
Arts
Kids Out-of-School Programs
Small Wonders Learning Center
Community Classes
Youth Sports
Special Events
Adult Sports
Special Populations
Community Giving
Parks and Facilities
Registration Information
Get your copy of the Sparks Activity Guide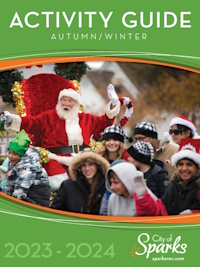 There is a really nice online version of the Sparks Activity Guide. You can read it on the website or download a copy to your computer. I believe paper copies are available at Sparks recreation facilities. To find out which facilities have copies, call (775) 353-2376.
Sparks Parks and Recreation Department
98 Richards Way, Sparks, NV 89431
(775) 353-2376
Monday through Thursday, 7:30 a.m. to 5:30 p.m.
Call the office for information about youth scholarship assistance for program fees, available to children, seniors, and those with disabilities who cannot otherwise participate due to limited finances.
Parks and Recreation in Reno - There are lots more recreational opportunities available from the City of Reno. To learn more, go to "Reno Parks and Recreation Guide."
Sponsored Links
Sponsored Link