Tahoe Meadows (sometimes referred to as Mt. Rose Meadows) is located just below the pass between Mt. Rose and Slide Mountain. The area is part of Humboldt-Toiyabe National Forest and is open to the public. It's free to enjoy recreation at Tahoe Meadows - there are no visitor or parking fees involved. Remember that Tahoe Meadows is a high elevation location. At 8740 feet, it is almost twice as high as Reno.
Hiking Trails at Tahoe Meadows
Tahoe Meadows and the surrounding slopes are all open to hiking on established trails or striking out on cross country treks. The main established route is the Tahoe Meadows Interpetive Loop Trail, but other hiking leads to great views throughout the area. One of my favorite hikes takes off through the forest to the southeast, above the open area of the meadow. After a fairly short distance and moderate climb, you emerge in a treeless area affording spectacular views of Lake Tahoe and the jagged Sierra Nevada peaks surrounding it.
Tahoe Meadows is the top end of the Ophir Creek Trail. This hike should only be attempted by experienced hikers in good shape. It's only 7.5 miles between Tahoe Meadows and the other end of the trail at Davis Creek Regional Park in Washoe Valley. The distance isn't excessive, but the elevation gain is serious - 3379 feet from bottom to top. The obvious easier way to hike this trail is from top to bottom, with a car shuttle arrangement. Read up on this hike before giving it a go.
The Tahoe Rim Trail (TRT) passes through Tahoe Meadows. You can hop on the TRT from the trailhead here and head out in either direction on this amazing route.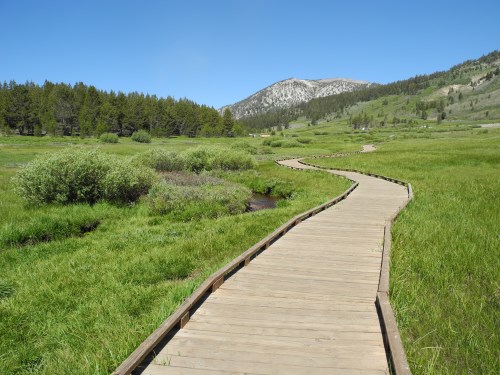 Boardwalk section of the Tahoe Meadows Interpretive Loop Trail. Photo © Stan White
Tahoe Meadows Interpretive Loop Trail
The Tahoe Meadows Interpretive Loop Trail is flat all the way around its 1.2 mile length and is wheelchair accessible. There are interpretive signs along the way and dogs on leash are allowed, but no mountain bikes or horses. The trail winds through the open meadow and crosses clear mountain creeks, affording great views and a chance to see a variety of birds and other wildlife. Part of the trail is on a raised boardwalk. The trailhead is half a mile southwest of Mt. Rose summit on Nevada 431. There is paved parking and vault toilets. The Tahoe Meadows Interpretive Trail is actually a part of the Tahoe Rim Trail.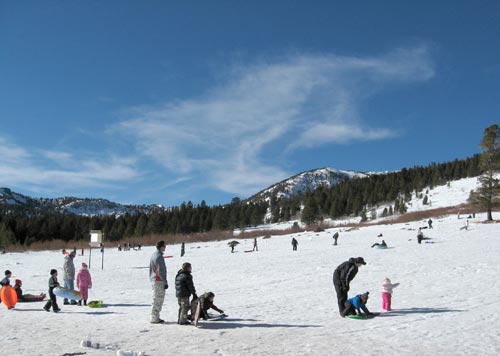 Tahoe Meadows is a popular snow play and snowshoeing place during the winter months. Photo © Stan White
Winter Activities at Tahoe Meadows
Tahoe Meadows is one of the most popular winter fun snow play places for residents of Reno / Tahoe. Activities include sledding and tubing, snowshoeing, crosscountry skiing, and snowmobiling. Snowmobiles are restricted to the southwest part of the area, keeping a safe distance between motorized and human powered activities. Tahoe Meadows is close to the main population areas from Reno south to Carson City and usually easy to get to when the mountains are covered in show. At 8900 feet, Mt. Rose Summit is the highest Sierra pass kept open during winter. Tahoe Meadows is in Nevada and there are no user or parking fees like at California SNO-PARKS.
Directions to Tahoe Meadows from Reno
The drive from Reno to Tahoe Meadows is about 20 miles. Take the Mt. Rose Highway (Nevada 431) from south Reno and drive up to the Mt. Rose summit. Continue a short distance and you'll see the parking area and trailhead for the Tahoe Rim Trail on the left. There is more parking a short distance further, on wide shoulders on both sides of the highway. The drive up here is a treat in itself - the Mt. Rose Highway is one of Nevada's designated scenic byways.
More Outdoor Recreation Near Tahoe Meadows
Sponsored Links
Sponsored Link