About the KTMB Christmas Tree Recycling Program
The annual Christmas tree recycling program, sponsored by Keep Truckee Meadows Beautiful (KTMB) and other public and private organizations, will run from December 26, 2023 through January 7, 2024, daily from 9 a.m. to 4:30 p.m. This program is an excellent way to give your Christmas tree a new purpose while keeping it out of the landfill or letting it be illegally dumped in our open spaces. To help KTMB fund this and other projects throughout the year, a donation of $5 per tree is requested.
Christmas trees are turned into mulch and used for park and weed abatement projects. Residents can pick up free mulch at the Bartley Ranch Park and Rancho San Rafael Park drop-off sites.
The Christmas tree recycling program accepts natural trees with all ornaments, lights, tinsel and stands removed. Flocked trees are not accepted. However, the program will collect unwanted Christmas lights for recycling.
Where to Recycle Christmas Trees
Drop-off times are the same at each site - 9 a.m. to 4:30 p.m. each day.
Bartley Ranch Regional Park, 6000 Bartley Ranch Road (off Lakeside Drive) in Reno
Reno Sports Complex at Rancho San Rafael Regional Park, 2975 N. Virginia Street in Reno
Shadow Mountain Sports Complex, 3300 Sparks Boulevard (Shadow Lane entrance) in Sparks
Truckee Meadows Fire Station 46 in Spanish Springs, 500 Rockwell Blvd.
Truckee Meadows Fire Station 44 in Stead, 10575 Silver Lake Blvd.
Truckee Meadows Fire Station 32 in Washoe Valley, 1240 East Lake Blvd.
KTMB Christmas Tree Recycling Volunteers
The Christmas tree recycling program depends on volunteers to help at the collection locations. You can sign up online and choose the location where you would like to work. For more information or to volunteer by phone, call (775) 851-5185. Christmas tree recycling is 7 days a week from December 26, 2023 through January 7, 2024. Shifts are available every day from 9 a.m. to 1 p.m. and from 1 p.m. to 4:30 p.m. Volunteers must be at least 14 years old and volunteers under 18 must volunteer with an adult.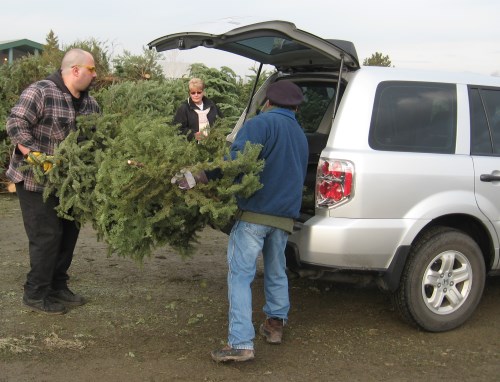 Volunteers help with Christmas tree recycling at Bartley Ranch Regional Park in Reno. Photo © Stan White
Holiday Tree Recycling in Incline Village and Crystal Bay
Waste Management will collect clean trees for recycling at the curbside only during the week of January 9 to 13, 2023. Trees must be cut into 3 foot or smaller lengths and clean of decorations, nails and tree stands.
Trees of any size can be taken to Preston Field from December 23, 2022, to January 30, 2023. Trees must be cleaned of all decorations, nails and tree stands. Trees are chipped for local erosion control projects.
Christmas Tree Recycling in Truckee
Between December 23, 2023 and January 14, 2024, drop off your Christmas tree anytime at one of the below locations OR leave your tree out with your regular trash the week of January 8 - 12, 2024, for curbside collection. Trees collected curbside must be cut in three foot segments and placed next to your trash can before 6 a.m. on your trash day.
Truckee High School Soccer Fields, 11725 Donner Pass Rd.
Tahoe Donner Northwoods Clubhouse, 11509 Northwoods Blvd.
Legacy Trail Parking Lot, Glenshire Drive.
Enterprise Car Rental Parking Lot at Truckee Tahoe Airport
Scouts 4 Trees Fundraiser
Scouts 4 Trees will come pick up Christmas trees at your home. The donation is $20 per tree. The program helps support many Scouts in the Reno / Sparks area to be able to enjoy monthly camping, leadership training, summer adventures, and so much more. Available dates are December 30, 2023 and January 6 - 7, 2024. You can sign up online for this service. Visit the website for more details about available times and registration. Sponsored by Boy Scouts of America Nevada Area Council.
Sponsored Links
Sponsored Link