Sponsored Link

2019 Fall Photo Hikes in the Reno Area
Capture Fall Colors on these Free Washoe County Trails Hikes
Search NewToReno
Custom Search
Wolf Pack Football

Get out and root for the Wolf Pack during the upcoming football season.
Nevada's Public Lands

Nevada is over 80% public land, making for outdoor recreation ranging from tame to truly wild.
Sponsored Link

Join Washoe County park rangers to explore some of the Reno area's most scenic hiking trails. These hikes provide amateur photographers and hiking enthusiasts with the opportunity to capture their own spectacular fall photography. If this sounds like fun, then bring a jacket, a sturdy pair of hiking boots, a bottle of water, and of course your camera. The hikes will cover 3 to 5 miles in 2 to 3 hours, weather permitting. Do not bring pets - they will not be allowed on the hikes.
Here is the fall 2019 photo hikes schedule...
Saturday, Oct. 5, 2019, 2 p.m. - Upper Whites Creek Trail - Meet at the trailhead at the end of NF-047, off of Timberline Drive in South Reno.
Saturday, Oct. 19, 2019, 2 p.m. - Galena Creek Regional Park - Meet at the south entrance parking area at 18350 Mt. Rose Highway.
Saturday, Oct. 26, 2019, 2 p.m. - Upper Thomas Creek Trail - Meet at the trailhead at the end of Timberline Drive, just north of the creek crossing.
Saturday, Nov. 2, 2019, 2 p.m. - Crystal Peak Park - Meet at the parking area near the corner of Crystal Park Road and old Hwy 40 in Verdi.
For more information and to RSVP for the hikes, call (775) 849-2511. For specific directions to trailheads, go to "Fall Photo Hikes."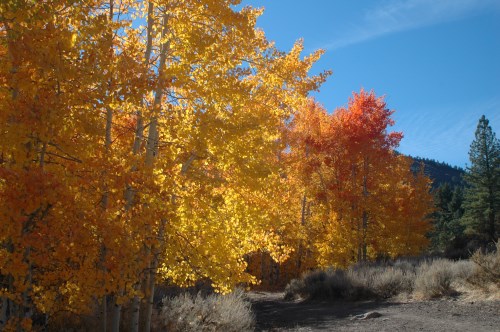 Fall color at Thomas Creek near Reno, Nevada. Photo © Stan White
Source: Washoe County Regional Parks and Open Space.
Sponsored Links
Sponsored Link