Here are ways to take advantage of free (and legal) dumping services for Reno, Sparks, and Washoe County residents.
Free Dumping for Washoe County Residents
Residential customers of Waste Management in Washoe County can take one standard pickup of trash to the transfer stations or Lockwood landfill for free four times a year during business hours. You must be current on your bill and present proof of residency.
Reno Transfer Station - 1390 E. Commercial Row, Reno, NV 89512.
Monday through Friday, 7 a.m. to 5 p.m.
Saturday and Sunday, 8 a.m. to 4:30 p.m.
Stead Transfer Station - 13890 Mt. Anderson Road, Reno, NV 89506.
Tuesday through Saturday, 8 a.m. to 4 p.m.
Closed Sunday and Monday
Lockwood Landfill - 2700 E. Mustang Road, Sparks, NV 89434
Monday through Friday, 8 a.m. to 4:30 p.m.
More Waste Management Information for Washoe County Residents
Senior Discount - A senior rate is available for customers 70 and older. Call (775) 329-8822 for details.
Excess Waste Stickers - Customers can dispose of waste that won't fit in their standard trash can by using the stickers provided and placing them on 32-gallon bags at the curb. The first 25 come with your disposal service. You can purchase additional stickers by calling (775) 329-8822.
Spring and Fall Excess Waste Pickup - Residential customers in unincorporated areas of Washoe County can place six bags at the curb each week without a sticker during May and November.
Pickup Schedule - Trash is collected every week, recycling every other week. Service continues uninterruped on all holidays.
Note: Electronic waste/recycling and hazardous waste will not be accepted. Hazardous waste is never taken at the transfer stations or the Lockwood Landfill. Tires are limited to 4 per household. Refer to the information below for how to deal with household hazardous and electronic waste.
Recycling Information for Washoe County
For recycling information from Waste Management, refer to "Washoe County Recycling Facts and Tips."
Keep Truckee Meadows Beautiful (KTMB) is also a good source of recycling information for Washoe County. The "Recycling Guide" website has an extensive list of where to recycle or properly dispose of numerous items and more information as well.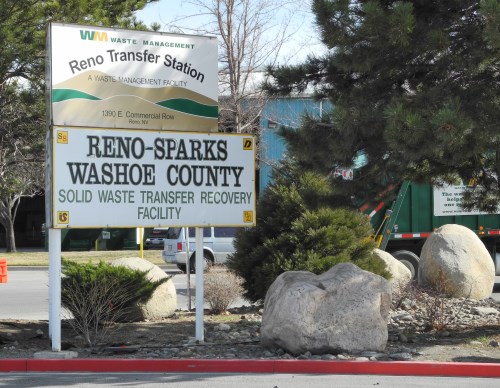 Waste Management Transfer Station in Reno, Nevada. Photo © Stan White
Sponsored Links
Sponsored Link