The Discover Science Lecture Series at the University of Nevada, Reno brings renowned scientists and science lecturers from around the country to share their knowledge with the community.
"Science encompasses a wonderfully diverse collection of explorations into the unknown," said Jeff Thompson, dean of the UNR College of Science. "Come and experience the universe of science as the best scientists on the planet visit Nevada for our lecture series. It's a wonderful opportunity for students, faculty and the public."
Lectures will be in an online webinar format until further notice. They are normally held in person at the Davidson Mathematics and Science Center on the University campus.
Dr. Bridget Ayling, director of UNR's Great Basin Center for Geothermal Energy - September 24, 2020. In this role, Dr. Ayling is responsible for developing research and education programs in the field of geothermal energy, overseeing research to understand the complexities of fluid flow in the upper crust and the implications of this for geothermal resource exploration and management, managing the public dissemination of geothermal datasets for Nevada, and supervising graduate students. You must register for this online webinar, which starts at 7 p.m.
Dr. Beth Leger, a director of the Reno Museum of Natural History at UNR - October 22, 2020. Many people appreciate the aesthetic appeal of natural history museums, and these collections are a treasured part of school field trips, family vacations, and rainy weekend days, for people lucky enough to have access to a public museum of natural history. Beyond the sometimes old-fashioned displays (dioramas, skins, and skeletons), there is a whole world of irreplaceable collections hidden away in scientifically controlled environments, representing a record of the history of life on earth that exists nowhere else. In addition to educating the public, these collections are important for lines of research that include questions about responses to climate change, managing invasive species, and the identification of new diseases, among many others. You must register for this online webinar, which starts at 7 p.m.
Dr. Neil Lareau, assistant professor in the Department of Physics at the University of Nevada, Reno - November 19, 2020. Large, high-intensity wildfires can generate their own extreme weather, including fire-generated thunderstorms (i.e., pyrocumulonimbus) and rare fire-tornados. Lareau's research aims to understand these phenomena using state-of-the-science radars and lidars, which can probe the internal dynamics of wildfire convective plumes. You must register for this online webinar, which starts at 7 p.m.
Source: University of Nevada, Reno.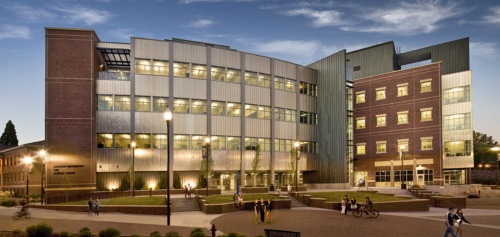 Davidson Mathematics and Science Center at University of Nevada, Reno. Photo courtesy UNR.
Sponsored Links