The Discover Science Lecture Series at the University of Nevada, Reno brings renowned scientists and science lecturers from around the country to share their knowledge with the community.
"Science encompasses a wonderfully diverse collection of explorations into the unknown," said Jeff Thompson, dean of the UNR College of Science. "Come and experience the universe of science as the best scientists on the planet visit Nevada for our lecture series. It's a wonderful opportunity for students, faculty and the public."
Lectures are held in the evening at 7 p.m. in the Redfield Auditorium in the Davidson Mathematics and Science Center on the University campus. Admission is free and on a first come basis. Parking is reserved for the event on the top level of the Brian J. Whalen Parking Complex on North Virginia Street, next to the E.L. Wiegand Fitness Center. For more information, call (775) 784-4591 or visit the Discover Science Lecture Series website.
Dr. William Tate, Washington University - February 6, 2020. Tate has a particular interest in STEM attainment. Ongoing research projects include understanding the distal and social factors that predict STEM doctoral degree attainment defined broadly to include highly quantitative social sciences disciplines.
Dr. Harry Jol, Geoarchaeologist and Holocaust studies - March 12, 2020. Professor at the University of Wisconsin-Eau Claire, geoarchaeologist and researcher specializing in the use of ground-penetrating radar (GPR). Jol will be discussing his research, particularly his use of GPR in Holocaust studies at suspected locations of mass graves, destroyed synagogues, ritual bathhouses and other structures in Lithuania that have been lost to time.
Dr. Harrison Schmitt, geologist and Apollo 17 NASA astronaut. April 9, 2020. Dr. Harrison Schmitt is an American geologist, retired NASA astronaut, university professor, former U.S. senator from New Mexico, and, as a crew member of Apollo 17, the most recent living person to have walked on the Moon.
Dr. David Wineland, Nobel-laureate physicist: Optical Atomic Clocks. April 23, 2020. Dr. David Wineland is an American Nobel-laureate physicist at the National Institute of Standards and Technology (NIST), and currently the Philip H. Knight Distinguished Research Chair and Research Professor in the Department of Physics at the University of Oregon in Eugene. A long-term goal of Dr. Wineland's work has been to increase the precision of atomic spectroscopy, the measurement of the frequencies of atoms' characteristic vibrations.
Source: University of Nevada, Reno.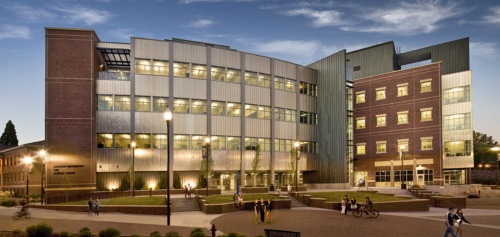 Davidson Mathematics and Science Center at University of Nevada, Reno. Photo courtesy UNR.
Sponsored Links