What is the Reno Citizens Institute?
The 2018 Reno Citizens Institute session runs from August 9 through October 11. The registration deadline is July 18, 2018 or until capacity is reached. Space is limited to the first 40 participants.
The Reno Citizens Institute (RCI) answers many of the questions you may have about how government works in the City of Reno, Nevada. RCI is a nine week course (plus the graduation ceremony on October 11) covering a variety of Reno city government functions. The program is offered free to Reno citizens.
RCI participants meet with elected officials and City of Reno staff to gain an understanding of Reno's structure, processes, and services through hands-on exercises and presentations.
RCI gives participants valuable insight into City operations so they can become ambassadors for positive change in their neighborhood and the community. It also offers a learning opportunity for those who want to serve on one of Reno's advisory boards or are interested in running for office.
Register for the Reno Citizens Institute
Pre-registration is required for RCI attendees. The deadline is July 28, 2017. For additional information, visit the website, call (775) 334-4636 or email rci@reno.gov. Online registration is available.
2018 Sessions of the Reno Citizens Institute
August 9 - City Manager's Office
August 16 - Community Development #1 - Housing and Code Enforcement
August 23 - Community Development #2 - Business License, Buiilding Division, Planning and Engineering
August 30 - Reno Fire Department
September 6 - Finance, Human Resources and City Clerk's Office
September 13 - Parks, Recreation and Community Services
September 20 - Public Works
September 27 - City Attorney's Office and Municipal Court
October 4 - Reno Police Department
October 11 - Graduation
Classes are held on Thursday evenings from 5:30 p.m. to 7:30 p.m., with light snacks served at 5:15 p.m. To receive a certificate of completion from the Reno City Council, participants must attend at least eight sessions.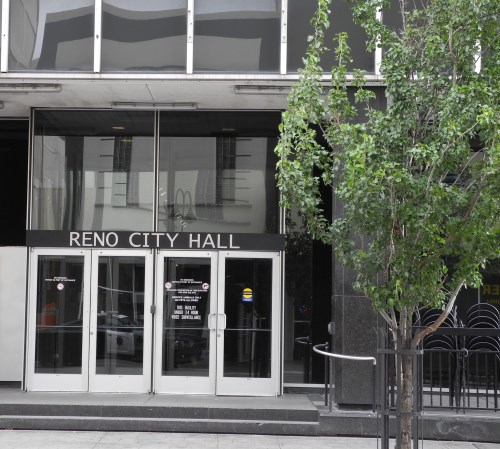 City Hall in downtown Reno, Nevada. Photo © Stan White
Sources: City of Reno press release and website.
Sponsored Links
Sponsored Link