Bowers Mansion Regional Park offers a variety of recreational opportunities. During summer, the Bowers Mansion public swimming pool is popular. Other activities include picnicking under tall shade trees, play areas on big expanses of lawn, short walks and hikes to learn about area history, and tours of Bowers Mansion. There are rentable picnic shelters for special events like family get-togethers and kids' birthday parties. Bowers Mansion Regional Park is operated by Washoe County Regional Parks and Open Space.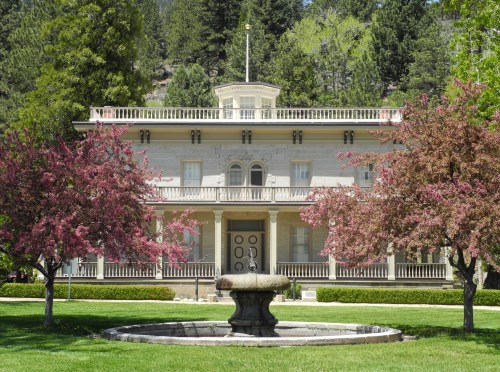 Bowers Mansion, namesake of this Washoe County park. Photo © Stan White
Things To Do at Bowers Mansion Regional Park
Facilities at Bowers Mansion Regional Park are day-use only. Admission to the park grounds is free. There are fees if you rent a picnic shelter and entrance fees to the swimming pool and for Bowers Mansion tours. Here are some of the possibilities...
Swimming pool (daily during summer).
Hiking and walking trails.
First come picnic and barbecue areas.
Reservable picnic areas.
Horseshoe pits.
Playgrounds.
Sunny lawn areas.
Historic information signs about Bowers Mansion and the former Washoe Valley resort.
Bowers Mansion self-guided tours (weekends during summer).
Call (775) 823-6501 for picnic pavilion reservations.
No pets - Pets are not allowed at Bowers Mansion Regional Park with the exception of service animals. This policy is due to the park's historical significance.
Location of Bowers Mansion Regional Park
Bowers Mansion Regional Park is about 20 miles south of Reno, in Washoe Valley at 4005 Old U.S. Highway 395 North. Take I580 / US 395 south from Reno to Washoe Valley and take Exit 50 at the bottom of the hill to. There are signs clearly directing you to Bowers Mansion and neighboring Davis Creek Regional Park, both on the west side of old 395. If you are coming from the south (Carson City area), look for park signs and the exit after passing Washoe Lake.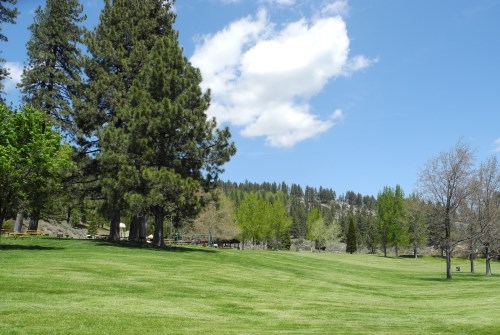 Open space and picnic areas at Bowers Mansion Regional Park. Photo © Stan White
Swimming Pool and Bowers Mansion Tours
The Bowers Mansion swimming pool is open from early June to mid-August. Swimming is available every day of the week from 12 noon to 5 p.m. (till 7 p.m. on Tuesday, Thursday and Friday). Pool water comes from a warm natural spring. For more information about the pool, swimming lessons or renting the pool for an event, call (775) 785-4512 x106.
Tours of Bowers Mansion are available on weekends during the summer months. The cost is $8 for adults, $5 for seniors and children. There is a Visitor Center directly behind the mansion.
Programs on the Porch at Bowers Mansion
Programs on the Porch theme for 2023 is 'Wildlife Edition'. A variety of wildlife professionals will be speaking starting at 7 p.m. during each Friday night of the series. The series is free, however donations are accepted and appreciated. Bring a blanket or lawn chair to get comfortable on the lawn.
May 19, 2023 - Birds of Prey with Master Falconer Marie Gaspari-Crawford
May 26, 2023 - Bears with NDOW
June 2, 2023 - Snakes with UNR Biology Dept.
June 9, 2023 - Bats with Carson Creature Catchers
June 16, 2023 - Bees with Northern Nevada Beekeepers Association
June 23, 2023 - Bobcats & Mountain Lions with NDOW
Other Nearby Parks
Sponsored Links
Sponsored Link