Why Worry About Radon Gas?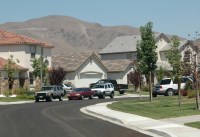 The simple answer to that question is "Because it can kill you." Radon is a naturally-occuring odorless, colorless, and tasteless radioactive gas, produced by the breakdown of uranium in soil, rock, and water. If it enters buildings, it can become concentrated enough to be a health hazard. You won't even know you are being exposed unless you test for its presence in your home. Other buildings can have elevated radon levels as well.
Radon exposure can cause lung cancer. According to the U.S. Environmental Protection Agency (EPA), around 21,000 people in the United States die each year from radon-caused lung cancer (second only to smoking). That's more people than die from exposure to secondhand smoke, drunk driving, falls in the home, drowning, or house fires.
Because of the geology here (lots of granite), people living in the Reno region are at a high risk for radon exposure. Fortunately, it is cheap and easy to test for radon in your home. If a problem is detected, mitigation measures can be taken to keep this silent killer outside where it is harmlessly dispersed. Check this Nevada Statewide Radon Potential map and you'll see that Reno and much of the surrounding area are among the highest risk zones. Statewide, one in four homes tested show radon concentrations at or above the EPA action level.
January is Radon Action Month
Lung cancer from radon exposure is preventable. During January and February of 2020, the University of Nevada Cooperative Extension "Nevada Radon Education Program" will be conducing free educational presentations at various locations around Reno and northern Nevada. Free home radon test kits will be available at the presentations. Should testing find unhealthy levels of radon, the situation can be fixed.
Jan. 9 at Incline Village Public Works, 1220 Sweetwater Rd., Incline Village, at 6 p.m.
Jan. 14 at Carson City Senior Center, 911 Beverly Dr., Carson City, at 6:30 p.m.
Jan. 15 at South Valleys Library, 15650 Wedge Parkway, Reno, at 6 p.m.
Jan. 16 at Genoa Town Hall, 2287 Main St., Genoa, at 6:30 p.m.
Jan. 18 at Sparks Library, 1125 12th St., Sparks, at 11 a.m.
Jan. 19 at Downtown Reno Library, 301 S. Center Street, Reno, at 11 a.m.
Jan. 30 at CVIC Hall, 1604 Esmeralda Ave., Minden, at 6 p.m.
Feb. 6 at Tahoe Regional Planning Agency, 128 Market St., Stateline, at 6 p.m.
Feb. 8 at Northwest Reno Library, 2325 Robb Drive, Reno, at 11 a.m.
Feb. 12, Lockwood Senior Center, 800 Peri Ranch Rd., Lockwood, at 12:15 p.m.
Feb. 20, Storey County Senior Center, 100 Mill St., Virginia City, at 1 p.m.
Where to get free Radon Test Kits
In addition to the presentations, free test kits are available at these northern Nevada locations.
Carson City/Storey County Cooperative Extension, 2621 Northgate Ln., Ste. 15, Carson City.
Clark County Cooperative Extension, 8050 Paradise Rd., Las Vegas.
Churchill County Cooperative Extension, 111 Sheckler Rd., Fallon.
Douglas County Cooperative Extension, 1325 Waterloo Ln., Gardnerville.
Tahoe Regional Planning Agency, 128 Market St., Stateline.
Genoa Town Office, 2289 Main St., Genoa.
Gardnerville Ranchos GID, 931 Mitch Dr., Gardnerville.
Eureka County Cooperative Extension, 701 Main St., Eureka.
Humboldt County Cooperative Extension, 1085 Fairgrounds Rd., Winnemucca.
Lander County Cooperative Extension, 815 N. Second St., Battle Mountain.
Lincoln County Cooperative Extension, 360 Lincoln St., Caliente.
Lyon County Cooperative Extension, 504 S. Main St., Yerington.
Mineral County Cooperative Extension, 205 S. A St., Hawthorne.
Pershing County Cooperative Extension, 810 Sixth St., Lovelock.
Washoe County Cooperative Extension, 4955 Energy Way, Reno.
Incline Village Recreation Center, 980 Incline Way, Incline Village.
White Pine County Cooperative Extension, 995 Campton St., Ely.
More Information About Radon in the Reno Area
Become better informed about radon by following these links and visiting the Nevada Radon Education Program website. Find out if radon is a hazard in your home and learn how to reduce the risk if it is. Test kits are free to Nevada residents from January 1 through February 29, 2020.
The Nevada Radon Education Program is a program of University of Nevada Cooperative Extension and is funded by the Nevada Division of Public and Behavioral Health. More than 23,000 Nevada homes have been tested since the program began in 2007.
Source: Nevada Radon Education Program.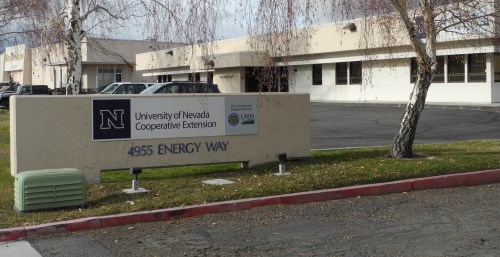 University of Nevada Cooperative Extension in Reno. Photo © Stan White
Sponsored Links