You can find parking in downtown Reno, even when various big events bring crowds to the city. There are actually lots of places to park if you know where to look. If you are willing to walk a little, there is even more parking places in the few blocks around the city's core.
Downtown Reno Parking Meters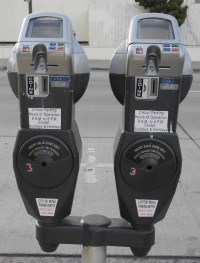 Reno has fancy parking meters in and immediately surrounding the city center. They accept both coins and credit/debit cards. They generally have a 2 hour limit and are enforced Monday through Saturday, from 9 a.m. to 6 p.m. Exceptions are holidays and Sundays, which are free. Some meters have exceptions and there may be temporary restrictions in some areas during special events or other conditions - be sure to read the meters and any posted signs so you don't get ticketed or towed.
If you do get a parking ticket, there are several ways to pay the fine, as explained on the city's Online Services webpage. Among these is the option to pay the fine online or by phone by calling (775) 334-2293.
Parking Garages in Downtown Reno
There are two parking garages in downtown Reno offering hourly and daily parking. These are not associated with a casino.
Parking Gallery - The address of this garage is 135 North Sierra Street, but the entrance and exit are on W. 1st Street, a block and a half west of Reno City Hall. Businesses in the area validate Parking Gallery parking, making this a good choice if you are going to the movies, catching a play at Bruka Theatre, or eating out in the Riverwalk District. The Parking Gallery has 140 spaces and is open 24 hours. Rates are $2 for the first hour, $1 for each additional half hour. The daily maximum is $30.00. The monthly rate is $47. Open 24 hours. For more information, call (775) 322-2219.
50 W. Liberty Street - The garage is on the south side of W. Liberty Street, between S. Virginia Street and S. Sierra Street. Operating hours are Monday through Friday, 7 a.m. to 6 p.m. The rate is $2 for the first half hour, $5 for each additional hour. Daily maximum is $30. The monthly rate is $50. Call (775) 376-6203 for more information.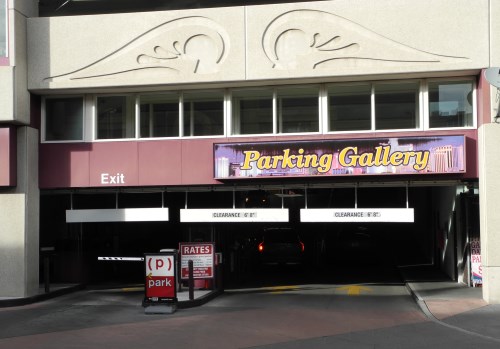 Parking Gallery in downtown Reno, Nevada. Photo © Stan White
City Hall Parking Garage - Public parking is $1 per hour, with a $24 daily maximum. You can pay using a walk-up kiosk on the ground level with cash and Visa or MasterCard. At the exit gate, payment is accepted by Visa or MasterCard only. Parking will be free-of-charge for City of Reno employees and people doing business or attending meetings at City Hall. To park free, visitors can get tickets validated at the 1st floor security desk or 2nd floor city clerk counter. The garage is on the corner of E. 1st Street and N. Center Street. The entrance is from N. Center. For more details, refer to "Reno Direct FAQs."
Free Parking courtesy of Washoe County
This square block of parking is across from the Washoe County Courthouse and reserved for county employees during the work week. It is open to the public, free of charge, after 5 p.m. on weekdays and all day on Saturdays, Sundays, and holidays. The lot is located between S. Virginia Street on the east, Court Street on the north, and S. Sierra Street on the west. The only entrance is from Court Street, across from the Courthouse. The lot is kitty - corner from the Pioneer Center for the Performing Arts, making it the best parking place for attending Pioneer Center events.
Other Downtown Reno Parking Lots
There are some other parking lots around downtown Reno that are associated with businesses and on private property. They can generally be used after business hours and whenever the businesses are closed. To avoid getting towed, you should read and heed any signs to the contrary that may be posted at these parking areas.
Wells Fargo Bank (corner Pine Street and Center Street)
US Bank (corner Ryland Street and S. Virginia Street)
Nevada State Bank (corner S. Sierra Street and E. Liberty Street)
Business parking lot behind Powning Veterans Memorial Park (corner State Street and S. Virginia Street)
There is a City of Reno pay parking lot at the corner of Mill Street and River Rock Street. It's close to the National Automobile Museum (which has it's own parking lot) and Greater Nevada Field. This one is a few blocks out from downtown Reno.
Another pay parking lot is at the corner of Pine Street and Sinclair Street, entered from Pine. It is a block south of the Siena Hotel and not real convenient to downtown Reno.
Parking Garages at Downtown Reno Casinos and Other Venues
Reno's downtown hotel casinos have parking garages and some have surface parking lots as well. Remember, however, that these are private businesses and they control access to parking as they see fit. If you are a patron of the establishment, parking is part of the deal if it's not full. When downtown is packed for some big event (like Hot August Nights), the hotels will be full and so will the parking garages. Otherwise, occasionally parking in one of these is okay as far as I know. During some events, such as Reno Aces baseball games, places close to Greater Nevada Field charge a fee to park while attending the game.
Club Cal Neva - parking garage entered from N. Center Street.
City of Reno - next to Reno City Hall, entered from N. Center Street (formerly owned by the Cal Neva).
Eldorado Hotel Casino - entrance from N. Sierra Street.
Silver Legacy Hotel Casino - entrance from N. Sierra Street.
Circus Circus Hotel Casino - two parking structures, both entered from N. Sierra Street.
Renaissance Hotel - parking garage and surface lot, both entered from Lake Street.
Whitney Peak Hotel Parking Garage (across from the Reno Arch) - entrances from N. Center Street and E. Plaza Street.
National Bowling Stadium - entrance from 4th Street.
Truckee River Office Tower - entrance from Ballpark Lane.
Sponsored Links
Sponsored Link