About the Ballardini Ranch Trailhead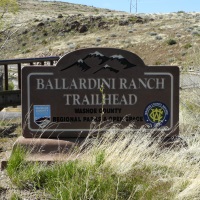 There is paved parking at the Ballardini Ranch Trailhead, along with a covered picnic pavilion, government-issue vault toilets, a nice information kiosk about the trails and Ballardini Ranch history, and a dog poop sign and bag dispenser. There is no drinking water available at the trailhead - be sure to bring enough for your hike.
The Ballardini Ranch Trailhead leads hikers and bikers to two trail loops totaling 2.5 miles. It is located in an out-of-the-way place in southwest Reno that has yet to be widely discovered. That means it receives light use (so far), making for a pleasant walk through the Sierra Nevada foothills.
The trails are a bit rocky, but well made with few really rough or steep sections. Some of it is old dirt roads from when the area really was the Ballardini family ranch. It is a good hike for those with kids. Each loop starts and ends from the parking area or you can take off on either one and continue around the other before returning to the start. Note that rattlesnakes live in the area, so don't let your kids run amuck.
A small creek runs next to the parking area, originating in the mountains to the west. The water supports a few cottonwood trees and willows, but otherwise there is no shade to be had along the trails. In spring, you will find a nice variety of wildflowers. Desert peach (a small shrub with profuse pink flowers) is particularly prominent. Another reward on this hike are great views - Sierra Nevada foothills and Carson Range to the west, Reno and the Truckee Meadows to the east.
You will notice some side trails that head toward the public land to the west, which you can check out if you like. I believe these are parts of planned trail extensions to connect Ballardini Ranch with the Thomas Creek Trail system near Galena and other existing trails to the north.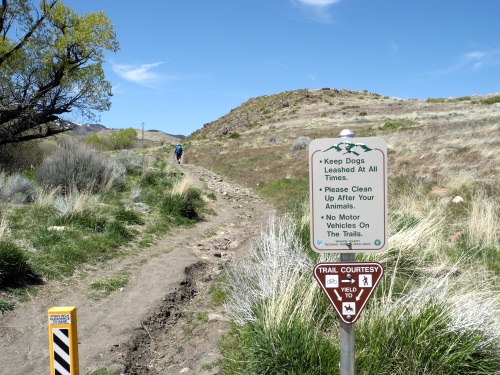 Interpretive signs found along the Ballardini Ranch Trail. Photo © Stan White
Dogs on the Ballardini Ranch Trails
Dogs must be leashed, as clearly stated on trailhead signage. Dog owners must also clean up their pets' poop. These are not mere requests, they are Washoe County law. If you would like other hikers and bikers to be more tolerant of your pets, follow these rules of common courtesy to other trail users.
Reaching the Ballardini Ranch Trailhead
From S. McCarran Boulevard, go south for 2.1 miles on Lakeside Drive. You will pass Bartley Ranch Regional Park and continue over a hill. Turn right on Lone Tree Lake and go less than a mile to the intersection with Bellhaven Road. Continue straight and you'll come to the Ballardini Ranch Trailhead parking area.


Desert peach blooming along the Ballardini Ranch Trail. Photo © Stan White
For more hiking trails in the Reno area, refer to "Reno Area Hiking and Walking Trails."
Sponsored Links
Sponsored Link