About the Nevada State Museum
Part of the Nevada State Museum is housed in the historic Carson City Mint building, which produced coins with the "CC" mint mark from 1870 to 1893. Coin Press No. 1 from the original mint is still in working condition and used to mint a variety of commemorative medallions for various occasions. Demonstrations of Coin Press No. 1 are open to museum visitors.
An adjacent newer museum exhibit building is connected to the old mint by the glass-enclosed Dema Guinn Concourse. Between the two buildings are 21 galleries covering state history - geologic, plants and animals, Native Americans, mining and European settlement. Something you won't see anywhere else is the largest exhibited Columbian mammoth in the United States, a specimen found north of Reno in the Black Rock Desert. Another unique exhibit is the underground mine, where you can walk through a simulated mine and get a feel for how miners worked on the Comstock Lode deep beneath Virginia City.
This is a living museum, not just a static display of musty artifacts. There are ongoing public programs for school students as well as lecture series for adult visitors. Changing exhibits always feature fresh looks at history and life in Nevada.
Exhibits at the Nevada State Museum
Nevada State Museum exhibits cover literally millions of years of natural and human cultural history in the portion of the Great Basin we now call Nevada.
Historic Carson City Mint
Nevada's Changing Earth
Nevada: A People and Place Through Time
Under One Sky
Changing Exhibits
Parking, Hours and Admission at the Nevada State Museum
The Nevada State Museum is located in downtown Carson City at 600 N. Carson Street. The information phone number is (775) 687-4810. There is a free public lot on the west side of Curry Street behind the museum. Street parking is free and limited to two hours. Those with disabilities can use the designated parking spaces in the lot directly west of the museum.
The Nevada State Museum is open from 8:30 a.m. to 4:30 p.m., Tuesday through Sunday. It is closed on Mondays, Thanksgiving, Christmas, and New Year's Day. Admission is $8 for adults, free for children 17 and under and museum members.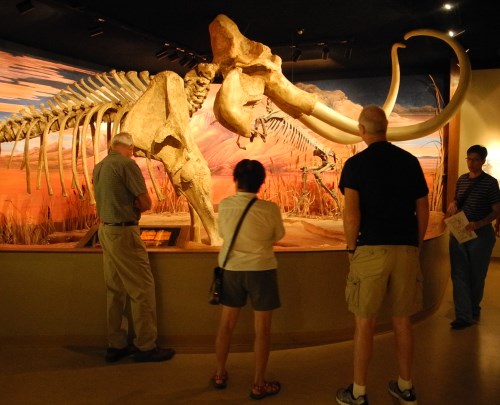 Columbian mammoth exhibit at the Nevada State Museum in Carson City. Photo © Stan White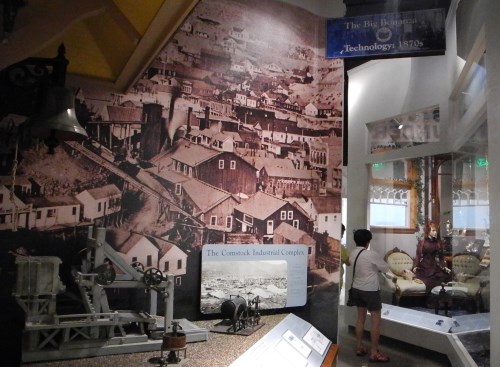 Exhibits at the Nevada State Museum in Carson City. Photo © Stan White
Sponsored Links
Sponsored Link