Enjoy lots of family-friendly events and activities during the Christmas holiday season around Reno and Sparks. Here are some of the top choices. For even more, go to "December 2022 Events and Activities in the Reno Region."
Christmas Day Dining in Reno and Sparks
Lots of people like to treat themselves to eating out on Christmas Eve and Christmas Day. Learn where to indulge yourself.
Christmas Tree Cutting Permits
Going out and cutting your own Christmas tree makes a fun and memorable family outing. Get an inexpensive permit from public lands agencies (BLM or USFS) and other vendors, then head to the nearby forests to find that perfect tree.
Reno's Annual Holiday Tree Lighting
Wednesday, December 7, 2022, starting at 5 p.m. Join the City of Reno and members of the Reno City Council as we light the official Holiday Tree at Reno City Plaza. Free and open to the public. Afterwards, come downtown during holiday season evenings to enjoy the festive lights.
Friday and Saturday, December 2 - 3, 2022. Come to Victorian Square on December 3 for the traditional Christmas parade festivities from 1 p.m. to about 2:30 p.m., along with entertainment, photos with Santa, and arts and crafts. This year's theme is "Merry and Bright." Get a picture with Santa and check out the Community Faire with information on how you can give back to your community this holiday season. The tree lighting ceremony will be the night of December 2 from 6:30 p.m. to 7 p.m. Event includes 39 North Pole Village.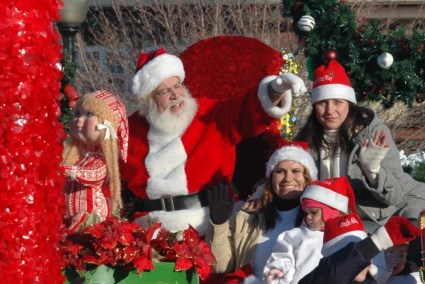 Sparks Hometowne Christmas Parade. Photo © Stan White
"Spirit of the Season" from the Reno Philharmonic
Gather the family for a true holiday tradition. The Reno Phil, Reno Phil Chorus and conductor Jason Altieri invite you to the Spirit of the Season, a classic holiday celebration full of orchestral arrangements, jazzy numbers, traditional holiday tunes and carols. At the Pioneer Center for the Performing Arts. Choose from four showtimes and purchase tickets online.
Friday, December 2 at 7:00 PM
Saturday, December 3 at 2:00 PM
Saturday, December 3 at 7:00 PM
Sunday, December 4 at 2:00 PM
Christmas on the Comstock
December 1 - 31, 2022. Festivities include the Believe Again Christmas Challenge shopping spree worth $1,000, two weekends of Magical Christmas Fireworks Shows, the fun-filled Candy Cane Express trains and the evening Train O'Lights, a Christmas play, Parade of Lights, a saloon crawl, holiday artisan craft fair at St. Mary's Art Center and community celebrations.
Thursday through Saturday, December 1 - 3, 2022. This FREE holiday light festival will feature thousands of twinkling lights, holiday shopping booths, great food, family fun, and holiday cheer. Santa will also be there for free photos and to listen to Christmas wish lists. Engine 39 will be giving FREE train rides around the event. At Victorian Square, downtown Sparks. For more info, call (775) 690-2581.
"The Nutcracker" Ballet
Friday through Sunday, December 9 - 11, 2022. A.V.A. Ballet Theatre presents its annual production at the Pioneer Center for the Performing Arts in Reno, with music by the Reno Philharmonic Orchestra. Friday's performance is at 8 p.m., Saturday at 2 p.m. and 8 p.m., Sunday at 1 p.m. and 7 p.m. Visit the website to get tickets for the performance you prefer.

December 2, 3, 7, 8, 9, 14 - 17, 21, 22, 2022 at 7:30 p.m. and December 4, 11, 18 at 2 p.m. Illuminate continues with a wild and wicked ride with the 11th rendering of an original Brüka comedy: Büttcracker Rockstar. What began as a parody of The Nutcracker, has evolved into a regional cult classic, offering a different underbelly to the original ballet each year it is performed. For ages 12 and up. Bruka Theatre is at 99 N. Virginia St. in Reno. Tickets are available online.

Tuesday, December 6, 2022, doors open at 6 p.m., show at 7 p.m. Featuring dance and music, SIAMSA tells the story of three young orphans searching for the "Candle in the Window" – the light that represents the true meaning of Christmas. This year's production of SIAMSA features Irish dance champions, vocalists, musicians and local actors and actresses. In the Grand Theatre at the Grand Sierra Resort, 2500 E. 2nd St. in Reno. Tickets available online.

Saturday, December 10, 2022, starting at 8 p.m. The Reno Santa Crawl draws thousands of Santas and Mrs. Santas to the largest event of its kind in the country. The main event is in downtown Reno, but there are other related activities. The list of participating bars and restaurants is extensive. Buy a pass, get your Santa on and join the fun. The Reno Santa Crawl supports local schools through DonorsChoose.org. If you like this sort of thing, learn about more crawls from "Beer Crawls in Reno."

November 21 through December 31, 2022. This festival of lights features the north Tahoe communities of Incline Village and Crystal Bay. There will be many special activities at various venues during the festival, including holiday concerts, opening day at Diamond Peak ski resort, Tahoe Film Fest and lots more. Note that many activities are adults only. Check the website for a complete schedule of events.
Christmas Lights Displays
Take an evening drive during Christmas season to view some of the Christmas lights displays around the Truckee Meadows. Some people go all-out and create truly spectacular and amazing displays, complete with synchronized lights and music.
Annual Share Your Christmas Drive-By Food Drive
Friday, December 9, 2022, 6 a.m. to 6 p.m. There will be three donation drop off locations - Grand Sierra Resort and Casino in Reno, Governor's Mansion in Carson City, Carson Valley Inn in Minden. All non-perishable food items are accepted. You can also text the word "SHARE" and then a dollar amount to 50155 to donate directly to the Food Bank of Northern Nevada.
Hands ON! Second Saturdays
Saturday, December 10, 2022. Come to the Nevada Museum of Art for a day of fun family activities and free admission for all. Participate in hands-on art projects, storytelling, live music, tours and more. Projects and stories this month will have a holiday theme. Hours are 10 a.m. to 6 p.m.
Reno Wind Symphony: A Holiday Celebration
Saturday and Sunday, December 10 - 11, 2022, 7:30 p.m. and 3 p.m. Join us for two performances of A Holiday Celebration, featuring some of your favorite holiday tunes. There will also be an old-fashioned Christmas Sing–A–Long so bring your best voice. General admission is $10, $5 for seniors. Students are free with school ID. The December 10 performance is at UNR's Nightingale Concert Hall, 1335 N. Virginia St. in Reno. The December 11 show is at the Atlantis Casino Resort Spa, 3800 S. Virginia St. in Reno. For the Saturday show; generous sponsorship by Hawley MacLean, free tickets are available with a donation of a can of food (per ticket) for the Food Bank of Northern Nevada.
Reno Jazz Orchestra "Holiday Jazz Jubilee"
Sunday, December 18, 2022 at 2 p.m. Swing into the holiday season as the 17-piece Reno Jazz Orchestra presents a selection of seasonal music with a big band sound. The Reno Youth Jazz Orchestra will open the show. At The Theatre, 505 Keystone Ave. in Reno. Tickets are available online..
Sunday, December 18, 2022, 2 p.m. Peanutcracker is a shorter, 45-minute narrated version of The Nutcracker that is designed for families with younger children to introduce them to the wonderful world of ballet and the traditional holiday ballet, The Nutcracker. At the Pioneer Center, 100 S. Virginia St. in Reno. Tickets available online.
Friday through Sunday, December 1 - 3, 8 - 10, 15 - 17, 2022 at 7:30 p.m. and December 4, 11, 18, 2022 at 2 p.m. How to Survive Your Family At Christmas is a crowd-pleasing comedy about family, love and the one thing we all need to survive the holidays, forgiveness. Tickets are available online. Located at 147 E. Pueblo St. in Reno.
December 18 - 31, 2022. A Christmas Rock Story is a rocking' holiday show like you've never seen before. Set during the Christmas season, this musical extravaganza features cirque acts, Santa's motorcycle daredevils, flying elves aerialists, extreme ice roller skaters, amazing music, and zany characters. It's the perfect holiday treat for the whole family. Visit the website for more information and to buy tickets online. The Grand Sierra is at 2500 E. 2nd St. in Reno.
through December 25, 2022. Start your holiday tradition in style as Santa and his merry helpers take you on a nostalgic Christmas journey, with all your favorite Christmas songs. Perfect for the entire family. At the Eldorado Showroom, 34 N. Virginia St. in Reno. Tickets are available online.
Winter Break Camps and Activities
December 26, 2022 to January 6, 2023. Winter break activities for children and families around Reno and Sparks include camps and other things to do from several area organizations.
2022 Polar Express on the V&T Railroad
The Polar Express™ for the 2022 Christmas holiday season will visit the North Pole on select dates from November 17 through December 23. The Polar Express™ sells out every year. Get tickets as soon as possible if you want to ensure the best seats, date, and time for your family and/or group. Tickets are available online from the Polar Express website and by phone at 855-724-5102.
Santa Holiday Train Rides
November 26 - 27 and December 3, 4, 10, 11, 17, 18, 2022. Three departures each day at 11:30 a.m., 1 p.m. and 2:30 p.m. Candy Cane Express trains will run on the V&T Railroad up in Virginia City. Get tickets in advance to ensure you get on board - reservations required. Tickets start at $26.
Saturday and Sunday, December 3 - 4, 10 - 11, 17 - 18, 2022. Santa Train rides will be running at the Nevada State Railroad Museum in Carson City. You can visit with Santa aboard the train and write a letter to Santa at the "Letters to Santa" table. Buy raffle tickets supporting the Friends of the Nevada State Railroad Museum to win great prizes. Tickets are $5 for all riders; children under 3 are free.
Christmas Day - Sunday, December 25, 2022.
Monday, December 26, 2022 through Tuesday, January 10, 2023. This program is an excellent way to give your Christmas tree a new purpose while keeping it out of the landfill or letting it be illegally dumped on our public lands and open spaces.
Saturday, December 31, 2022. Enjoy lots of parties and fireworks while bringing in 2023.
Sponsored Links
Sponsored Link