Enjoy lots of family-friendly events and activities during the Christmas holiday season around Reno and Sparks. Here are some of the top choices. For even more, go to "December 2020 Events and Activities in the Reno Region."
Christmas Day Dining in Reno and Sparks
Lots of people like to treat themselves to eating out on Christmas Eve and Christmas Day. Learn where to indulge yourself.
Christmas Tree Cutting Permits
Going out and cutting your own Christmas tree makes a fun and memorable family outing. Get an inexpensive permit from public lands agencies (BLM or USFS) and other vendors, then head to the nearby forests to find that perfect tree.
Friday and Saturday, December 3 - 4, 2021. Come to Victorian Square on December 4 for the traditional Christmas parade festivities from 1 p.m. to about 2:30 p.m., along with entertainment, photos with Santa, and arts and crafts. This year's theme is "The Art of Christmas." Get a picture with Santa and check out the Community Faire with information on how you can give back to your community this holiday season. The tree lighting ceremony will be the night of December 3 from 6:30 p.m. to 7 p.m. Event includes live music entertainment.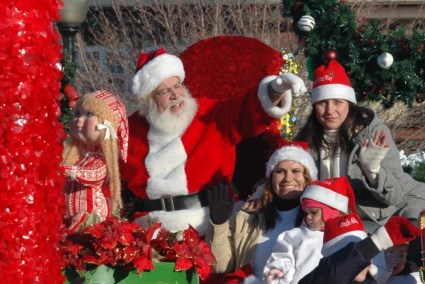 Sparks Hometowne Christmas Parade. Photo © Stan White
Spirit of the Season - Home for the Holidays
Saturday, December 5, 2020, 7 p.m. and Sunday, December 6, 2020, 2 p.m. $25 per household / viewing device. This is a livestream concert. Ring in the holidays and let conductor Jason Altieri, along with the Reno Philharmonic Orchestra, whisk you away to a winter wonderland for this year's Spirit of the Season. Even if we cannot celebrate together in person this year, the Reno Phil will still bring festive cheer by offering a special virtual concert experience celebrating being Home For the Holidays. Tickets are available online. Following these two performances, you can purchase an on-demand replay of the show for $30 that is good from 10 a.m. on December 7 through December 25, 2020. (775) 323-6393.
Christmas on the Comstock
Canceled.
39 North Pole Village is canceled for 2020. However, you can still take part in The Griswold Challenge, where local families and businesses compete in a light display contest inspired by Clark Griswold from National Lampoon's Christmas Vacation. This is a People's Choice contest, so people can view businesses and houses around Sparks to determine the winning displays. Registration deadline is December 10, 2020. You can download the entry form from the website. For more info, call (775) 690-2581.
"The Nutcracker" Ballet On Demand
December 1 - 31, 2020. Experience the magic of The Nutcracker Ballet in your own home, presented by A.V.A. Ballet Theatre with the Reno Philharmonic. The Nutcracker Ballet is a holiday tradition for all ages and this year, they will bring the magic to you. Stream and enjoy this encore performance all month long.
November 27 through December 31, 2020. This festival of lights features the north Tahoe communities of Incline Village and Crystal Bay. There will be many special activities at various venues during the festival, including holiday concerts, opening day at Diamond Peak ski resort, Tahoe Film Fest and lots more. Note that many activities are adults only. Check the website for a complete schedule of events.
Canceled.
Christmas Lights Displays
Take an evening drive during Christmas season to view some of the Christmas lights displays around the Truckee Meadows. Some people go all-out and create truly spectacular and amazing displays, complete with synchronized lights and music.
Annual Share Your Christmas Drive-By Food Drive
Friday, December 11, 2020, 6 a.m. to 6 p.m. KTVN 2 News and other community sponsors will be collecting food donations at 3 different locations - Grand Sierra Resort in Reno, Governor's Mansion in Carson City and Carson Valley Inn in Minden. You don't need to get out of your car - volunteers will be on hand to unload donations for you.
Saturday, December 12, 2020. Join in on adventures that are out of this world. Admission is $12 per person for children and adults, which also includes admission to the Museum. For participants age 8 and up. Children under 13 must be accompanied by an adult. Pre-registration is required approximately two days before the event. Call the Museum at (775) 333-9300 for more information.
Reno Wind Symphony: A Holiday Celebration Virtual Concert
Saturday, December 12, 2020, 7:30 p.m. Please join us as we present The Holiday Celebration, which is one of the most crowd-pleasing events of our entire schedule, done virtually this year. The concert is free, with donations welcome to help cover technology costs.
Holiday Craftapalooza with the Washoe County Library
Celebrate various winter holidays with arts and crafts from various cultures around the world in this 5 day online series. Each day will feature a different holiday. All virtual events are shared on Facebook, and are archived on the Library website and YouTube.
12-9-20: Hanukkah
12-10-20: Japanese inspired Furoshiki
12-11-20: Winter Solstice
12-12-20: Christmas
12-13-20: Kwanzaa
December 11 - 13 and 18 - 24, 2020. There will be no Polar Express trains during the 2020 holiday season. Instead, come enjoy "Santa's Drive-Thru Village" and visit the North Pole as a 2020 replacement for the Polar Express. While staying in your car, drive through the North Pole at the Eastgate Depot and witness Santa, Mrs. Claus and dozens of elves busy at work before Christmas. Tickets are $20 per car and available online or by calling 877-724-5007. The Village will be open from 6 p.m. through 9 p.m. The Eastgate Depot is east of Carson City on Hwy. 50 at 4650 Eastgate Siding Road.
Santa Holiday Train Rides
November 27, 28, 29 and December 5, 6, 12, 13, 19, 20, 2020. Three departures each day at 11:30 a.m., 1 p.m. and 2:30 p.m. Candy Cane Express trains will run on the V&T Railroad up in Virginia City. Get tickets in advance to ensure you get on board - this is a popular activity. Due to COVID, tickets are being sold in family packs to allow for required social distancing. A two seater is $48, and 4 seater is $96, a 6 seater is $144 and an 8 seater is $192.
Reno Jazz Orchestra Virtual Holiday Variety Shows
Saturday, December 19, 2020 at 7 p.m. and Sunday, December 20, 2020 at 2 p.m. Enjoy these two shows being streamed live from the Good Luck Macbeth Theater in Reno. Admission is free with donations gladly accepted.
Thursday, December 31, 2020. Enjoy lots of parties and fireworks while bringing in 2019.
Sponsored Links
Sponsored Link