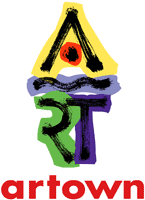 Artown's 25th anniversary is going to be a bit different than past events, thanks to the coronavirus. Over 300 modified virtual and live events will happen at locations throughout Washoe County, including the 5th Annual Chalk Art and Music Festival at the Atlantis, the inaugural South Virginia Plaza in Midtown Celebration, Art Spot Reno's Downtown and Midtown Mural Tours, the Cordillera International Film Festival, the Midtown Burning Man Parade, and "Heartown" Artown's ambitious campaign to bring art to the people. Artown 2020 will run for 31 days, from Wednesday, July 1 through Friday, July 31.
Artown is too big to adequately describe in an article like this. To see everything going on by date, go to the Artown home page, then click on the calendar date of interest. You can also select events by type by clicking on the menu choices - Music, Dance, Cultural, Theater, History, Visual, Kids, Film, Literary, Special, Workshops, and Ongoing.
Artown Opening Night Virtual Extravaganza
Wednesday, July 1, 2020. Artown opening nights are always free and huge. This year, however, it is going to be a virtual event starring the performers who would otherwise be doing shows at the large outdoor venues (which are not happening in 2020). The 2-hour special will air on Nevada Sports Net from 7:30 p.m. to 9:30 p.m. and then will be available on Artown's social media platforms.
Tune in to enjoy personal messages and performances from Keb' Mo', March Fourth Marching Band, Sheléa, Tim Snider, Vertigo Dance Company, Playing For Change, Jake Shimabakuro, Buff Sainte-Marie, Hot Sardines, Kronos Quartet, Charlie Musselwhite, AJ Croce, Landau Eugene Murphy Jr., Time for Three, Cool Nasty, Pamyua, Na Lei Hulu Wekiu, Ensemble Mik Nawooj, Davina and the Vagabonds, LADAMA, Mariachi Acero de Las Vegas, Paa Kow and Resistance Revival Chorus.
Other Artown 2020 Highlights
Discover the Arts Series, geared toward children ages 6 to 12, will be virtual this year, featuring 23 artists and educators teaching art classes and doing performances of their specific art, in webinars ranging from discovering virtual reality to discovering the banjo.
Month-long fine art and maker events at Copper Cat Studio in Sparks – July 1 - 31
Art Walk Reno – July 2
5th Annual Reno Chalk Art & Music Festival - July 10 - 12 at the Atlantis Casino Resort Spa
Day of Visual Arts Weekend - July 10 - 12
The Inaugural South Virginia Plaza in Midtown Celebration – July 18
The Cordillera International Film Festival – July 23 - 26
Midtown Burning Man Parade, July 30, presented by Junkee Clothing Exchange.
Movies in the Park - Fridays, July 3, 10, 17, 24 at the West Wind El Rancho Drive-In.
Safeguards for public health will be in place at live events to help ensure safety during the ongoing coronavirus pandemic. Be prepared to adhere to the guidelines if you choose to attend any Artown live events.
Artown becomes "Heartown"
"Heartown" is a regional campaign in celebration of the essential role art plays in our hearts, in our lives and in our communities. Families will do "Heartown" art projects by crafting expressions and symbols of love at home, at their businesses, and with their coworkers, with whatever supplies they already have around the house or at work, to share with our community. "Everything from drawings, paintings, yard art and sidewalk chalk, to sculptures, ornamental displays on balconies, decorative signs, and garden designs - any expression of art that comes from your heart is welcome," said Artown director Beth Macmillan. Artown is asking participants to send in short videos and photo stills of their "Heartown" art to office@artown.org. These community creations will displayed on social media, on the Artown website and through their various media platforms and partnerships. The most noteworthy entries will be awarded Artown prizes and collectible 25th Anniversary Artown merchandise.
Help Support Artown
Here are some ways you can help support Artown and keep this extraordinary event coming back year after year.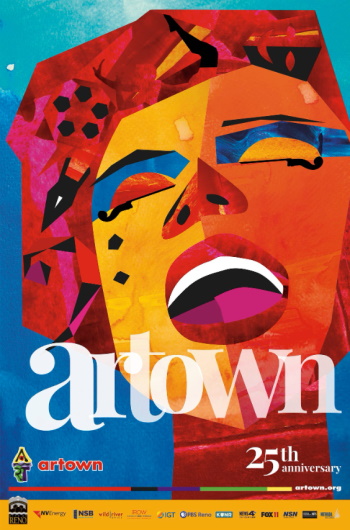 Artown 2020 poster by Mexican artist and graphic designer Ivette Valenzuela, who now lives in Reno.
Image courtesy Artown.
Artown in Sparks
Artown has gotten so big it has spilled over into the neighboring city of Sparks. Artown in Sparks includes multiple events, classes and performances during July. Visit the Artown in Sparks website for descriptions of the programs, dates, locations and times.
Sponsored Links
Sponsored Link