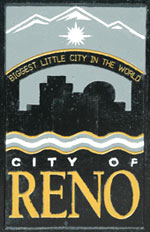 There are activities through the City of Reno Parks, Recreation and Community Services Department for all citizens. These include specific adaptive and inclusion programs for those with disabilities, plus accommodations to people with disabilities so that leisure and recreation programs, classes, services and facilities may be enjoyed by all. To learn more about the city's ADA commitment and efforts in its recreation programs, refer to "Access for All." The information phone number is (775) 333-7765.
Reno Adaptive Recreation Programs
Reno Parks, Recreation and Community Services Department operates or participates in a number of adaptive recreation programs.
Wheelchair Sports
Equipment Rentals
Special Olympics Nevada
Social Activities
Programs for Veterans
Get Adaptive Recreation News and Updates
"Adaptive Connect" is a newsletter full of information about the city's adaptive recreation programs. You can sign up to receive copies by email. You can also read it online by clicking the Adaptive Connect newsletter image on the Inclusion and Adaptive Programs web page.
More Adaptive and Inclusion Programs
Equipment Rentals - a variety of equipment so you can participate in adaptive sports and before you buy.
Veteran Programs - a range of programs geared to military veterans.
Sponsored Links
Sponsored Link