The W.M. Keck Earth Science and Mineral Engineering Museum (or just Keck Museum) houses a large collection of minerals, fossils, rocks and historic mining artifacts. The collections feature items from Nevada, but there are items from around the world.
Mining and minerals have played a central role in Nevada since before statehood in 1864. The mining industry continues to have a major economic impact in Nevada, producing commodities and raw materials that are used in the manufacture of countless items. For example, Nevada is one of the top gold producing regions in the world. Other minerals mined in Nevada include copper, lithium, molybdenum, diatomaceous earth, gypsum, and lime.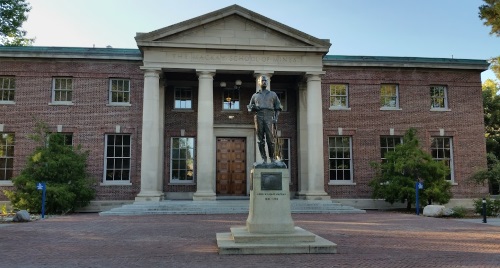 Mackay School of Mines Building at UNR, home of the Keck Museum. Photo © Stan White
Exhibits at the Keck Museum
Besides display cases containing beautiful rock and mineral samples, you will find fossils from when the area we now call Nevada was much warmer and wetter. Dinosaurs, and much later, huge (now extinct) mammals like Columbian mammoths roamed the region. Their remains in the form of fossils are at the Keck Museum for you to enjoy.
Throughout the Keck Museum exhibit hall are artifacts from the history of mining throughout Nevada. Most everyone has heard of the hugh Comstock Lode at Virginia City, but there were many other mining booms in Nevada, both big and small. Other noteable strikes occured at Tonopah, Goldfield, Rhyolite and Austin, to name a few. Today, modern mining techniques are extracting numerous minerals in Nevada. The Carlin Trend in north-central Nevada is one of the world's leading gold producing regions.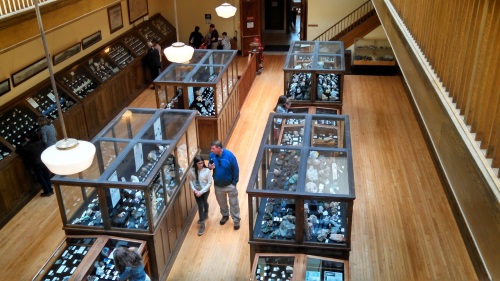 Mineral, rock, and mining exhibits at the W.M. Keck Earth Science and Mineral Engineering Museum on the UNR campus in Reno, Nevada. Photo © Stan White
Visiting the Keck Museum
The W.M. Keck Earth Science and Mineral Engineering Museum is located on campus at the University of Nevada, Reno. It is Nevada's second oldest museum, housed in the Mackay School of Mines Building at the north end of The Quad. The address is 1664 N. Virginia Street. Parking is available on-campus and along surrounding streets, but you'll have to pay.
Admission is free and visits are self-guided. Museum hours are Monday through Friday, 9 a.m. to 4 p.m. It is open from 12 noon to 4 p.m. on the first Saturday of each month. Group tours and after-hours tours are available = call (775) 784-4528 for more information.
The Mackay Silver Collection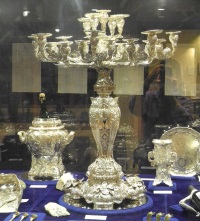 If you want to see what you might do with millions of dollars worth of silver mines, go downstairs and check out the Mackay Silver Collection. The set was designed and manufactured by Tiffany & Company in New York, from half a ton of silver provided by Virginia City mining magnate John Mackay. It is one of the most famous and elegant sets from the Victorian era.
Sponsored Links
Sponsored Link