Hot August Nights canceled for 2020. The plan is to come back in 2021. However, Motorsport Auction Group (MAG Auctions) continues to plan for their classic car auction August 7 – 8, 2020.
Hot August Nights 33rd Anniversary
Hot August Nights 2019 is the 33rd anniversary of the Reno area's biggest event of the year, which will run from Tuesday, August 6 through Sunday, August 11. What began as a local party at the Reno Sparks Convention Center in 1986 now draws over 800,000 people during its run.
Hot August Nights is a celebration of everything to do with classic cars, vintage rock 'n roll, and the American era of the 50s and 60s when cruising, sock hops, and high school proms were all the rage. Hot August Nights is a party that takes over the town during its run. Classic cars fill the streets, rock 'n roll fills the air, and entertainment galore makes Hot August Nights the premier fun festival in Reno and Sparks.
There are a couple of preliminary related events leading up to the main August event in Reno and Sparks. If you want to get some experience before the really big party, check out the Hot August Nights Spring Fever Revival in May and the kickoff event in Virginia City the weekend before the big event gets going.
Hot August Nights in Reno and Sparks
The main Hot August Nights 2019 event in Reno and Sparks will run from Tuesday, August 6 through Sunday, August 11. There is so much happening I couldn't even begin to list it, so refer to the Hot August Nights event schedule to see what is going on when and where. The whole Hot August Nights website is excellent and can probably answer just about all of your questions. If you plan to come from out of town, don't wait to book accommodations or you will end up out in the boonies, far from the fun. To get you started, here are some of the main activities and links to more information...
Hot August Nights Spring Fever Revival
Friday and Saturday, May 17 - 18, 2019. The streets of downtown Reno will be packed full of classic cars, food and beverage booths, memorabilia, street faire vendors, free entertainment and a Celebrity Choice show and shine on Saturday. This event is open to all 1979 and older vehicles, with free entry for all Hot August Nights 2018 registered car participants. The entry fee for non-registered participants is $40. It's free for the public to attend and enjoy the fun. Festivities begin at 8 a.m. on both days.
Hot August Nights in Virginia City
Friday and Saturday, August 2 - 3, 2019. This kickoff event for Hot August Nights is held in Virginia City. It will rock the Comstock with nightly cruises, a celebrity Show-n-Shine, poker run and free live entertainment. Registration is $40 and limited to the first 400 vehicles. Hours are 9 a.m. to 4 p.m. both days. Cruising will be from 4 p.m. to 5 p.m.
Hot August Nights Pre-Kickoff Party at the Bonanza Casino
Sunday, August 4, 2019, 2 p.m. to 6 p.m. This Hot August Nights party features a free show 'n shine, live music, food trucks and more. Entries for trophies and prizes can be all makes and years. Benefit for the Prostate Cancer Foundation. The Bonanza is at 4720 North Virginia Street in Reno. (775) 323-2724.
Hot August Nights Fall Frenzy
Saturday, October 5, 2019, 9 a.m. to 2 p.m. Hot August Nights will close out the 2019 season with Fall Frenzy, its last Show-n-Shine of the year. Fall Frenzy will be held in the parking lot of the Baldini's Sports Casino. Classic vehicles 1979 and older are invited to compete for the Celebrity Judging and Baldini's Best of Show award. Entrance is free to all 2019 and 2020 registered car participants, a $10 entry fee will apply to non-registrants. Space is limited to the first 250 entrants.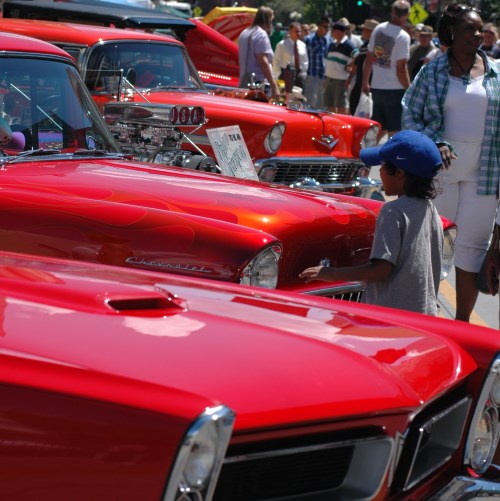 Hot August Nights in downtown Reno, Nevada. Photo © Stan White
Sponsored Links
Sponsored Link