Trails at Washoe Lake State Park
Washoe Lake State Park is a good place for day hikes close to Reno, Sparks, and Carson City. Several trails offer easy to moderate hikes, and they all have big views of the mountains surrounding Washoe Valley. Most of the walks are on flat terrain, but you can get a workout by climbing up Deadman's Creek Trail into the hills on the east side of the park. Listed here are the official trails. You can get trail details and more information about the park from the Washoe Lake State Park trail map. Consult the map to see which trails are open to hiking, bicycles, equestrians, and dogs on leash. Motor vehicles are not allowed on any trails.
Beach Stroll
Dune Trek
South Loop
East Loop
North Loop
Wetlands Loop
Paved Bike Path
Guided Hikes at Washoe Lake State Park
Washoe Lake State Park conducts guided hikes throughout the year. Some of these include full moon hikes through the sand dunes and along the beach, hikes on the Dune Trek and Beach Stroll trails, and hikes to the overlook gazebo on Deadman's Creek trail. All are open to the public and registration is only required for full moon hikes. Full moon hikes are limited to 30. Call (775) 687-4319 or email washoelake@hdiss.net to make reservations. Dogs are not allowed on full moon hikes.
Hikes are free, but there is a $7 entrance fee to Washoe Lake State Park. Nevada residents receive a $2 discount. Holders of any valid park passes do not pay extra.
To learn about upcoming guided hikes, refer to the Nevada State Parks events calendar, which also shows other events and activities throughout the parks system. You can also call the park during business hours at (775) 687-4319.
Getting to Washoe Lake State Park
Washoe Lake State Park is on the east side of U.S. 395, 15 miles south of Reno and 10 miles north of Carson City. When coming from either direction on 395, take the East Lake Boulevard exit, then go north about 3.1 miles to the park entrance. The official address is 4855 East Lake Boulevard, Carson City, NV 89704. The park office phone number is (775) 687-4319.
More Hiking Around Reno
Learn about more hiking opportunities in the Reno area by referring to my "Reno Area Hiking and Walking Trails" article.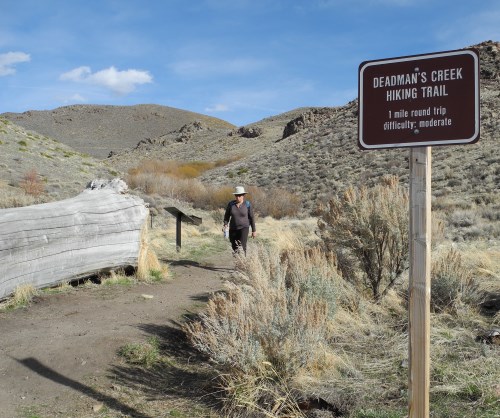 Deadman's Creek Trail at Washoe Lake State Park, Nevada. Photo © Stan White
Sponsored Links
Sponsored Link