Reno 150 Birthday Celebration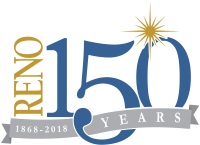 Reno will be 150 years old on May 9, 2018. Starting on May 9, 2017, the city launched a year-long Reno 150 sesquicentennial celebration with a big downtown party downtown at City Plaza. There will be numerous Reno 150 themed events and activities during the year leading up to the big 150th birthday party on May 9, 2018, at Greater Nevada Field. Reno was officially established on May 9, 1868.
The City of Reno and the Reno Aces co-host "The Biggest Little Birthday" Reno 150 celebration at Greater Nevada Field. Festivities begin at 4 p.m. on Wednesday, May 9, 2018. It's free and open to the public outside the stadium, but you'll have to get a free ticket to get in to the evening's baseball game (starts at 6:35 p.m.) and post-game fireworks show. Here are the free activities you can enjoy without going to the game...
Learn about Reno's history, people and events.
Visit booths showcasing historical and cultural organizations.
Music, dancing and a large display of birthday cupcakes.
Entry to the stadium begins at 5 p.m. Free tickets are available from the places listed on "The Biggest Little Birthday" page.
Reno 150 Activities and Events
Besides the kickoff event on May 9, 2017, other regular Reno events will have Reno 150 themes leading up to the 2018 birthday party.
Join the Reno 150 Celebration - Citizens are invited you to join the festivities by planning and hosting a Reno 150 event of their own. Participants can include businesses, public organizations and non-profit organizations. Go to the "Reno 150 Event Guide" for more information and to submit your event for consideration.
As an event guideline, here are the official goals of the Reno 150 Celebration...
Enhance civic pride through a celebration of the city's history.
Strengthen the role of Reno's heritage as a part of its cultural identity for residents and tourists.
Enhance long-term public appreciation of Reno's heritage.
Increase awareness of Reno's historic buildings, structures, landscapes, and people.
Involve greater numbers of people in history and preservation-related efforts.
Reno People Project - The Reno People Project is a way to tell 150 stories about some of the people that make up our unique community history. You are invited to submit a nomination for a past/present Reno citizen who has contributed to Reno's history. Nominations must include a short (250 word maximum) biography of the nominee, what they did or are doing and the reasons you would like their story included. If possible, a photograph of the nominee should be included. Nomination deadline is March 1, 2018.
Source: City of Reno information and image.
Sponsored Links
Sponsored Link