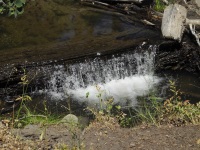 This loop hike includes portions of both the Upper Thomas Creek and Upper Whites Creek Trails, connected by the Dry Pond Trail. It is a moderate hike of about 5 miles from the Thomas Creek trailhead to the Whites Creek trailhead, with a 450' elevation gain over the Dry Pond Trail connecting the two creek trails. This description starts at Thomas Creek, but you can go the other way should you choose to do so. Either way, much of the hike is shaded by big Jeffrey pines, aspens, and mountain mahogany, making it doable even on hot days.
These trails, and others in the Galena Creek Recreation Area, are jointly maintained by the Humboldt-Toiyabe National Forest and Washoe County Regional Parks and Open Space. Learn more about nearby trails from this Galena area trail system map.
Hiking Trails Description
From the Thomas Creek Trailhead (see directions below), hike west toward the Mt. Rose Wilderness. The trail is close to gurgling Thomas Creek much of the way, with little elevation gain. After 1.5 miles, you will come to an intersection. Straight ahead goes to the Mt. Rose Wilderness, but we turn left and start the climb up and over the Dry Pond Trail. Note that bicycles are not allowed in the Mt. Rose Wilderness.
This is a moderate ascent with long switchbacks, which keep the grade from being too steep. Though you are still in the shady woods, there are openings in the forest toward the top where you get views back toward Reno and of mountains to the west. The trail tops out at Dry Pond after a 450' climb, where you find the open meadow that only has water until late spring.
The descent is similar, but more open and on the hotter, south-facing slope. Along this part of the trail, there are views of Washoe Valley, Slide Mountain, and Mt. Rose. At the bottom, you reach the intersection with Whites Creek Trail. Enjoy an easy, mostly shady stroll next to Whites Creek and down to the trailhead in about a mile. You will then need to hike another 1.5 miles back to your vehicle at the Thomas Creek Trailhead unless you brought two cars and left one here. Another way to do this is to leave a vehicle here and walk back to Thomas Creek to begin the hike.
In the autumn, these trails offer spectacular fall color. Golden aspens line the creeks and you don't even have to hike far to enjoy the show. Both Thomas Creek and Whites Creek have lower sections that go east from the trailheads and are lined with aspens and other trees that blaze in the fall.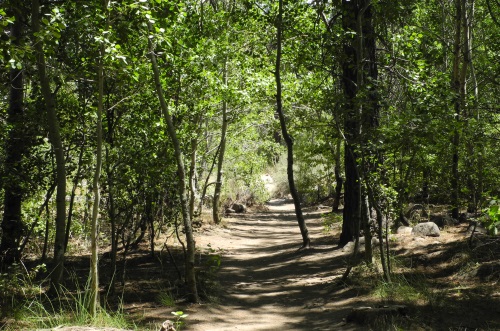 Thomas Creek Trail. Photo © Stan White
About Dogs, Bikes, and Horses
These trails are open to dogs, bicycles, and horses. Everyone can have a good experience by exercising common courtesy and adhering to some accepted rules of the trail...
When hikers meet, those going uphill have the right-of-way unless they stop to let downhillers pass.
When approaching other hikers from behind, give a friendly greeting so those in front aren't startled.
Horses have the right-of-way over both hikers and bikers. Stand aside quietly while they pass.
Hikers have the right-of-way over mountain bikes, but it is usually easier for everyone if hikers let the bikes pass since they are usually moving faster.
Mountain bikers should announce their presence in places with limited visibility, like blind turns. When passing, let hikers know if more riders are following.
These trails are not dog parks. Regulations require that dogs be leashed for at least the first mile of both the Thomas Creek and Whites Creek Trails. Thereafter, dog owners should control their animals so they don't annoy or threaten other trail users and wildlife. Dog owners are required to pick up the poop and carry it out for disposal in a proper receptacle. If you aren't willing to control your dogs and keep them from ruining the experience of other trail users, leave them at home.
Trailheads for Thomas Creek and Whites Creek
Take the Mt. Rose Highway (Nevada 431) west from S. Virginia Street or I580. Just before you reach the forest and Galena Creek Visitor Center, turn right on Timberline Road (watch for the signs). After driving a short distance, you will first come to the signed left turn for the Whites Creek Trailhead. The parking area is about a mile down the road.
For the Thomas Creek Trailhead, continue on Timberline for about a mile to the big parking area at the end of the road. There is lots room, but if you aren't pulling a horse trailer, look for the unsigned left turn immediately after crossing the bridge over Thomas Creek. There is shady parking for several cars and it saves you about a quarter mile of walking.
This Galena area trail system map will help you with finding these and other trailheads.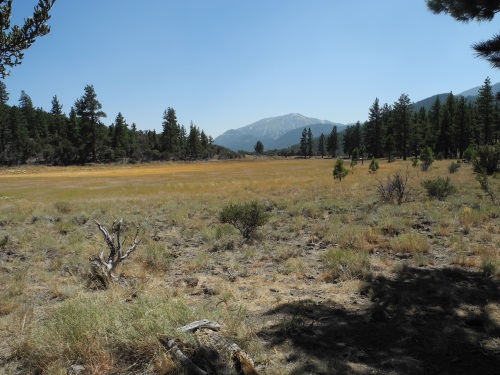 Dry Pond, which has water in the spring. Photo © Stan White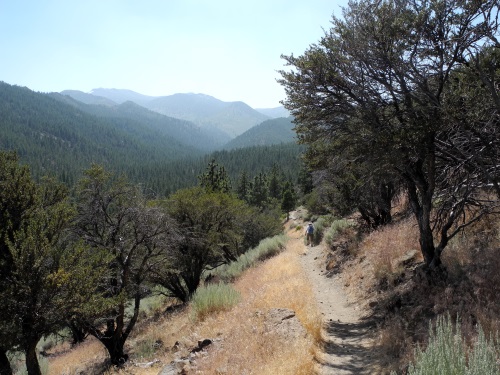 Dry Pond Trail. Photo © Stan White
Sponsored Links
Sponsored Link