Reno's annual Veterans Day Parade, always held on November 11 (rain or shine), is the "official" Veterans Day Parade in Nevada. This is a non-partisan, non-political event to honor the service of our veterans and currently serving members of our military. Parade opening ceremonies begin at 11:11 a.m., at the Virginia Street Bridge. The parade proceeds north and ends at the 5th Street / Virginia Street intersection. Ceremonies will begin with a prayer, the national anthem will be performed by Cassie Harris, and conclude with an official City of Reno proclamation read by Neil Anderson. The parade gets under way at about 11:30 a.m. following the opening ceremony.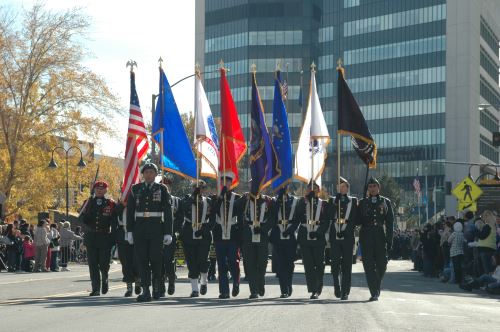 Photo © Stan White
The 2023 parade theme is "Service," reflecting the military value and tradition of answering the call to duty. There is distinct honor in serving to protect our way of life and the Constitution of the United States of America. The 2023 Grand Marshal is Arlan Melendez, Chairman of the Reno-Sparks Indian Colony.
This parade features a large number of entries - ROTC groups from regional high schools, university and high school marching bands, honor guards and other groups representing all the services, other groups wanting to honor the military service of our veterans, and groups representing various veterans' organizations. Any individual or group that attempts to use the parade as a partisan and/or political forum will be denied participation.
The Reno Veterans Day Parade draws big crowds of spectators. Come early if you want to secure a good viewing spot along the parade route. There are places for folding chairs if you come soon enough - otherwise, it becomes standing room only. Besides the regular parade entries, you are likely to see politicians and other dignitaries, both local and from around the state. It is common for the Reno City Council and mayor to attend, along with Nevada state office holders (the governor frequently comes) and U.S. Senators and Representatives.
Reno Veterans Day Parade Route
The parade starts at Liberty Street, flows north on Virginia Street, marches under the Reno Arch and ends at 5th Street. The parade ends between 1 p.m. and 2 p.m.
Free RTC bus rides on Veterans Day
The RTC is honoring veterans with free rides on all RTC transit services for everyone on Veterans Day, November 10, 2023. RTC transit will operate on a Sunday-level schedule. The RTC Regional Connector to Carson City will not operate.
A Brief History of Veterans Day
Armistice Day was established by President Woodrow Wilson in 1919 to commemorate the end of hostilities in WWI (The Great War) with an armistice that went into effect on November 11, 1918 at 11 a.m. Armistice Day was officially recognized as a national holiday with an act passed by Congress on May 13, 1938.
Of course, "the war to end all wars" didn't work out that way. Following WWII and the Korean War, Congress was moved to amend the act of 1938 to be more inclusive and honor American veterans of all wars. On June 1, 1954, the observance became Veterans Day.
Along with Washington's Birthday, Memorial Day and Columbus Day, the actual observance of Veterans Day was moved to create three day weekends. In the case of Veterans Day, the move proved highly unpopular as it diluted the significance of the November 11 date. In 1978, the observance of Veterans Day was returned to November 11, no matter what day of the week on which it falls.
For additional background and details, refer to "History of Veterans Day" from the U.S. Department of Veterans Affairs.
Veterans Day Parade in Virginia City
Virginia City, Nevada, also holds an annual Veterans Day Parade on Saturday, November 11, 2023. The parade begins at 11 a.m. and marches down C Street, Virginia City's main drag.
Sponsored Links
Sponsored Link