Reno Earth Day
Reno Earth Day is back. It will be at Idlewild Park on Sunday, April 24, 2022, from 11 a.m. to 5 p.m. The event continues with numerous exhibitors, performers, volunteers and sponsors. Each aspect of the event has its own information. Actual Earth Day is on Friday, April 22, 2022.
From 10 a.m. to 2 p.m. during Reno Earth Day, ComputerCorps hosts an electronic waste collection event at nearby Reno High School. Bring your computers, cell phones, monitors, tablets, printers, etc. No CRT TVs or monitors.
Free RTC Transit rides on Earth Day - RTC will provide free transportation to and from the Reno Earth Day event at Idlewild Park from 10:30 a.m. to 5:30 p.m. RTC Transit Route 16 Special will drop off and pick up Earth Day eventgoers at RTC 4TH STREET STATON in Downtown Reno, or the courthouse parking lot, located at the intersection of Virginia Street and Court Street, and take them to and from Idlewild Park every 15 minutes. At the courthouse parking lot, the bus will pick up and drop off passengers near the parking lot entrance on Court Street.
Earth Day Festival at Animal Ark
Saturday and Sunday, April 23 - 24, 2022, 10 a.m. to 3 p.m. Protecting our planet has never been more important. Our Earth Day Festival is a magical way for the whole family to explore the wild world and learn more about how to help conserve our amazing planet. This event features youth activities, guest speakers workshops, keeper chats and more. Animal Ark is at 1265 Deerlodge Road in Reno North Valleys. 1-775-970-3111.
More Reno Area Earth Day Events
Tahoe Truckee Earth Day Festival
Saturday, April 23, 2022, 9 a.m. to 5 p.m. Visit the Village at Palisades Tahoe for one of the largest Earth Day celebrations in the North Lake Tahoe area. The Tahoe Truckee Earth Day Festival is a free public event celebrating and promoting the region's unique beauty. This community event gives kids and adults the chance to learn about recycling, composting, alternative energy, and sustainability though hands-on activities everyone can enjoy.
South Tahoe Earth Day Festival
Sunday, April 24, 2022, 10 a.m. to 3 p.m. This local Earth Day celebration is one of the largest environmental education events in the area. The event provides local residents and visitors an opportunity to learn about the various environmental issues that affect South Lake Tahoe. This is a free, family friendly event. At Bijou Community Park, 1201 Al Tahoe Boulevard in South Lake Tahoe, CA.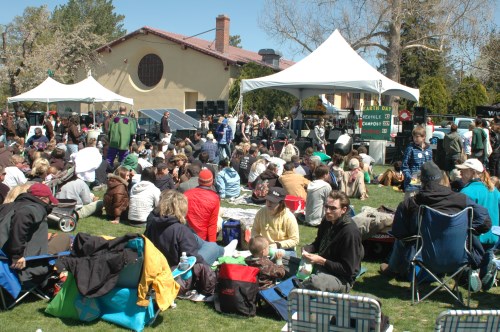 Earth Day at Idlewild Park in Reno, Nevada. Photo © Stan White
Sponsored Links
Sponsored Link