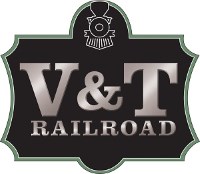 Take a living history ride on the restored Virginia & Truckee Railroad - "Queen of the Short Lines." Excursion trains closely follow the originial V & T route between Carson City and Virginia City during the heyday of the Comstock mining era, giving today's passengers many of the same views seen by the silver barons when Virginia City was the richest place in America (if not the world).
Virginia and Truckee Train Schedule
The V & T season runs from Memorial Day weekend in May until about mid-October. Trains pulled by a steam locomotive run the route on most Saturdays and Sundays during the season. Trains run on select Fridays during June, July and August. The steam engines are the McCloud No. 18 and Virginia & Truckee No. 29, both restored Baldwin locomotives that saw service on the original V&T Railroad. Passengers get a fully narrated ride as they pass historic sites along the route. If you are lucky, you might even see some of the wild mustangs that roam the area. These rides are a great family activity, but leave pets at home - only certified service animals are allowed.
Round Trips - All round trips leave from Carson City (Eastgate Depot) at 10 a.m. and depart Virginia City for the return at 3 p.m. These are popular rides - buying tickets in advance through the website is strongly recommended. For more information, call (877) 724-5007 or (775) 291-0208.
One-Way Trips - Tickets for one-way trips can also be purchased in advance through the website.
V & T Railroad Depots
Carson City - The Eastgate Depot is 4.9 miles east (toward Dayton) of downtown Carson City on U.S. 50. Turn right on Flint Drive (there is a small sign), then left after .3 mile to 4650 Eastgate Siding Road. There is free parking.
Virginia City - The Virginia & Truckee 1870 Depot at 166 F Street, corner Washington Street. It's downhill from Virginia City's main street.


Ride the V & T Railroad between Carson City and Virginia City, Nevada. Photos © Stan White
Special Rides on the V & T Railroad
Several special holiday and theme trains run during the season. These tend to sell out, so get your tickets early if you want to ride. This is particularly true for THE POLAR EXPRESS™.
Grandparent's Day
Evening Melodrama & BBQ Dinner Special Steam Train
Virginia City to Gold Hill Route
This excursion train is a separate ride from the Carson City - Virginia City route. It departs from and returns to the Virginia City depot on a four mile round trip to Gold Hill. It operates several departures daily from Memorial Day weekend to the end of October. This tour is narrated and lasts about 35 minutes. It's a great way to learn more about Comstock mining and Virginia City history. Buy tickets at the depot - reservations are not required. For more information, call (775) 847-0380.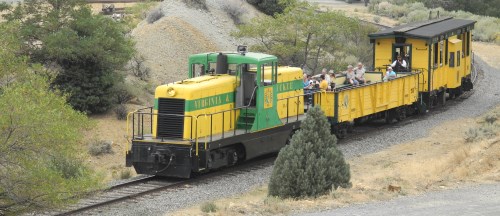 V & T Railroad excursion train runs between Virginia City and Gold Hill. Photo © Stan White
Nevada State Railroad Museum
For more train history and fun in northern Nevada, visit the Nevada State Railroad Museum in Carson City. Exhibits cover the history of railroad building and operation in northern Nevada. There are two main stories - the Virginia & Truckee Railroad built during the Comstock mining boom in Virginia City and the construction of the transcontinental railroad that passes through Reno and crosses the entire Silver State. Train rides are available during summer weekends. Be sure to check the schedule to find out when steam trains are running and when you can ride on the only McKeen Motor Car still in operation.
Sponsored Links
Sponsored Link