The Slide Mountain Trail is short on length and big on views. It's also easy to reach and little used, meaning you are likely to enjoy the scenic panoramas without the crowds found at nearby hiking areas like the Mt. Rose summit trail and the trails at Tahoe Meadows. And because the Slide Mountain Trail is short, you can easily hike those other areas during the same trip up from the Reno area.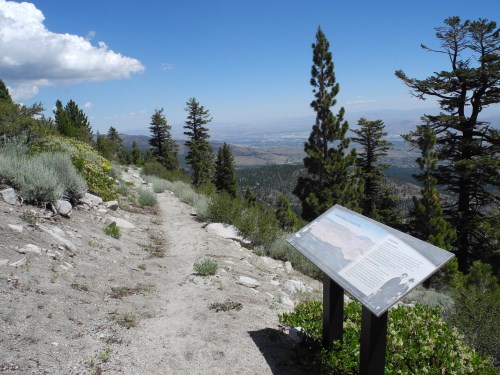 Interpretive signs found along the Slide Mountain Trail. Photo © Stan White
About the Slide Mountain Trail
The Slide Mountain Trail is a one mile loop that returns to its starting point. The only steep part is right at the beginning, but you won't mind once you start taking in the views. To the west, enjoy an unobstructed view if beautiful Mt. Rose. To the east and south, enjoy a birds-eye view of Washoe Valley and the mountains all the way south of Carson City. You can see Pleasant Valley, Reno, Sparks, and most of the Truckee Meadows by looking north. The trail is not ADA accessible, but the tread is nicely finished with decomposed granite and few rocks to trip on. There is plenty of parking, picnic tables, and interpretive signs at the trailhead.
Reaching the Slide Mountain Trail
From Reno, go north on I580 / U.S. 395 and take the Mt. Rose exit to State Route 431 (Mt. Rose Highway). Drive up the hill about 12.5 miles and turn left at the signed intersection with Slide Mountain Road. This is the road to Winters Creek Lodge and the east side of the Mt. Rose Ski Area. When you get to the big parking area and see ski lifts, bear to the right (northeast) and you will see the trailhead right where the pavement ends. Park near where you see the trail signs and enjoy the hike.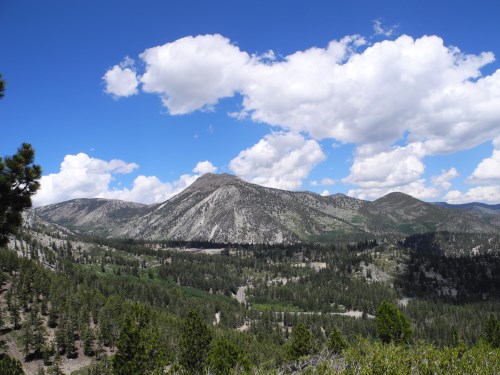 Mt. Rose view from the Slide Mountain Trail. Photo © Stan White
Sponsored Links
Sponsored Link