Great Basin Naturalists at Galena Summer Camp
Nine weekly camp sessions start on June 10, 2019, and will feature different weekly themes and more activities to get your children exploring the outdoors. This summer camp is for ages 8 to 12. Located within the Galena Creek Recreation Area, a beautiful forested park on the Mt. Rose Highway between Reno and Lake Tahoe, these summer camps foster creativity, promote core education, and emphasize responsibility to society and the environment. There will be both overnight residential camps and day camps. Camp dates, themes, registration information and pricing are all on the "Great Basin Naturalists at Galena Summer Camp" website and you can download the "2019 Summer Camp Brochure." For more information, call (775) 849-4948.
Teen Environmental Science and Service Learning Academy
Weekly sessions start on June 17, 2019, with the last program ending on July 27, 2019. This is an outdoor summer camp program for teens age 13 to 17. Teen campers join a discovery-based team, meet and work with scientists in the field, participate in service learning opportunities, go on extended day outdoor adventures, gain leadership experience, learn self-reliance and make new friends. The program includes both day camps and overnight camps. Get details about dates, registration, and cost from the Teen Exploration Camp website. (775) 849-4948.
Youth Backcountry Camps from Tahoe Rim Trail Association
Dates for ages 14 - 17 are August 18 - 21, 2019. For ages 12 - 14, it's June 25 - 28, July 14 - 17 or July 18 - 21, 2019. This is real camping summer camp for kids. Staff leads kids into the wilderness to share the joy and rewarding challenge of backpacking and wilderness survival through four day backpacking adventures. Participants come away with a sense of responsibility for the outdoors and develop confidence as they overcome a variety of challenges. To register online, visit the website and click on the dates of interest. For questions, contact info@tahoerimtrail.org.
Summer Art, Design and Clay Camps for Kids at Nevada Museum of Art
Camps are in June, July and August, 2019. These are half-day art camps at the Nevada Museum of Art's E.L. Cord Museum School. Kids ages 7 to 16 will enjoy experimenting with clay, ceramics and other art mediums and meet new friends during these half-day camps. Visit the website for camp details and online registration. The information phone number is (775) 329-3333.
Camp Discovery at The Discovery Museum
June 10 through August 9, 2019. The Discovery (Terry Lee Wells Nevada Discovery Museum) offers a series of summer camps for kids from Kindergarten through 7th grade. There are numerous themes and sessions for various age groups - grades K, 1 to 2, 3 to 4, and 5 to 7. You can view the schedule and sign up online for Camp Discovery sessions. Get additional information from the "Camp Discovery FAQ". The Discovery is at 490 S. Center Street in Reno. The info phone is (775) 786-1000.
Art Camps from Arts for All Nevada
Summer camps are in June and July, 2019. Week-long art camps from Arts for All Nevada are offered at the Lake Mansion and other locations around the Truckee Meadows. Camps have a variety of themes, age groups, and locations. Refer to the "Classes, Camps and Events Calendar" for details, dates, and sign up information. Arts for All Nevada main location is the Lake Mansion, 250 Court Street in Reno. Call (775) 826-6100 for more information.
Summer Outburst from Sparks Parks & Recreation
Sessions are from June to August, 2019. Summer Outburst is available to kids entering 1st through 4th grade and features fun-themed weeks with age appropriate activities, including arts and crafts, swimming, field trips, bowling, active games, Wild Island water slides and golf, skating, special guests and more. These activities are included in the registration fee. You can register online from the website or in person at the Recreation Office, 98 Richards Way in Sparks. Call (775) 353-2376 for more information.
SO2 Camp - This is a new camp for kids from 5th through 7th grade. Sessions are at the Larry D. Johnson Community Center, 1200 12th Street. This camp has the same type of age-appropriate activities as Summer Outburst. More information about all Sparks youth programs is available from the "Sparks Recreation Activity Guide."
Camps for Kids from the City of Reno
Reno's Department of Parks, Recreation and Community Services offers camps for kids of all ages during summer 2019. There are activities and camps geared to kids ages 6 to 17. There are some specialty camps, so be sure to check out the City of Reno camp information website to see what's going on. Some of the camps available are Vacation Station, Performing Arts Camp, Outdoor Adventure Camp and Bike Camp. Get details about times, dates, and fees from the Camps for Kids website. Call (775) 334-4280 for more information.
Robotics Summer Camps from Reno Technology Academy
June 3 through July 26, 2019. This camp will offer 4 different sessions - each 1 week long, for children ages 5 to 13. The program bringings great opportunities to our area while exposing our youth to Science, Technology, Engineering and Mathematics. You can sign up online or call (775) 849-4983 for more information. Reno Technology Academy is at 1100 Kietzke Lane.
KIDS University at UNR
June 17 - August 2, 2019. Kids University hosts a wide-range of youth camps during the summer and school breaks throughout the year. Choose from themed, weeklong camps designed to incorporate the academic STEAM components — science, technology, engineering, arts and math — with a healthy dose of fun. Camps are for kids grades 2 through 8. Camps are taught by certified teachers, graduate students and experts in their fields. Online registration features a full list of camps, dates, times and fees. For more information, call (775) 784-4046 or 1-800-233-8928.
2019 Wolf Pack Sports Camps
Camps are in June, July and August, 2019. Choose from 11 camps in a variety of sports. Boys and girls of all ages and abilities are invited to join Wolf Pack coaches and players for full-day, half-day and overnight camps including baseball, basketball, cross country, football, soccer, softball, tennis, track and field, volleyball and cheer. Each sports has its own information page on the Wolf Pack Camps website.
UNR College of Engineering Summer Camps
Camps run in weekly sessions, June 10 to July 19, 2019. These are STEM camp opportunities for students ages 12 to 18. Engineering camps provide students with a glimpse into their possible future as engineers through hands-on activities such as building and testing bridges, blasting bottle rockets and more. Visit the website for specific dates and details about each camp. You can register online. Call (775) 327-2256 to request paper forms.
Great Basin Outdoor School Summer Break Day Camp
Two weekly sessions, June 17 - 21 and June 24 - 28, 2019. Camps feature fun hands-on science, wildlife ecology, hiking, recycled art, and more. Takes place at the River School Farm in Reno, 7777 White Fir St. Cost is $205 for one child for one full week, with sibling discounts available. For kids aged 6 to 12. Visit the website to sign up or call (775) 324-0936 for more information.
Student Stewards Summer Camp
Weekly camps run from June 10 through August 9, 2019, with a different theme each week. Truckee Meadows Parks Foundation is sponsoring summer camps based at Idlewild Park in Reno. Camps are for kids 8 to 13 years old. Camps are STEAM based (stands for Science, Technology, Engineering, Art, and Math) and will incorporate all of these things at camp, including science and art projects, hiking, recreation, and weekly topics, all emphasizing fun. Monday through Friday, 9 a.m. to 4 p.m., with extended hours available. Online registration is available. (775) 360-6068.
KidScape Productions Summer Camps
KidScape Productions has summer camps from July 8 through August 2, 2019. KidScape camps focus on acting, theater and improv comedy. The full play camp is for kids ages 7 to 17 and the long form improv camp is for ages 9 to 17. Both conclude with a performance to showcase what was learned. Visit the website for information about times, places and online registration. Call (775) 313-3900 for more information.
Camp Lotsafun
Week of July 15, 2019. Camp Lotsafun is operated by Amplify Life, a non-profit organization in Reno "dedicated to providing recreational, therapeutic, and educational programs for children, teens, and adults with disabilities." There are events and programs for combinations of children, teens, and adults. Summer camps are held at Eagle Lake in northern California. For more information, call (775) 827-3866.
Camp Wasiu II with Girl Scouts of the Sierra Nevada
Camp dates are from June 7 through July 26, 2019. Camp Wasiu II is a traditional residential camp located in Sierra City, CA in the Tahoe National Forest, serving girls entering 1st grade up through high school. Girls have the opportunity to participate in canoeing, standup paddleboard, arts & crafts, hiking, campfire, outdoor cooking, disc golf, swimming and other fun camp activities. You don't have to be a Girl Scout to come to this camp, you just have to be a girl. Online registration is available. Get the full story from the "Summer Camp 2019" guide. (775) 322-0642.
Young Explorers Summer Break Camp
June 17 - August 2, 2019. Young Explorers offers a different theme for each week (Continent with an emphasis on a certain country or theme) as well as a different subject area focus for each day). Camps are limited to a small group of students ages 6 - 12. (775) 384-1972. 130 Gepford Parkway in Sun Valley.
Camp RockSport Climbing Camp
June 10 - August 9, 2019. Featuring week-long full-day sessions from 9 a.m. to 4 p.m. The curriculum is focused on each camper learning team building skills and gaining self-confidence. Camp is geared for kids of all climbing abilities. Climbers will have the chance to learn more about climbing and belaying, making them self-sufficient gym climbers. The cost is $250 per child with a $50 sibling discount. Camp is at RockSport Indoor Climbing Gym, 1901 Silverada Blvd. #10 in Reno. (775) 352-7673.
Camp Mesa Rim
June 17 - August 2, 2019. Each weekly camp session runs from 9 a.m. to 3 p.m. Camps introduce young climbers (ages 7 to 13) to top roping, bouldering, yoga and other activities that build confidence. Under the guidance of experienced camp coaches, campers spend the day climbing and doing yoga. They'll learn how to tie knots, safety techniques, and how to belay other climbers. They'll also play fun, mentally challenging games and do arts and crafts. You can sign up online. Camps are at Mesa Rim Climbing & Fitness Center, 970 Harvard Way in Reno. (775) 507-4255.
Camp Invention
June 10 - 14 and June 17 - 21, 2019. Children (K - 6th grade) are presented with fun, hands-on challenges that encourage creative problem solving, teamwork, entrepreneurship, and innovation. Camp invention is led by experienced local educators and new curriculum is introduced each year, inspired by the Inductees of the National Inventors Hall of Fame. The first two sessions are at Van Gorder Elementary School in Sparks and Hunsberger Elementary School in Reno. Visit the website for more information and online registration.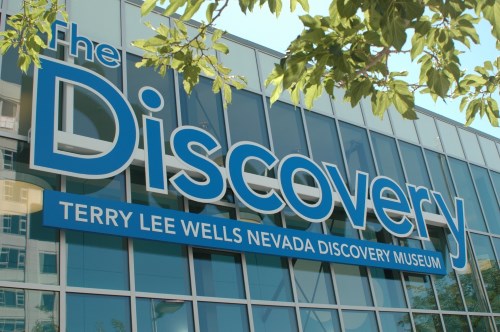 Summer camps at The Discovery in Reno, Nevada. Photo © Stan White
Acro Enso Kids' Summer Camps
Weekly sessions from June 10 through July 5, 2019. For kids ages 3 to 13. Learn a variety of circus arts including, juggling, acrobatics, Cyr wheel, balance board, hula hoop, clowning, and much more. Your children will enjoy a truly unique experience that inspires personal expression, creativity, and fun healthy play. You can sign-up online. Acro Enso is at 601 E. 4th Street in Reno.
Biggest Little Bear Summer Camp at Brookfield School
Weekly sessions from June 24 through August 16, 2019. For preschool children (ages 1 to 4) and those entering Kindergarten through 8th grade. Kids will experience quality science, technology, engineering, art and math (STEAM) instruction on and off-campus learning in the classroom and taking field trips, while having fun. Topics include Water, Wind, Build, Camping, Color, Movement, Nature, Transform. Brookfield School is at 6800 S. McCarran Blvd. in Reno. You can register online. (775) 825-0257.
Summer Camps at Lake Tahoe and Other Nearby Areas
Lake Tahoe Music Camp
June 30 - July 6, 2019. The 63rd annual Lake Tahoe Music Camp invites 7th through 12th grade student musicians to participate in a week of music-making, workshops, performances, and fun like basketball, volleyball, swimming, kayaking and more. The overnight camp is held at the Nevada State 4-H Camp in Stateline, Nevada, on the shores of Lake Tahoe. Sessions are conducted by award-winning UNR faculty and regional educators, guest conductors, professional chamber and jazz musicians, and more. Camp brochures and registration information are available online, at UNR School of the Arts/3048, KNPB Building, 1670 N. Virginia Street, or by calling (775) 784-4278. Due to limited space, registrations are accepted on a first-come, first-served basis.
Summer Camps from Tahoe Expedition Academy
June 17 - August 16, 2019. Tahoe Expedition Academy offers adventure and academic summer day camps for kids in Truckee and on Lake Tahoe's north shore. Held in week-long sessions, the summer camps focus on a variety of topics, all with an outdoor focus. They are available for kids ages 5 to 18 and divided by age groups. Online registration is available. Call (530) 414-9316 for more information.
Sugar Bowl Kids Summer Camps
Sugar Bowl Resort's 2019 summer camps run on July 15 - 19, July 22 - July 26 and July 29 - August 2. Camp Sugar Bowl summer camps are an opportunity for school-aged children to engage in experiential learning, master outdoor sporting skills and gain a deeper understanding of the natural environment. Camps are tailored to specific age groups ranging in age from 4 to 15. Activities include hiking, rock climbing, kayaking, swimming, mountain biking, nature art, storytelling and yoga. You can register online or call (530) 426-9000 for information.
Sierra Nevada Journeys Summer Camps
Week-long summer camps in 2019 are from June 16 through August 9. Campers will be involved in educational and fun, adventurous activities like outdoor science learning, teamwork, and leadership. Each week offers a different camp theme, from basic summer camp activities to extreme adventures. There are camp sessions for ages 8 to 13 and 14 to 17. Camps are held at Grizzly Creek Ranch, 45 minutes north of Reno in Portola, CA. Get all the details from "Sierra Nevada Journeys Summer Camp Handbook." For more information, call the Reno office at (775) 355-1688.
Sponsored Links