What is the Truckee Meadows Trails Challenge?
The Truckee Meadows Trails Challenge (TMTC) motivates participants to get out and explore many of the hiking trails and public parks around the Reno area. At the same time, you will be supporting our parks through the Truckee Meadows Parks Foundation.
TMTC is a self-guided program where you choose the trails you want to hike after signing up. You can hike as little as 5 miles or go for it with up to 100 miles of trails. You consider your own interests and fitness level in making your selections. Individuals, families, and groups can all take the challenge.
How to Join the Truckee Meadows Trails Challenge
Go to the Truckee Meadows Trails Challenge website, then click over to the registration page to enter your information and send payment. After you register, you gain access to trail guides, a monthly newsletter, guided, interpretive hikes with Truckee Meadows Parks Foundation, a Trail Log to track your miles and the Truckee Meadows Trail Guide, which contains a list of Washoe County trails.
You have a year from the time you sign up to finish your challenge. Once you have completed all of your trails, submit your log to TMTC and you will receive a completion letter in accordance to the challenge level completed. For questions and additional information, call (775) 410-1702 or email info@tmparksfoundation.org.
Individual adult - $40
Every additional adult (13 years or older) - $35
Children (12 years or younger) - $10
Contact Truckee Meadows Parks Foundation for more information about large group registration.
TMTC Guided Hikes
Free guided hikes each month are a benefit of joining the Truckee Meadows Trails Challenge. Guides will help you learn more about the parks and trails, you'll meet new people, and the hikes can be logged as part of your challenge. Refer to the Truckee Meadows Trails Challenge "2023 Guided Hike Schedule" for the when and where of these hikes. Participation is limited with pre-registration required.
More Reno Area Hiking Trails
There are numerous places to hike and walk around Reno and nearby locations. Go solo, with the family, or with a group of friends. Learn more from my "Reno Area Hiking and Walking Trails" article.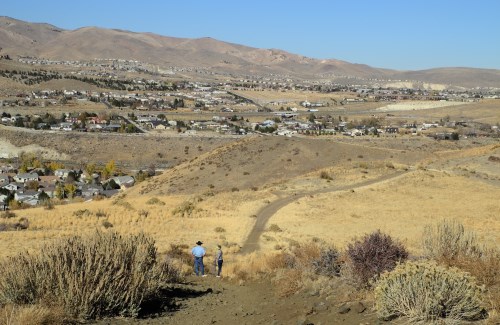 Enjoy great views of Reno and the surrounding mountains from the Tom Cooke Trail. Photo © Stan White
Sponsored Links
Sponsored Link