The 2023 Labor Day holiday is on Monday, September 4. This four day weekend (September 1 - 4) is the last big holiday weekend of the summer and there are lots of things to do for your final summer fling. Fall in 2023 officially arrives on Saturday, September 23.
Picnic in a Public Park
Labor Day picnics are a popular activity and we have plenty of public parks where you can set up to enjoy eating outdoors with family and friends. Here are some local favorites...
Take a Hike
The variety of "Reno Area Hiking and Walking Trails" ranges from easy urban paths to challenging mountain treks. You can choose something right here in the Truckee Meadows or drive to some spectacular hikes in nearby areas. Be sure to check the weather forecast before heading out. If thunderstorms are predicted, be extra cautious about going high on exposed ridges and peaks like on the Mt. Rose Trail.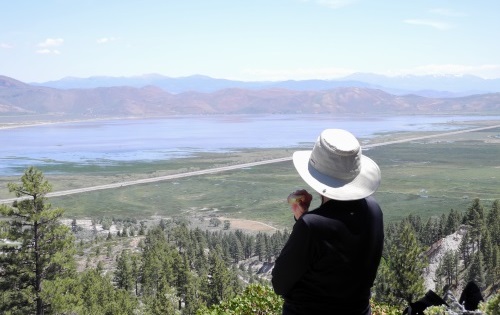 Washoe Valley view from the Ophir Creek Trail above Davis Creek Regional Park. Photo © Stan White
Train Rides in Virginia City
September 2 - 4 2023. The Virginia City to Gold Hill round trip train ride will be running during Labor Day weekend. The steam train is running on weekends, otherwise it's a diesel locomotive. There are seven departures daily from the Virginia City 1870 Depot and reservations are not required. (775) 847-0380. Heritage Battle Trains will be running on Saturday and Sunday, September 2 - 3, 2023.
Steam Train Rides at the Nevada State Railroad Museum
September 2 - 4, 2023. The Nevada State Railroad Museum in Carson City will have steam train rides behind historic Virginia & Truckee locomotive No. 25. The train operates on a loop around the museum and the ride lasts approximately 30 minutes. Trains depart from Wabuska Depot every 40 minutes starting at 10 a.m., with a break for lunch at noon. Last ride is at 2:40 p.m.
Reno LaborFest 2023
Monday, September 4, 2023, 10 a.m. to 4 p.m. Join the Northern Nevada Central Labor Council and our affiliates for a celebration of the middle class and Nevada's working families in Idlewild Park. Live music, food trucks, a beer garden, a Show & Shine, an Artisan Row, a kids' zone, and more - fun for the whole family and open to the general public.
Reno Aces Baseball
Friday through Sunday, September 1 - 3, 2023. The Reno Aces will be playing a three game homestand at Greater Nevada Field against the El Paso Chihuahuas. There are fireworks following the Friday game. Reno Aces games are always great family fun that is affordable.
Burning Man 2023
If you aren't already at Burning Man out in the Black Rock Desert, you can read all about it. To check out what is happening at Burning Man without the dust, go to "Burning Man Live Webcast."
Ride the Idlewild Park Train
The Idlewild Park train is one of Reno's most popular family attractions. Train rides for the 2023 season run through Labor Day weekend, then weekends only until October 1.
Through Labor Day, the train operates from 11 a.m. to 3 p.m. Tuesdays through Fridays and 11 a.m. to 6 p.m. on Saturdays and Sundays.
Play in the Water
The Truckee River at Wingfield Park in Reno and Rock Park in Sparks are popular places for a fun Labor Day of water play. To find out about public swimming pools (most closing after Labor Day weekend), follow the links from my "Public Swimming Pools and Water Play Places in Reno and Sparks" article.
Sand Harbor at Lake Tahoe, an extremely popular beach park, will be even more so on Labor Day weekend. If you want a parking place and spot on the sand, get there real early. Otherwise, you will need to ride the shuttle or go to another Lake Tahoe beach.
Visit a Museum
The Reno area has numerous museums covering a wide range of interests. Here are a couple of particular interest.
Nevada Museum of Art - The Museum will be closed on Labor Day, but open on Saturday and Sunday of Labor Day weekend. You do not need to buy tickets in advance - they can be purchased at the time of your visit.
The Discovery - The Terry Lee Wells Nevada Discovery Museum is one of the best places in Reno for family fun in an educational atmosphere. It is open every day of the week, including Mondays through Labor Day.
Chow Down at the Nugget Rib Cook-Off
The Nugget Rib Cook-Off runs from Wednesday through Sunday, August 30 to September 4, 2023. The Nugget Rib Cook-Off is really a cooking competition between the professional barbeque teams that will also be serving ribs and fixins to the public during the event. It will be going full tilt during Labor Day weekend. Admission to the Nugget Rib Cook-Off and parking are free. There is a free daily shuttle bus, saving you a big parking hassle. Held at Victorian Square in Sparks.
Wolf Pack Football
The UNR Wolf Pack football team plays an away game in Los Angeles against the USC Trojans. The contest is on Saturday, September 2, 2023 and kicks off at 3:30 p.m.
35th Annual Numaga Indian Days Pow Wow
Friday through Sunday, September 1 - 3, 2023. The Reno-Sparks Indian Colony hosts its nationally acclaimed Numaga Indian Days Pow Wow. This free, family event features some of the best Native American dancers, singers and drummers in the country. Over 50 vendors will be selling traditional native foods and handcrafted silverwork, beadwork, baskets and other American Indian art. Hungry Valley is in Eagle Canyon, 19 miles north of downtown Reno and west of Spanish Springs.
Labor Day at Lake Tahoe
There are two great places at Lake Tahoe for Labor Day play. On the north shore near Incline Village, check out Sand Harbor for a beautiful beach, picnic areas, a nice visitor center, and more. Down near the city of South Lake Tahoe is Taylor Creek Visitor Center, operated by the U.S. Forest Service. Nearby are fun and easy interpretive trails and access to beaches on Lake Tahoe.
Labor Day in Virginia City
The Labor Day parade in Virginia City will be on Monday, September 4, 2023, starting at 12 noon.
Heritage Civil War Days Battle Trains are September 2 - 3, 2023. Live through history in Virginia City as the Great Civil War Reenactors bring Heritage Civil War Days to life. Hundreds of reenactors battle out great scenes on the Virginia & Truckee Railroad and even right in the middle of C Street as part of the Labor Day Parade. Visit the website for more information.
Sponsored Links
Sponsored Link