About the Reno Air Races
The 2023 Reno Air Races will be held from Wednesday, September 13, through Sunday, September 17. Hours are approximately 8 a.m. to 4:30 p.m., though this can vary somewhat due to weather or other scheduling issues.
The National Championship Air Races and Air Show (aka Reno Air Races) is a unique annual event held at Reno Stead Airport north of downtown Reno. The world's fastest motor sport also features extensive static displays along with spectacular military and civilian aerial entertainment. It is the last pylon air racing event of its kind in the world. Chief organizer is the Reno Air Racing Association (RARA).
Final Flag at the Reno Air Races
Due to a number of factors, this will be the final year of the Reno Air Races at Reno-Stead Airport. The last National Championship Air Races event is set to return with more than 150 planes and pilots as well as several 'hands-on' displays and experiences, including the GRADD-NVBAA STEM Education Discovery Zone, heritage displays, military demonstrations and static displays and more.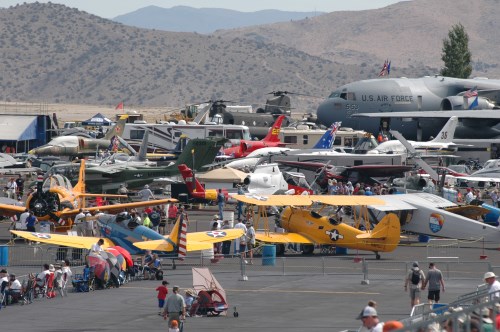 Civilian and military aircraft displays at the Reno Air Races. Photo © Stan White
Racing at the Reno Air Races
You will get more out of attending the Reno Air Races if you learn about the classes of race aircraft and how the races are staged. It makes the whole thing more fun and interesting if you understand the basics of what's going on.
Aerobatic Performances at the Reno Air Races
Also performing in the skies over the 2023 Reno Air Races will be the A-10 "Warthog" Tactical Demonstration, F-18 Super Hornet Tactical Demonstration, USAF Heritage Flight, Navy Legay Flight, Jim Peitz Aerosports and GB-1 Gamebird.
Military and Other Aircraft Displays at the Reno Air Races
Reno Air Races attendees will enjoy numerous aircraft displays on the tarmac next to the runway. You can get up close to examine a big selection of vintage flying machines along with some of the latest and most advanced military aircraft. Many military planes are open to the public, with flight crews available to conduct tours and answer questions. Vintage aircraft will also be on display covering many aspects of aviation history.
Reno Air Races Tickets
Tickets never sell out. If you just show up, you will always be able to get in the Reno Air Races. Besides general admission, there are various other ticket options as explained on the Reno Air Races ticket information page, including single day tickets and all of the various multi-day and reserved seating options.
Ticket prices increase each day. Adult general admission tickets are $16.25 on Wednesday, $27.75 on Thursday, $45 on Friday, and $60 on Saturday and Sunday. You must buy an extra pit pass to access the area where crews work on the racing airplanes. These also go up in price each day.
Security and Safety at the Reno Air Races
The Reno Air Races is a no-pets event. Dogs (except certified service animals) will not be admitted. Backpacks, camera bags, and any other items you bring are subject to search at the gate before entry.
Location of and Parking at the Reno Air Races
Reno Stead Field Airport is about 11 miles north of downtown Reno on I580 / U.S. 395. There are big signs directing motorists to exit at Stead Boulevard (Exit 76). Turn right and follow signs to parking areas at the airport. Once at the site, there are numerous parking options available. One of those options is NOT on the streets in the nearby neighborhoods.
Reserved RV parking is available for the entire event - there are no daily RV parking permits. It's dry camping, with mobile sanitary dump trucks and water trucks coming through on a daily basis. Get cost and other details from the parking information page.
Shuttle Bus Service to the Reno Air Races
For those staying at a hotel in Reno or Sparks, and others who would rather ride a bus than drive, there is a shuttle service available to take you to and from Reno Stead Field Airport. It is operated by South Tahoe Air Porter. Tickets can be purchased at the pick up locations and at Reno Stead Field. Tickets are $15 one way and $25 round trip. Shuttle bus service from Reno and Sparks will be available from these locations...
THE ROW hotels - Eldorado, Silver Legacy, Circus Circus Reno Hotel & Casino, 345 N. Virginia Street, Reno
Nugget Casino Resort, 1100 Nugget Avenue, Sparks
More About the Reno Air Races
Weather and other unpredictable factors can affect when things actually happen. Air race officials suggest you do not plan your attendance around a specific race or show since it may not happen at the originally scheduled time. Get the additional information you need to enjoy the Reno National Championship Air Races at these links: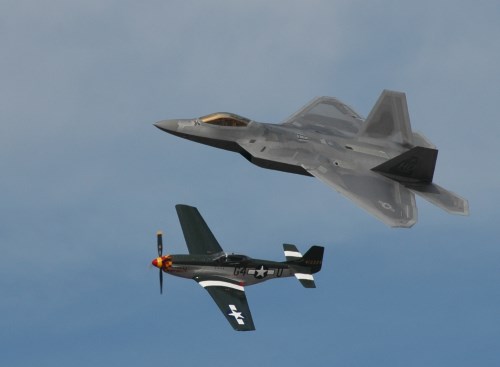 Heritage flight at the Reno Air Races. Photo © Stan White
Source: National Championship Air Races website
Sponsored Links
Sponsored Link