Animal Ark
1265 Deerlodge Road, Reno, NV 89508
(775) 970-3111
Animal Ark provides sanctuary to orphaned, injured and non-releasable wildlife. Animal Ark offers fun and educational events, tours and programs. The mission of Animal Ark is to inspire environmental stewardship through wildlife education. Animal Ark educates tens of thousands of children and adults a year about ecological principles and wildlife by providing special programming events and educational tours.
Refer to "Tips, Hours & Directions" for information about visiting hours, admission prices, and getting to Animal Ark. It is about half an hour north of downtown Reno in the Stead area off of Red Rock Road. There are numerous special events to enjoy throughout the year. The most exciting are the cheetah runs, where the world's fastest land animals sprint unfettered across the landscape at top speeds.
Sierra Exotic Animal Park
10200 N. Virginia Street, Reno, NV 89506
(775) 677-1101
Sierra Exotic Animal Park (formerly Sierra Nevada Zoological Park) opened in 1990 and is small as zoos go, but it is still the largest zoo in Nevada. In residences are over 200 animals representing over 40 different species. The residents include African lion, liger, Siberian tiger, leopard, hyena, cougar, patas monkeys, green vervet monkeys, ring-tailed lemur, baboons, coatimundi, deer, camel, macaw, and many more. The zoo has a particularly excellent collection of cat species. If animals are an interest, there are volunteer opportunities at Sierra Exotic Animal Park.
For information about admission costs and hours, refer to the Sierra Exotic Animal Park website. The zoo is north of downtown Reno in the Stead area. It is on the south side of I80 and visible from the highway.
Mission statement: "To foster compassion for and knowledge about animals and our environment by bringing people and animals together. We do this with a commitment for the responsible care of our animal ambassadors and to encourage the thoughtful stewardship of all animals on Earth."
Sources: Animal Ark and Sierra Exotic Animal Park websites.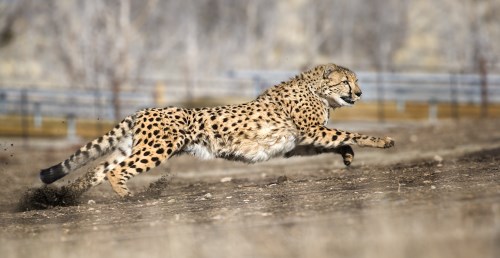 Animal Ark cheetah on the run. Photo courtesy Animal Ark, Reno, Nevada.
Sponsored Links
Sponsored Link