Live entertainment is available at numerous theaters and other venues in the Reno area. If you like live plays, musicals, concerts and comedy, here are some of the best places to check out for the kinds of shows you may be looking for. Some listings have a link to information about current productions, times and tickets. If not, check the website or call for details.
Pioneer Center for the Performing Arts
The Pioneer Center for the Performing Arts stages a variety of shows throughout the year. Some of these include holiday shows by A.V.A Ballet Theatre and the Reno Philharmonic Orchestra, both of which are Pioneer Center resident companies. A series of different shows called "Broadway Comes to Reno!" has been presented for several years. Other individual shows by local and visiting companies play throughout the year.
100 S. Virginia Street, Reno, NV 89501
(775) 686-6600
Upcoming Events
Bruka Theatre
Bruka Theatre has been entertaining audiences in Reno for over 20 years. Bruka presents a wide variety of live productions, from serious adult plays to theater for children.
99 N. Virginia Street, Reno, NV 89501
(775) 323-3221
Tickets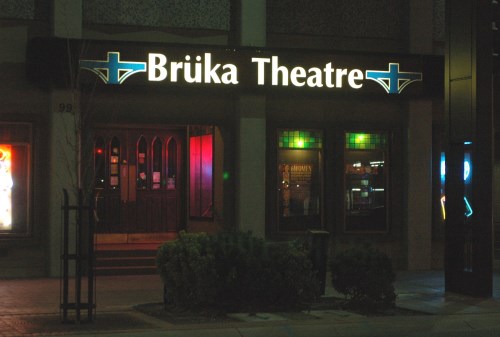 Bruka Theatre in downtown Reno, Nevada. Photo © Stan White
Reno Little Theater
Reno Little Theater (RLT) is the longest running show in town, having been in continuous existence since 1935. You can see a variety of plays each season, including musicals, comedy, mystery, suspense and drama. Reno Little Theater is a volunteer-driven, non-profit organization that also offers adult and grammar-school drama classes, play-writing competitions, and a children's theater.
147 East Pueblo Street, Reno, NV 89502
(775) 813-8900
Tickets
Good Luck Macbeth Theatre Company
Good Luck Macbeth produces original plays, classic productions, and innovative shows. It is a non-profit company that supports artistic and educational initiatives in the community. Playwrights, poets, singers, songwriters, actors, and artists are all involved with productions at Good Luck Macbeth Theatre Company.
124 W. Taylor Street, Reno, NV 89501
(775) 322-3716
Tickets
TheatreWorks of Northern Nevada
TheatreWorks produces a variety of plays. It is a non-profit performance arts organization whose mission is to provide youth and the underserved population in our community with quality performing arts opportunities and education. TheatreWorks conducts numerous outreach programs and offers scholarships to disadvantaged students who would otherwise not be able to participate.
Performances at the Laxalt Auditorium,
401 W. 2nd Street, Reno, NV 89503
(775) 284-0789
Tickets
UNR Department of Theatre and Dance
This department at the University of Nevada, Reno puts out a wide variety of both dance and drama productions and is affiliated with the Lake Tahoe Shakespeare Festival. There are several performance venues, both on the main campus and the Redfield campus in south Reno.
Church Fine Arts Building,
1664 N. Virginia Street, MS 0228, Reno, NV 89557-0228
(775) 784-6829
Tickets
TMCC Visual and Performing Arts
Truckee Meadows Community College (TMCC) performing arts include music and theater productions. There are four to 5 shows each year in addition to performance ensembles by musicians.
7000 Dandini Boulevard, RDMT 334U, Reno, NV 89512-3999
(775) 673-7291
Tickets
These three downtown Reno venues work together to bring audiences a wide variety of elaborate stage productions, top comedy and entertainment acts, and are sponsors of some popular big events. Go to the websites to see what's playing and for times and ticket information.
Eldorado Resort Casino
345 N. Virginia Street, Reno, NV 89501

Silver Legacy Resort Casino
407 N. Virginia Street, Reno, NV 89501

Circus Circus Reno
500 N. Sierra Street, Reno, NV 89503
Lake Tahoe Shakespeare Festival
The annual Lake Tahoe Shakespeare Festival takes place in July and August at Sand Harbor, on the north shore near Incline Village. In addition to a major production (sometimes two), you can enjoy top musical entertainment and other related activities. Some of these are specifically for children.
Sand Harbor Beach and State Park,
Three miles south of Incline Village on Nevada 28
(775) 832-1616
Tickets
Merry War Theatre Group
Merry War plays are mostly about adult subjects. Shows are staged at various venues such as Good Luck Macbeth, Lear Theater and The Potentialist Workshop.
544 W. First Street, Reno, NV 89503
(775) 848-9892
Tickets
Restless Artists Theatre
This company in Sparks puts on a wide variety of plays dealing with various subjects, from politics to comedy, plus their take on acclaimed classics. Visit the website for information about upcoming shows and tickets.
295 20th Street, Sparks, NV 89431
(775) 525-3074
The Utility Players
The Utility Players is an improv comedy troupe that plays weekly in Reno at the Sands Regency. The show is different every time and is R rated. If you are in the audience, be prepared to participate.
Jester's Theater in the Sands Regency, 345 N. Arlington Avenue, Reno, NV 89501
(775) 348-2200
Tickets
Cargo Concert Hall
Cargo is inside the Whitney Peak Hotel in downtown Reno. This venue features top acts from a variety of musical styles. Most, though not all, shows are 18+, with occasional all-ages shows. Check the event listing for each show for information about age limits, dates, times, and tickets.
255 N. Virginia Street, Reno, NV 89501
(775) 398-5400
Calendar of Events
Laughing Owl Productions Theatre Company
Currently without a permanent home, Laughing Owl is still performing at various venues around town, including productions at local schools.
P.O. Box 5222, Reno, NV 89513
(775) 737-8942
Live Performances in Carson City
Wild Horse Children's Theater Company
Wild Horse Theater is a non-profit organization formed to enhance and enrich the Carson City community through performing arts classes, live theater, outreach programs, and other educational programs in the theatrical arts. The company produces several shows throughout the year.
Performances at Brewery Arts Center,
449 W. King Street, Carson City, NV 89703
(775) 887-0438
Tickets
Western Nevada Musical Theatre Company
This group stages productions of popular Broadway musicals. It is one of the largest regional theater companies in Nevada and draws its audience from nearby California as well as Nevada. There are usually two productions a year, one each in May and November.
2201 W. College Parkway, Carson City, NV 89703
(775) 445-4249
Tickets or call 866-977-6849
Sponsored Links
Sponsored Link