Davis Creek Regional Park is 20 miles south of Reno in Washoe Valley. The park offers a variety of recreational opportunities, including a campground with 62 overnight sites, hiking and nature trails, biking and equestrian access, shady picnic areas, group camping and day use areas that can be reserved, a small fishing lake, and great views of Washoe Lake and Slide Mountain. The park is in a stand of Jeffrey pines, right at the transition zone between the open Great Basin desert and the Sierra Nevada forest.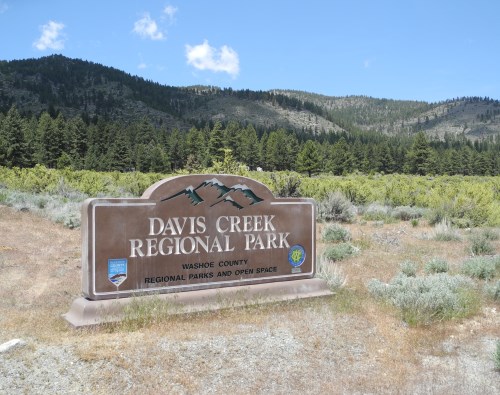 Davis Creek Regional Park in Washoe Valley, south of Reno, Nevada. Photo © Stan White
Day Use Activities at Davis Creek Regional Park
Davis Creek Park is a great place for day use activities. There is something for everyone in the family, including the opportunity to just relax in the quiet shade of the forest. A big plus is that there is no day use fee unless you are reserving a group area for a picnic or other gathering. Here are some of the available facilities and things to do...
Picnic / barbecue areas.
Group picnic areas (must be reserved and there is a fee).
Bird watching.
Hiking and walking trails.
Equestrian trails.
Horseshoe pits.
Volleyball courts.
Fishing at Davis Creek Park Pond (requires Nevada fishing license).
Winter ice skating on the pond (conditions permitting).
For information about renting a group day use area, call the parks administration office at (775) 823-6501.
Camping at Davis Creek Regional Park
The Davis Creek Campground has 62 sites available on a first-come basis. The campground is in the forest and moderately hilly. There are no hook-ups, but several of the sites can accommodate larger RVs and trailers. Individual sites can have up to 7 people. The fee is $20 per night and $5 for extra vehicles. Pets are $1. Coin-op hot showers are available. For campground information, call the park ranger at (775) 849-0684.
Davis Creek has two group camping areas that can be reserved. There is an RV area for up to 100 people where tents can also be used. The fee is $125 per night with a refundable $100 security deposit. A walk-in tent area can accommodate up to 50 people. The fee is $100 per night with a $100 refundable security deposit. Both have running water, picnic tables, a large campfire ring, bear-proof food lockers, and hot showers. For group camping reservations, call (775) 823-6501.
Ophir Creek Trailhead
The trailhead for Ophir Creek Trail is at a day use parking area inside the park. This challenging hike climbs steeply right from the beginning, but your reward is expansive views across Washoe Valley to the east and Slide Mountain on the west. If you go all the way to Tahoe Meadows on the Mt. Rose Highway, it's 7.5 miles one-way and all uphill - the gain is 3379 ft. This trek is for experienced hikers and you should start early. However, the first 1.9 miles takes you to the crossing at Ophir Creek and is a pleasant hike. This first section is steep as well, but you get some of the great views this trail is known for without going the whole way.
Here's a tip - do this hike with a car shuttle. Leave one vehicle at Davis Creek and take another up to Tahoe Meadows. The distance is obviously the same, but you won't be struggling uphill all day.
There is more scenic hiking nearby, including the Mt. Rose Trail, Slide Mountain Trail, and the trails in Washoe Lake State Park.
Visiting Davis Creek Regional Park
To reach Davis Creek Regional Park, drive about 20 miles south from Reno on I580 / U.S. 395. At the south end of Washoe City (and the north end of Washoe Valley), look for signs for a right exit onto Nevada 429 (old U.S. 395). There are signs for Davis Creek Regional Park and a right turn onto Davis Creek Camp Ground Road, which take you to all parts of the park. There are signs inside the park directing you to various locations like the campground, day use areas, and Davis Creek Park Pond. Davis Creek Regional Park is operated by Washoe County Regional Parks and Open Space.


Photos © Stan White
Other Nearby Parks
Sponsored Links
Sponsored Link