If you know of any outstanding Christmas lights displays around the Truckee Meadows, please use our Contact Us form to send an address so it can be added to the list.
38th Annual Hidden Valley Parade of Lights
Through New Year's Day, 2021. There are lots of highly decorated homes in the Hidden Valley area of east Reno. All the decorations are actually part of a contest by the homeowners' association, but everyone can come to enjoy the lights. Since they are all in one area, it's a good way to enjoy lighted Christmas decorations without driving too much.
There are two ways to get there from E. McCarran Boulevard or Veterans Parkway. Go east on either Pembroke Drive or Mira Loma Drive. When you get into the houses you'll start seeing the decorated homes. You can use Google to navigate the neighborhood or download this Hidden Valley street map. Here are a few of the streets where you are likely to see some spectacular homes, but don't limit yourself to these - there will be more if you look around.
Jagged Rock Road
Mia Vista Court
Clear Creek Drive
Pebble Beach Drive
Tamarisk Drive
Hidden Valley Drive


Decorated home in the Hidden Valley Parade of Lights. Photo © Stan White
City of Reno Holiday Tree
View this big decorated tree at City Plaza, across from City Hall in downtown Reno.
Damonte Ranch Circle of Lights
The official Circle of Lights has been canceled, but residents are still encouraged to get their lights out. This south Reno neighborhoods is likely to be a good place for some nicely decorated homes.
Canceled.
Somersett Neighborhood of Lights
Voting is open from Wednesday, Dec. 9, through Saturday, Dec. 19, 2020. Gates will be open from 5 p.m. to 8 p.m. each evening to accommodate those touring the lights. Click for a map of participating homes.
39 North Pole Village is canceled for 2020. However, you can still take part in The Griswold Challenge, where local families and businesses compete in a light display contest inspired by Clark Griswold from National Lampoon's Christmas Vacation. This is a People's Choice contest, so people can view businesses and houses around Sparks to determine the winning displays. Registration deadline is December 10, 2020. You can download the entry form from the website. For more info, call (775) 690-2581.
Lights of Omni
Come see 60,000 LED lights synchronized to 8 Christmas songs, transmitted via FM 89.9 to your car radio. The display is at 290 Omni Drive in Sparks.


Lights of Omni. Image courtesy Dean Parker.
Singing Santa in Sparks
This Christmas lights display features Santa Claus singing various songs. The featured tune is "A Soldier's Silent Night." It is located at 4435 Dancing Moon Court in Sparks, off Los Altos Parkway.
2390 Walnut Street in Reno
They have over 30,000 lights, with each tree having over 3200 lights.
4018 White Rock Court in Reno
Known as "The Elf House" where kids get to mail their Santa letters and enjoy watching the elves work, plus lots of decorations.
Biggest Little Light Show
9140 Gilvarry Street in Reno. Lights are on Monday to Thursday, 4:30 p.m. to 9 p.m. and Friday to Sunday 4:30 p.m. to 9:30 p.m. Tune your radio to 89.9 FM and enjoy 6 different songs.
3928 Snow Valley Drive in Cold Springs
As reported by Sean, this Christmas display features three homes with lights synchronized to 14 different songs. Click for directions to 3928 Snow Valley Drive in Reno's North Valleys.
10878 Pebblehill Drive in Reno
This home goes all out. Bring some non-perishable food items for the community food pantry bin and grab a "letter to Santa" template that they set out for the little kids.
Alpine Circle in Reno
Each year the neighbors in this cul-de-sac light up their homes to celebrate the holiday season. As it gets closer to Christmas, Santa sits outside handing out candy canes. Each year is a little different and there is also a spot to donate canned goods that benefits the Food Bank of Northern Nevada.
2063 Whitecliff Drive in Reno
Tune in to 100.5 FM to hear the sounds of the season. This location is in South Reno.
10408 Rockport Lane in Reno
South Reno off Double Diamond Pkwy.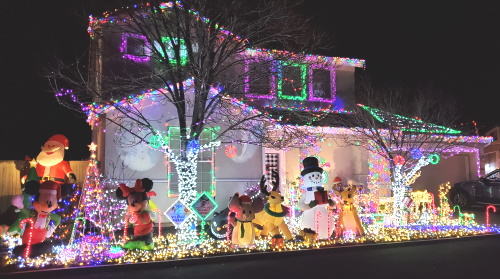 Image courtesy Randy Zaborac.
7540 Gold Drive in Golden Valley, behind North Valleys High School
Display has about 30,000 lights. There are 72 channels of lighting synchronized to a total of 9 songs. Tune to 89.90 FM. Display includes big arches, a mega-tree and Star Wars decorations. Display operates Sunday through Thursday, from 5 p.m. to 9 p.m. and Friday through Saturday from 5 p.m. to 10 p.m. Donations are being accepted for the SPCA.
Lights of Tanea
This long-running light display is back after taking a break since 2016. Though not as extensive as it used to be, the show is still impressive. Located at 16180 Tanea Drive in south Reno. Daily from 5 p.m. till 9:30 p.m. For accompanying music, tune to 106.1 FM.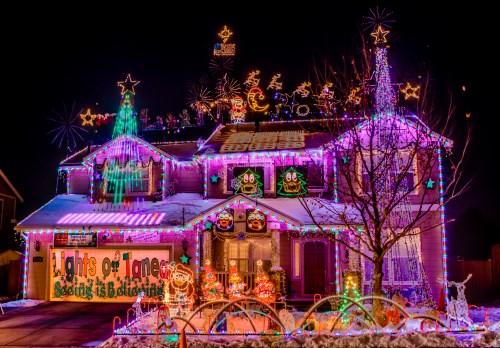 Photo courtesy Lights of Tanea
Spring Drive in Reno
There are a number of festively decorated homes along a stretch of Spring Drive east of Rio Poco Rd.
More Christmas Light Displays
The big shopping centers (Outlets at Sparks, Meadowood Mall, Summit, etc.) all have nice holiday lights displays. There are other private home displays all over Reno and Sparks, but it can be difficult to find information about these. My advice is to watch the media (TV news and newspapers) as they sometimes report on some of the bigger displays. If you know of one, feel free to Contact NewToReno with the information.
Christmas Lights at the Governor's Mansion in Carson City
The historic Nevada Governor's Mansion shines with thousands of lights during the Christmas season. It is located at 606 Mountain Street in Carson City.
Sponsored Links
Sponsored Link