Hidden Valley Regional Park is administered by Washoe County Regional Parks and Open Space. It is a great park for family visits, with a wide variety of features designed to accommodate various recreational activities. Hidden Valley Regional Park is 480 acres, most of which is natural open space. There are 65 acres that are developed for various uses.
Things To Do at Hidden Valley Regional Park
Developed areas at Hidden Valley Regional Park include a horse arena with an announcer's stand and a grandstand, restrooms, a covered group picnic area (by permit only), non-reservable individual picnic areas, two tennis courts, a volleyball court, two children's playground areas, and trails for hikers, bikers, and equestrians. Except for a kid's playground, all of these developed features are accessible from the north entrance to the park.
Undeveloped terrain in a large flat area between the Hidden Valley subdivision and the Virginia Range has old dirt roads meandering through the area, making it suitable for easy walking and biking. You can take a strenuous hike up into the Virginia Range. It's basically straight up on any of many use trails hikers and wild horses have worn into the slopes over the years. The only real trail is on the north side of the canyon, clinging to the steep slopes. It best to hike up to the obvious ridge, then get on this trail for a scenic walk back down to the park. A short hike part way up the slope will reward you with spectacular views of Mt. Rose, Slide Mountain, the Carson Range, and all the way across the Truckee Meadows. Access to this area is through a gate at the mouth of the canyon, a short walk from the southeast corner of the horse arena.
Look for signs at both north and south entrances to the park for information about the system of hiking and biking trails winding through the area.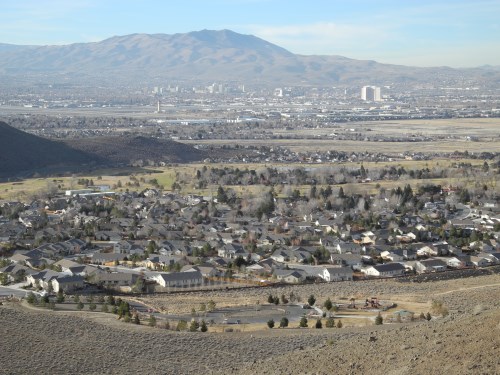 Big views from hiking trails at Hidden Valley Regional Park in Reno, Nevada. Photo © Stan White
Link Piazzo Dog Park at Hidden Valley Regional Park
One of the Reno area's developed dog parks is at Hidden Valley Regional Park. Link Piazzo Dog Park is fully fenced and has separate enclosures for both large and small dogs. Dogs must be leashed at all times in Hidden Valley Regional Park if not within the confines of the dog park.
Getting to Hidden Valley Regional Park
North entrance - Hidden Valley Regional Park is on Reno's east side, between the Hidden Valley neighborhood and the Virginia Range. From McCarran Boulevard, turn east onto Pembroke Drive and drive into the housing development. Several blocks into the houses, take a right on Parkway Drive and follow it to the park. There are several places to park depending on what you would like to see and do.
South entrance - From McCarran Boulevard, go east on Mira Loma Drive into the Hidden Valley subdivision. Turn right on W. Hidden Valley Drive and follow it around the edge of the golf course. Beyond the golf course, turn right on Mia Vista Drive and follow it up to a parking area and playground. There is trail access here and a good chance of spotting some of the wild horses that frequent the area.
For more information, contact the Bartley Ranch Ranger Office at (775) 828-6612. To reserve the Vista picnic pavilion or horse arena, contact Parks Administration at (775) 823-6501.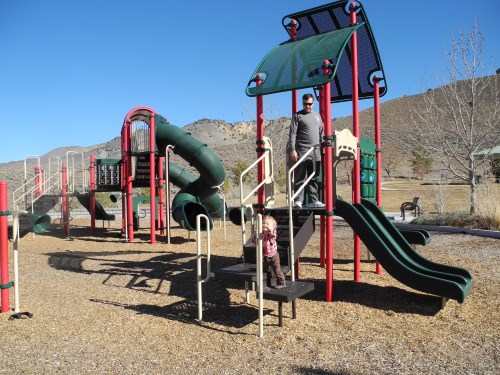 Playground at the south entrance to Hidden Valley Regional Park in Reno, Nevada. Photo © Stan White
Sponsored Links
Sponsored Link