Free presentations from the Historic Reno Preservation Society are open to the public. These programs are for you if you are a local history buff or just want to know more about how and why Reno and northern Nevada got to where we are today.
Harold's Club - World's Largest Casino - Wednesday, January 15, 2020, 5:30 p.m. Harold's Club emerged from a hole in the wall operation on North Virginia Street to become the largest casino in the world and helped to put Reno on the map. Northwest Reno Library, 2325 Robb Drive, Reno. Presented by Neal Cobb, Reno historian.
Lincoln Highway 101 — The First Transcontinental Highway Across America - Sunday, February 2, 2020, 12:30 p.m. The Lincoln Highway was the first transcontinental highway across the United States — what was it, when was it, and where did it go? This presentation features a lecture and slide show on the development and history of the Lincoln Highway, including how the highway crossed the US. This is part of our local history of Nevada, as the Lincoln Highway passed through Reno, Sparks, Carson City, around Lake Tahoe, and across Donner Summit. Downtown Reno Library, 301 S. Center Street, Reno. Presented by Jim Bonar, Lincoln Highway Association national board member for Nevada.
Wilbur D. May - Wednesday, February 19, 2020, 5:30 p.m. Wilbur May was the third son of David May, founder of The May Department Stores Company. Wilbur was a rancher, pilot, artist, philanthropist, and world traveler who lived in Reno from 1936 until his death in 1982. The museum's collection derives from over 40 trips Wilbur made around the world, and include T'ang Dynasty pottery, African masks, statues and artwork, Inuit scrimshaws, Egyptian scarab figures, Greek icons, wildlife dioramas and a shrunken head from South America. Northwest Reno Library, 2325 Robb Drive, Reno. Presented by Samantha Szesciorka, assistant curator at the Wilbur D. May Center and editor in chief at Sagebrush Rider.
Nevada State Board on Geographic Names—How Do the Mountains Get their Names? - Sunday, March 1, 2020, 12:30 p.m. The Nevada State Board on Geographic Names has been in place since 1985, working to advise the U.S. Board on new name suggestions, research current names of features, and weigh in on controversies when presented. This talk will provide a history of the board, operational procedures, provide a look at why and how features get named, and highlight a few interesting and noteworthy features on the Nevada landscape. Downtown Reno Library, 301 S. Center Street, Reno. Presented by Dr. Christine Johnson, Collection Manager, Nevada Historical Society.
ALSOS - The Hunt for Hitler's A-Bomb - Wednesday, March 18, 2020, 5:30 p.m. In 1943, as part of the Manhattan Project, a clandestine group of scientists and military personnel, ALSOS, are tasked with finding and capturing German nuclear scientists and their labs before Hitler can change the outcome of the war. Unforgettable and unlikely characters, poignant moments, suspense and even comedy characterize this piece of history. And a special twist: the Reno connection? Northwest Reno Library, 2325 Robb Drive, Reno. Presented by Jerry Wagner, retired from managing environmental programs.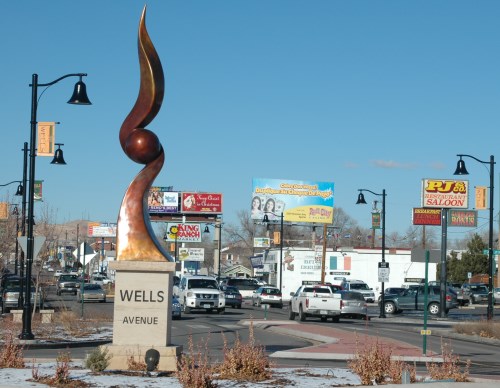 Reno's historic Wells Avenue neighborhood. Photo © Stan White
Source: Historic Reno Preservation Society.
Sponsored Links