The 80th (2019) Regular Session of the Nevada Legislature begins on Monday, February 4, 2019. The Nevada Legislature meets every other year (biennial) for 120 consecutive days. The ending day will be June 3, 2019. Outside this constitutional defined time frame, the governor or two-thirds of members of the legislature can convene special sessions.
About the Nevada Legislature
The Nevada State Legislature consists of 42 assemblypersons and 21 senators. Nevada's legislators are subject to term limits. Members of the Nevada Assembly serve two-year terms and are limited to six terms, or twelve total years in the Assembly. Members of the Nevada Senate serve four year terms and are limited to three terms, or twelve total years in the Senate.
Between sessions, legislators work on various committees that attend to business required to keep the government running. If a special session is called, only the specific issue(s) prompting the session may be dealt with.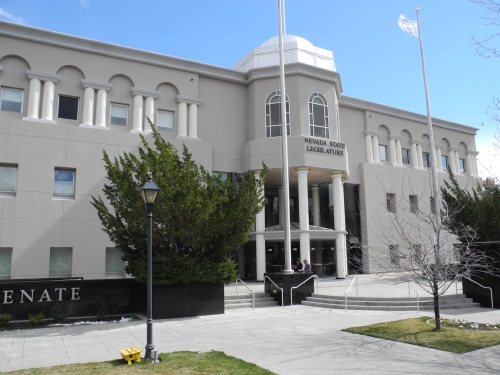 Nevada State Legislature building in Carson City. Photo © Stan White
Political Makeup of the Nevada State Legislature
The 2018 general election kept both houses of the Nevada Legislature majority Democratic. For the 2019 session, there are 13 Democratic Senators and 8 Republicans. In the Assembly, the split is 29 Democrats and 13 Republicans. Nevada has elected a female majority legislature for the first time in U.S. history.
Links to more Nevada Legislature information
While in Carson City, take time to visit the Nevada State Capitol, a short walk from the Nevada State Legislature. The beautiful building is open to the public on weekdays during business hours.
Sponsored Links