Winter break activities for children and families around Reno and Sparks include camps and other things to do from several area organizations. According to the "Washoe County School District Calendar: 2020-2021 School Year," winter break is December 21, 2020 to January 1, 2021. Add in weekends on each end and you get lots of days to fill while the kids are out of school.
Vacation Station Winter Break Camp from Reno Parks & Rec
December 18, 21 - 24, 28 - 31, 2020, 7 a.m. to 6 p.m. The camp format has changed in order to limit the spread of coronavirus / COVID-19 and to keep consistency for the staff leaders and the participants. Session Camps spots only – there will be no daily or weekly rates (no drop ins). Register early - space is limited. Masks required for all participants. Camp is for ages 6 to 12.5. The cost is $220 per child. Financial assistance is available.
Evelyn Mount Northeast Community Center, 1301 Valley Road (EMNECC)
Plumas Park and Gym, 475 Monroe Street
For more information, call (775) 334-2262. Two forms must be completed to participage - Participant Information Form and Coronavirus/COVID-19 Assumption of the Risk and Waiver of Liability. Both are available from the website. You can now register online.
Visit The Discovery Museum
Friday, December 18, 2020 through Sunday, January 3, 2021 (closed December 24 - 25, 2020). The Discovery will be open to the public every day (except as noted) during this time period. Hours are 10 a.m. to 5 p.m. each day. All visitors are required to purchase tickets in advance. Museum capacity is currently limited to 50 visitors at any given time. Visitors ages 5 and older are required to wear face coverings. Some exhibits may not be available due to cleaning and sanitization limitations. The Discovery is at 490 S. Center Street in Reno. (775) 786-1000.
Arts for All Nevada Winter Creativity Camps
December 21 - 23 and December 28 - 30, 2020. These camps allow kids ages 6 to 10 to create fun and unique projects. Cost for the 3-day camp is $75 per kid (all supplies included). Morning camps are from 9 a.m. to 12 noon. Afternoon camps are 1 p.m. to 4 p.m. Each camp has its own online signup page, so navigate to the date of interest on the calendar page to enroll your child.
Winter Break Kidz Kamp with Sparks Parks and Recreation
December 21 - 23 and December 28 - 30, 2020, 7 a.m. to 6 p.m. Looking for festive holiday activities for your children (Kindergarten through 3rd grade) during the winter break? This program offers, sports, games, crafts and more. For details on costs and online registration, visit the website or call the recreation office at (775) 353-2376. Held at the Recreation Gym, 98 Richards Way in Sparks.
Winter Break Kidz Kamp 2 with Sparks Parks and Recreation
December 21 - 23 and December 28 - 30, 2020, 7 a.m. to 6 p.m. A winter break program just for 4th and 5th grade students. Located in the Larry D. Johnson Community Center, the camp will feature age appropriate activities including pool, ping pong, foosball, arts and crafts, active games and more. The program will join the Winter Break Kidz Kamp groups for some activities.
Winter Break Camps at KIDS University at UNR
Details for these camps have yet to be posted.
Go Play in the Snow
There are some excellent snow play places near Reno and Sparks. Many of these areas, like Tahoe Meadows off the Mt. Rose Highway, are on public land and free for snow play. Many of the Lake Tahoe area ski resorts have sledding and tubing hills with lifts. These aren't free, but they can be lots of fun and are way cheaper than lift tickets.
Go Ice Skating
Reno's Rink at The Row is closed this winter, but you can still get on the ice at the Ice Rink at Grand Sierra Resort. This rink is open for 5 sessions per day and the public is invited (not just hotel guests). It is scheduled to be open through February 28, 2021.
Go to the Movies
The Reno metro area offers several multi-screen theaters, a low-cost cinema at the Grand Sierra Resort, an IMAX theater in Sparks and feature films and star shows at the Fleischmann Planetarium. All of these have COVID-19 restrictions - check ahead of time before attending.
Activities for Kids and Families at the Washoe County Library
All in-person activities at the library have been suspended. However, there are lots of online fun events, activities and digital materials to be had.
For a list of interactive virtual events and activities, visit the "Virtual Events Archive."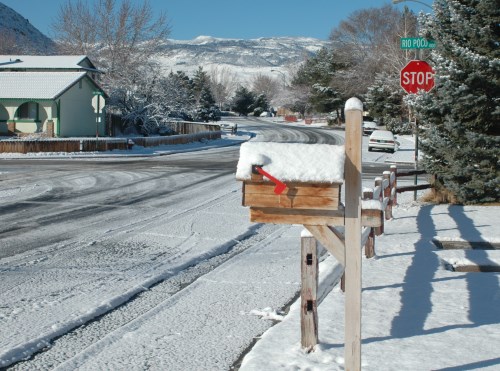 Blue sky after winter snow in Reno, Nevada. Photo © Stan White
Sponsored Links
Sponsored Link