Winter break activities for children and families around Reno and Sparks include camps and other things to do from several area organizations. According to the "Washoe County School District Calendar: 2021-2022 School Year," winter break is December 17 - 31, 2021. Add in weekends on each end and you get lots of days to fill while the kids are out of school.
Vacation Station Winter Break Camp from Reno Parks & Rec
December 17, 20 - 23, 27 - 30, 2021, 7 a.m. to 6 p.m. Register online or call (775) 334-2262 or (775) 334-2260 to register by phone. Camp is for ages 6 to 12.5. Camps are at Evelyn Mount Northeast Community Center and the California Building in Idlewild Park. The cost is $115 per child per week. Weekly registration only - no daily fee available. Space is limited - first come, first served. Financial assistance is available.
Visit The Discovery Museum
Friday, December 17, 2021 through Sunday, January 2, 2022 (closed Christmas Day, 2021). The Discovery will be open to the public every day (except as noted) during this time period, including New Year's Day. Hours are 10 a.m. to 5 p.m. each day, until 8 p.m. on Wednesdays. The Discovery is at 490 S. Center Street in Reno. (775) 786-1000.
Arts for All Nevada Winter Creativity Camp
December 20 - 23, 2021. This camp allows kids ages 6 to 10 to create fun and unique projects. The camp theme is Winter Olympics. Morning camp hours are from 9 a.m. to 12 noon. At the Lake Mansion, 250 Court St. and Arlington Ave. in Reno. Call (775) 826-6100 x2 for more information.
Winter Break Kidz Kamp with Sparks Parks and Recreation
December 20 - 23 and 27 - 30, 2021, 7 a.m. to 6 p.m. Looking for festive holiday activities for your children (Kindergarten through 5th grade) during the winter break? This program offers, sports, games, crafts, field trips and more. The cost is $144 per week or $120 for Sparks residents. Visit the website or call the recreation office at (775) 353-2376 for more information and online registration. Held at the Recreation Gym, 98 Richards Way and the Larry D. Johnson Community Center, 1200 12th Street in Sparks.
Winter Break Art Camp: Fun with Clay
Monday through Thursday, December 20 - 23, 2021, 8:30 a.m. to 12 noon. Kids ages 7 – 12 will have fun exploring the tactile nature of clay. Instruction will encompass basic hand building, throwing on the wheel, and sculpture. In this 4 day camp, students will learn about the basics of pottery, glazing and the transformation of their pieces from the heat of kiln. All works will be fired in the Museums' kiln. Snack and materials are included. You can register online. At the Nevada Museum of Art, 160 West Liberty St. in Reno.
Winter Break Camp: Intro to Painting
Monday through Thursday, December 20 - 23, 2021, 1 p.m. to 4 p.m. Using color and shape, this camp will focus on a different style of painting each day. Students will learn new techniques along with basic color theory and create a different piece of art each day ranging from lifelike to abstract. For ages 7 to 12. At the Nevada Museum of Art, 160 West Liberty St. in Reno.
Winter Break Art Camp at the Washoe County Library
Tuesday through Thursday, December 28 - 30, 2021, 11 a.m. to 12 noon. Kids ages 5 and up can come to the Sierra View Library at Reno Town Mall to enjoy 3 consecutive mornings of winter-themed art. Day 1: Salt Dough Decoration and Winter Lantern. Day 2: Winter Memory Keepsake Vase. Day 3: DIY Birdfeeder. Registration is required. Please, indicate the number of children attending in your registration.
Go Play in the Snow
There are some excellent snow play places near Reno and Sparks. Many of these areas, like Tahoe Meadows off the Mt. Rose Highway, are on public land and free for snow play. Many of the Lake Tahoe area ski resorts have sledding and tubing hills with lifts. These aren't free, but they can be lots of fun and are way cheaper than lift tickets.
Go Ice Skating
You can get on the ice at the Ice Rink at Grand Sierra Resort. This rink is open for 5 sessions per day, plus an extra session on Fridays and Saturdays, and the public is invited (not just hotel guests). It is scheduled to be open through February 28, 2021.
A second Reno ice rink opened in January, 2021. Reno Ice is a full-service ice skating facility that offers skating sessions for the public. Visit the website to learn about signing up for these sessions. You must register online for the sessions and there are no walk-ins.
Go to the Movies
The Reno metro area offers several multi-screen theaters, a low-cost cinema at the Grand Sierra Resort, an IMAX theater in Sparks and feature films and star shows at the Fleischmann Planetarium.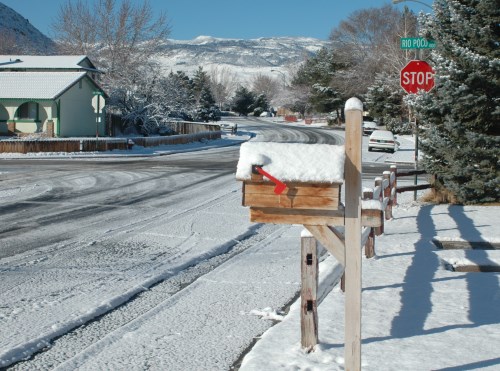 Blue sky after winter snow in Reno, Nevada. Photo © Stan White
Sponsored Links
Sponsored Link