About the Reno Santa Pub Crawl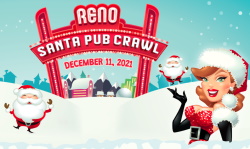 The Reno Santa Pub Crawl is the largest event of its kind in the entire country, attracting over 10,000 participants. The 2021 Reno Santa Crawl takes place on Saturday, December 11, starting at 7:30 p.m. The party moves all around downtown Reno, encompassing dozens of bars, restaurants, casinos and cafes. Each location offers no cover charge, drink specials for crawlers and some feature food and music. Dress up as your favorite holiday character (mandatory to participate) for the costume contests. Obviously, this is a 21+ event - IDs will be checked at every drinking establishment. It's illegal to drink on the streets in Reno, so confine your imbibing to inside the bars.
The Reno Santa Pub Crawl is sponsored by Reindeer Charities and several area businesses. Proceeds from the event go to DonorsChoose.org and support Washoe County schools. With this charitable cause in mind, the crawl's theme is "Support the Claus."
How to Participate in the Reno Santa Pub Crawl
It's easy to attend this party. All you need to do is buy a pass for $10, get dressed up in your Christmas holiday costume attire and start crawling. You can buy passes online, at any of several businesses around Reno. Passes will be available on crawl day at the Silver Legacy and at the Library Tap House & Hookah Lounge.
Three downtown Reno hotels (Silver Legacy, Eldorado and Circus Circus) will have special Reno Santa Pub Crawl rates. Take advantage of these deals if you want to really party with like-minded people and have a handy place to crash, no DUI involved.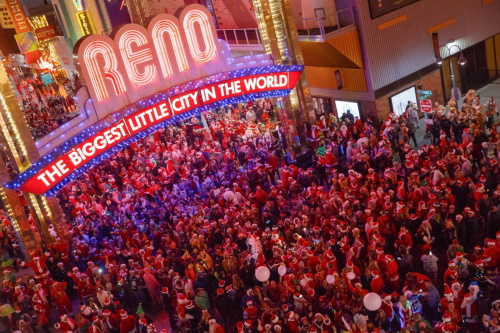 Reno Santa Pub Crawl revellers gather at the Reno Arch. (Images courtesy Reno Santa Pub Crawl)
Santa Ski Day at Mt. Rose
Enjoy a fun day on the Mt. Rose slopes and discounted lift tickets before the Reno Santa Pub Crawl in the evening. Come dressed as Santa Claus, Mrs. Claus, elves, candy canes, or anything else related to the Christmas holidays. Tickets are for full costumes, not just a hat.
Sponsored Links
Sponsored Link