Fall break activities for children and families around Reno and Sparks include camps and other things to do from several area organizations. According to the "Washoe County School District Calendar: 2023-2024 School Year," fall break 2023 is October 2 through 6. Add in weekends on each end and you get 9 days to fill while the kids are out of school.
Fall Break Camp Discovery at The Discovery Museum
October 2 - 6, 2023. These camps are popular and the number of kids is limited, so sign up as soon as you can to ensure your child a spot. Online registration is available at the Camp Discovery web page. The information phone number is (775) 786-1000. Each camp goes from 9 a.m. to 4 p.m. each day. The cost is $265 for members, $290 for non-members. There are camps for different age groups, from 1st through 4th grade - Galaxy Explorers (grades 1 - 2), Time Travelers (grades 3 - 4). Early drop-off and late pick-up are available for an additional fee. Financial assistance is available. For registration assistance, call (775) 398-5942.
Fall Creativity Camp at Arts for All Nevada: Things That Flutter
October 2 - 6, 2023, ages 6 to 10, 9 a.m. to 12 noon. Lake Mansion, 250 Court Street and Arlington Avenue in Reno. From bats to owls to leaves to sunflowers; creatively celebrating this changing season is the perfect way to spend Fall Break. All supplies included. A midmorning snack will be provided. $180 for all 5 days. (775) 826-6100 x2#.
Vacation Station Camp from Reno Parks & Rec
October 2 - 6, 2023. Registration will be accepted on a first come, first served basis. Space is limited, please register early. Weekly registration only - no drop ins. Camp is for kids ages 6 to 12.5. Fee is $120 per child for the week. Financial assistance (scholarships) is available. 7 a.m. to 6 p.m. each day. Be sure to visit the website for necessary forms and additional COVID information. Register this year by payment plan form only, which you download from the website and email to the address provided. Camps will be at these Reno locations:
Evelyn Mount Northeast Community Center - 1301 Valley Road
Plumas Park and Gym - 475 Monroe Street
Jesse Beck Elementary School - 1900 Sharon Way
Fall Break Kidz Kamp from Sparks Parks & Rec
October 2 - 5, 2023. There will be fall break programs providing a fun and safe environment for kids in Kindergarten through 5th grade. Daily sessions are from 7 a.m. to 6 p.m. Active games, arts and crafts, board games, free play, various field trips and group activities are planned. Contact Sparks Parks & Recreation at (775) 353-2376. Camp for all age groups is $120 for Sparks residents, $144 for non-residents. Number of kids limited - register as early as possible.
Recreation Gym, 98 Richards Way
Reno Little Theater Fall Break Camps
October 2 - 6, 2023. Join us for a week of gentle and age-appropriate zombie-themed fun designed just for our youngest aspiring actors. Camp is divided into sections for grades K - 2 (at Reno Little Theater) and grades 3 - 6 (at McKinley Arts Center). It's $250 per student and runs each day from 9 a.m. to 3:30 p.m. Visit the website for more details and online registration.
Fall Break at Boys & Girls Club of Truckee Meadows
October 2 - 6, 2023. The Boys & Girls Club of Truckee Meadows is having fall break activities at these club locations - Donald W. Reynolds Facility, Neil Road, Lemmon Valley, William N. Pennington Facility, and Donald L. Carano Youth Center. Each location features different activities and field trips. The registration fee is $50, with optional field trips costing extra. Registration forms and more information are available for each location from the school breaks programs web page. Program hours are 7 a.m. to 6 p.m. The information phone number is (775) 331-5437.
Fall Break Camp at the Nevada Museum of Art
Fun with Clay - October 2 - 6, 2023. For kids ages 7 to 11. Instruction will include basic hand building, throwing on the wheel, and sculpture. Children will learn about the basics of pottery, glazing and the transformation of their pieces from the heat of kiln. This will be a fun and educational class. All works will be fired in the Museum's kiln. Snack and materials are included. 8:30 a.m. to 12 noon.
Challenge Island Fall Break Camp
October 2 - 6, 2023, from 9 a.m. to 4 p.m. each day. Welcome to Slimetopia - an ooey, gooey, squishy, squashy, slippery, stretchy slime-drenched camp extravaganza. Learn the science behind the slime while opening your own Slimetopia Theme Park. For kids ages 5 to 11. Cost is $260, with before and after care available for an additional fee. Presented by Challenge Island of Reno/Sparks. (775) 813-2411. Camp will be at High Desert Montessori, 101 Fantastic Dr. in Reno.
Activities for Kids and Families at the Washoe County Library
You'll find fun activities at your local library branch during fall break, October 2 to 6, 2023. The Washoe County Library System offers many free events, activities, and presentations. Children of all ages, families, and adults will find something of interest at every library branch in Washoe County.
Fall Break Full Play Camp from KidScape Productions
October 2 - 6, 2023. Full play "The Jungle Book" camp. This camp ends with a free community performance on October 6 at Damonte Ranch High School in Reno. The cost is $335. It is for ages 7 to 17 and you can register online. Limited to 40 actors and 10 backstage. Pre-registration required. For more information, call (775) 313-3900.
Go to the Movies
The Reno metro area offers five multi-screen theaters, a low-cost cinema at the Grand Sierra Resort, feature films and star shows at the Fleischmann Planetarium, and in Sparks, an IMAX theater and one of the few real-live drive-in theaters in America still showing movies.
Visit a Park, take a Hike
Reno, Sparks and Washoe County public parks and trails are open to outside activities. When the weather is nice, it is good to get outside and enjoy open spaces after being cooped up. There are some coronavirus restrictions, so be sure to check before you go.
Pumpkin Patches and Corn Mazes
Many of these fun fall and Halloween activities will be open during fall break. Check out the list at "Halloween Pumpkin Patches and Corn Mazes."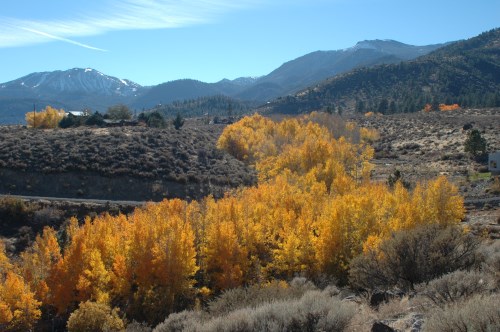 Photo © Stan White
Sponsored Links
Sponsored Link