The Reno River Festival is at Wingfield Park in downtown Reno. It runs Saturday and Sunday, May 7 - 8, 2022. Hours are 9 a.m. to 8 p.m. on Saturday and 9 a.m. to 7 p.m. on Sunday. This event has become one of the top draws among Reno's other big annual events.
The Reno River Festival is packed with all things summer for one unforgettable weekend. The heart of downtown Reno will transform into an outdoor destination featuring local live music, local craft beer, local food, local craft vendors, the Reno River Roll, a cornhole championship contest, plus the thrills of the Reno Tahoe Adventure Park.
Reno River Festival Tickets
Tickets are required to attend the Reno River Festival. Organizers need to charge a nominal fee in order to pay for the park, staffing, and everything needed to provide a safe event environment. Entry tickets are $10 for both days. Kids 17 and under and dogs are free. Tickets for other events and activities are sold separately on an individual basis, depending on what you want to do.
Events and Activities at the 2022 Reno River Festival
Again in 2022, there are no kayaking contests or other river-based events. This is due to low river water levels due to drought conditions, among other things. There will be, however, lots of other activities and partying to get you into the groove at the Reno River Festival.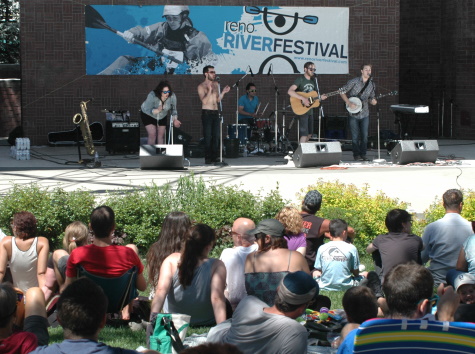 Photos © Stan White
Parking at the Reno River Festival
You can park near the event at the Parking Gallery, corner Sierra and First Streets (entrance is from First Street), at Reno High School on Booth Street, and at the McKinley Arts Center on Riverside Drive and Bell Street. Street parking around downtown Reno is metered until 6 p.m. except on Sundays, which is free all day. The big government parking lot at the corner of Court and Virginia Streets is free and open to the public on weekends.
For more about parking, refer to "Where to Park in Downtown Reno."
Reno River Festival Street Closures
The Reno River Festival has a fairly small impact on downtown Reno traffic. Only one main street will be closed on Festival weekend - Arlington Avenue between First Street on the north and Court Street on the south. This section of Arlington includes a bridge over the Truckee River. Nearby streets, however, get crowded, there won't be any parking, and there will be lots of pedestrians. It is simply best to park a bit further away (see above) and walk to the event.
Sponsored Links
Sponsored Link