The Terry Lee Wells Nevada Discovery Museum (or just The Discovery) offers one of the best places in Reno for family fun in an educational atmosphere. At The Discovery, kids have endless opportunities to explore science and the natural world while having fun and there are numerous activities and events for adult visitors as well.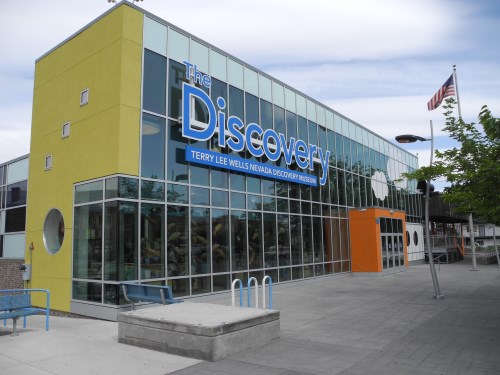 Terry Lee Wells Nevada Discovery Museum in Reno, Nevada. Photo © Stan White
Things To Do at The Discovery
Everyone will find things of interest to see and do at The Discovery, including seasonal camps for kids, various galleries and exhibits, programs and special events, birthday parties, school field trips, and more. Here are some of this information, which will in turn lead you to more about this outstanding facility...
A special feature worth noting is the Spark!Lab Smithsonian. This space uses fun activities to help kids and families learn about the history and process of invention and was the first one outside the Smithsonian on the National Mall in Washington, D.C.
Birthday Parties and Meetings at The Discovery
You can rent facilities inside The Discovery. Birthday parties are great ways to give your children a real treat while tricking them into actually enjoying an educational experience. Adult groups have a variety of ways to use space at The Discovery for special events, including customized rentals and renting the whole museum.
Location of The Discovery
The Terry Lee Wells Nevada Discovery Museum is located just south of downtown Reno at 490 S. Center Street. There is a free parking lot for visitors on the north side of the building. Metered parking is available on surrounding streets.
Admission and Hours at The Discovery
Daily admission is $11 for children 1 to 17. Seniors (65+) are $12. Adults are $13. Kids 1 and under are free. Members are always free and group rates are available. If you visit often, consider becoming a member.
Here are the current hours. Hours and open days vary by season and holidays, so be sure to check the online Hours & Admission page to confirm that The Discovery will be open when you want to visit. You can call (775) 786-1000 for more information.
Monday – Closed (except Memorial Day to Labor Day, national and state holidays, WCSD school breaks)
Tuesday - 10 a.m. to 5 p.m.
Wednesday - 10 a.m. to 8 p.m.
Thursday through Saturday - 10 a.m. to 5 p.m.
Sunday - 12 noon to 5 p.m.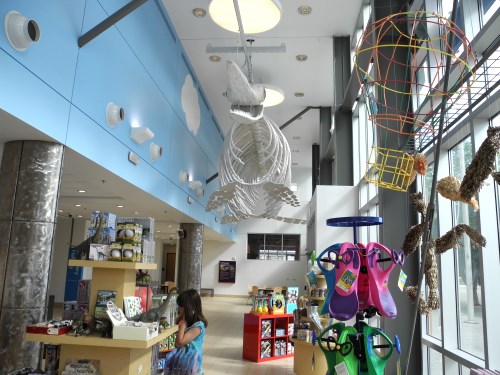 Ichthyosaur skeleton hangs above the entry at the Terry Lee Wells Discovery Museum in Reno, Nevada.
Sponsored Links
Sponsored Link