Polar Express canceled for 2020.
Santa's Drive-Thru Village for 2020
Come enjoy "Santa's Drive-Thru Village" and visit the North Pole as a 2020 replacement for the Polar Express. While staying in your car, drive through the North Pole at the Eastgate Depot and witness Santa, Mrs. Claus and dozens of elves busy at work before Christmas. Guests are welcome to wear their favorite Christmas pajamas and bring hot chocolate as they travel through the North Pole experience. Enjoy characters dancing and singing, plus an amazing light display. Tickets are $20 per car and available online or by calling 877-724-5007. The Village will be open from 6 p.m. through 9 p.m. on December 11 - 13 and 18 - 24, 2020. The Eastgate Depot is east of Carson City on Hwy. 50 at 4650 Eastgate Siding Road.
Polar Express Family Fun Package
Enjoy the tradition of The Polar Express™ and create your own fun from the safety of your home. Receive 4 ceramic souvenir 2020 Polar Express mugs, hot chocolate mix, 4 large Polar Express cookies, 4 silver bells, 4 golden tickets and the official The Polar Express DVD. Available for shipping or by appointment starting November 15, 2020. Call 877-724-5007 or visit the website to purchase online. Package is $75 plus shipping fee of $12. Additional sets are $20 each.
Polar Express Tickets for 2021
You can purchase Polar Express advance tickets for 2021 by calling 877-724-5007 or online by visiting the website.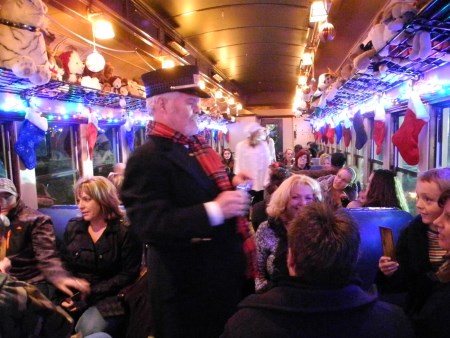 The Polar Express™ takes passengers to the North Pole on the Virginia & Truckee Railroad. Photo © Stan White
Sponsored Links
Sponsored Link