About Virginia Lake Park
Virginia Lake Park has playgrounds, grassy fields, a path for walking or jogging, picnic shelter and tables, barbeques, restrooms, paracourse fitness areas, fishing pier, an off-leash dog park, and the 25 acre lake. Note that Virginia Lake is not a swimming hole, except for the many waterfowl that have taken up permanent residence.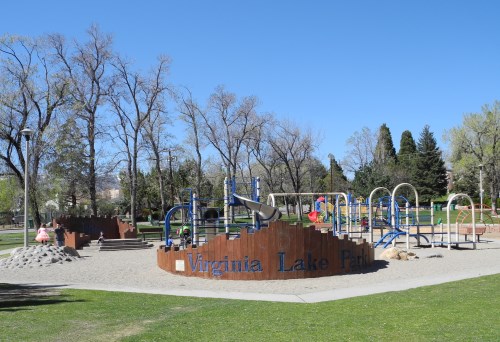 Big playground at Virginia Lake Park in Reno, Nevada. Photo © Stan White
Virginia Lake was built in 1938-39 by the Works Progress Administration (WPA), a federal employment agency during the Great Depression. A fish hatchery operated where the dog park is now located until 1965. Over the years, the park we enjoy today grew around the existing lake.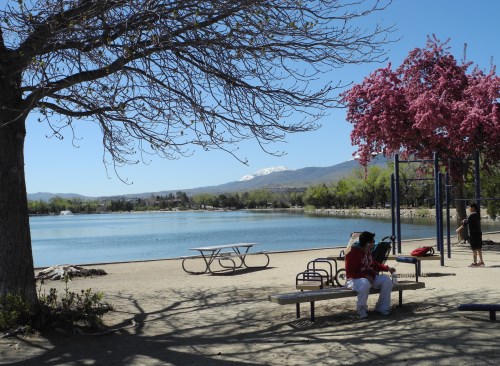 Walking paths and picnic areas at Virginia Lake Park in Reno, Nevada. Photo © Stan White
Virginia Lake Park Loop Trail
The Virginia Lake Park Loop Trail is a mile long, almost totally flat and fully paved. It is popular for casual strolling, running, dog walking, bicycling and bird watching. There are benches, picnic tables and restrooms at various places around the loop. The fishing pier is on the east side of Virginia Lake. A flower garden with additional paths is at the south end. Free parking is available in a small lot at the north end of the lake and along Lakeside Drive paralleling the west shore.
Virginia Lake Dog Park
The one acre dog park is fenced with separate areas for large and small dogs. Be sure to read Reno's dog park rules before taking Fido to enjoy a romp.
Virginia Lake Park Shelter
You can rent the shelter at Virginia Lake Park for groups of up to 100. Rental amenities include 10 picnic tables, BBQ grills, drinking fountain, water jug fill, restrooms, and the covered shelter. There is no electricity available. Your group will have access to all other features in the park. For more information or to reserve the shelter, call (775) 334-3888.
Sponsored Links
Sponsored Link