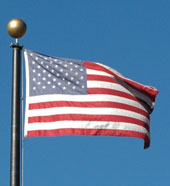 Memorial Day in 2019 will be observed on Monday, May 27. This three-day weekend (May 25 - 27, 2019) is the traditional start of the summer vacation season and there are lots of things to do around the Reno region.
Ride the V&T Railroad
Saturday and Sunday, May 25 - 26, 2019. Train rides on the Virginia and Truckee Railroad (V & T) for the 2019 season start on Memorial Day weekend, featuring live music, mimosas and face painting for kids at the Eastgate Station before departing for Virginia City. Weekend trains will be pulled by a 1916 Baldwin Consolidation 2-8-0 or a 1914 Baldwin 2-8-2 steam engine leading three 1914 Pullman cars. For tickets, visit the V&T Railroad or call (877) 724-5007.
Up in Virginia City, V&T "Historic Route" excursion trains run a 4-mile, 35-minute loop through Virginia City and Gold Hill. Reservations are not needed for this ride. Visit the website for Historic Route schedule and ticket prices or call (775) 847-0380. Reservations not required.
Take a Guided History Walk
Saturday, May 25, 2019. Guided walks through some of Reno's historic districts are conducted by the Historic Reno Preservation Society (HRPS). This walk is "West of Wells," a stroll through one of Reno's significant areas that is being restored.
The Discovery Museum
The Discovery (Terry Lee Wells Nevada Discovery Museum) will be open for Memorial Day weekend, including the Memorial Day holiday on Monday (from 10 a.m. to 5 p.m.). There will be organized activities, but all kids (and adults) can enjoy the many things to see and do at this hands-on museum. The Discovery is located at 490 S. Center Street in Reno. There is free parking next to the museum. The information phone is (775) 786-1000.
Idlewild Park Train
This fun miniature train will run from 11 a.m. to 6 p.m. during Memorial Day weekend. After Memorial Day, the train will run every day (and on state holidays) except Mondays from May 28 through September 2, 2019. Hours of operation are 11 a.m. to 3 p.m. on weekdays and 11 a.m. to 6 p.m. on weekends. The fare is $2 per person, cash only. Kids 2 and under ride free on an adult lap. Idlewild Park is located between Idlewild Drive and a bend in the Truckee River. The main entrance is Cowan Street from Idlewild Drive, which is the way to go for parking close to the train ride.
Reno 1868 FC Soccer
Saturday, June 1, 2019. Come enjoy Reno's pro soccer team playing the Las Vegas Lights FC at Greater Nevada Field. The game kicks off at 7:15 p.m.
Memorial Day Weekend with the Reno Aces
Saturday through Tuesday, May 25 - 28, 2019. This series of games at Greater Nevada Field are all vs. the Las Vegas Aviators. Each game has fun promotions, including a Reno Aces hat giveaway and various food specials. Come out to root for the Aces and enjoy baseball during this holiday weekend.
Wild Island Family Adventure Park
The water park at Wild Island Family Adventure Park in Sparks will be open over the Memorial Day weekend, May 24 - 27, 2019. The water park is open from 11 a.m. to 5 p.m., except on May 24 when it's 4 p.m. to 7 p.m. The Coconut Bowl and other attractions will be open as well. For information about hours, rates, and all the things you can do, visit the Wild Island Family Adventure Park website. The park phone number is (775) 359-2927.
Picnic in a Public Park
Reno and Sparks have a nice variety of public parks, most of which have picnic facilities suitable for both small and large groups. Some picnic areas can even be reserved for groups of families and friends. Nearby state parks like Washoe Lake State Park are also good places to enjoy a Memorial Day gathering. Other parks in Washoe Valley that are nice for family activities are Bowers Mansion Regional Park and Davis Creek Regional Park.
Go Swimming at a Public Pool
Many public swimming pools and water play places in Reno, Sparks, and Washoe County will be open for Memorial Day weekend. The pools are inexpensive and some of the water play places are free.
Take a Memorial Day Hike
Numerous hiking and walking trails around the Truckee Meadows and nearby provide opportunities to get outdoors and enjoy the Memorial Day weekend. We have everything from easy strolls to hikes that can be quite challenging. One popular destination for families is Galena Creek Visitor Center, which has guided hikes on Saturdays.
Another possibility is "Discover Your Parks Walks in Washoe County," which visit a different park each Thursday evening through September. There is a walk just before and just after the Memorial Day weekend.
It isn't really quite summer yet, so we are not necessarily guaranteed nice weather for outside activities. If in doubt, check highway conditions and the weather forecast before heading out.
Memorial Day Events and Activities in Nearby Areas
Virginia City Celebration of Heroes Memorial Day Parade
The parade starts at noon on Saturday, May 25, 2019 and will travel down C Street, Virginia City's main drag. The parade celebrates the heroism and sacrifice of those Americans who have died defending our nation. Call (775) 847-7500 for more information. All entries are welcome. While in Virginia City, check out the other fun things to do while visiting the Comstock, like riding on the V & T Railroad, which opens its 2018 season during Memorial Day weekend.
Steam Trains at the Nevada State Railroad Museum
Saturday through Monday, May 25 - 27, 2019, 10 a.m. to 4 p.m. A historic steam locomotive will be operating on Memorial Day weekend at the Nevada State Railroad Museum in Carson City. Round trips from Wabuska Station are $8 for adults and $4 for kids 4 to 11. Under 4 are free. This great museum is located at 2180 S. Carson Street in Carson City. Call (775) 687-6953 for more information.
Taylor Creek Visitor Center at Lake Tahoe
Taylor Creek Visitor Center opens for the 2019 season on Memorial Day weekend. This is a great (and free) family destination, with hiking trails, interpretive programs, a stream profile chamber on Taylor Creek and information about the big variety of natural ecosystems and features found in the Lake Tahoe Basin. Nearby are beaches on the shores of Lake Tahoe and the Tallac Historic Site.
Black Rock Rendezvous
Friday through Monday, May 24 - 27, 2019. Come learn about the incredible Black Rock Desert, located within the BLM-administered Black Rock Desert High Rock Canyou Emigrant Trails National Conservation Area (or just NCA for short). This is a weekend of of environmental workshops, tours of significant area features, history, camping, a variety of presentations, a fun Kids Camp, rocket launches, volunteer opportunities, and singing under starry desert skies. Friends of Black Rock / High Rock is the main organizer, with assistance from organizations such as the Bureau of Land Management, Nevada Outdoor School, Friends of Nevada Wilderness, and several others.
The main Rendezvous events start on Saturday, May 25, 100 miles north of Reno at the campsite on the edge of the Black Rock Playa. A schedule of events, directions, and maps are available at the Black Rock Rendezvous website. This is a free, family-friendly event. Pets are not recommended but are allowed if under control at all times and on a leash while in camp. If you plan on doing the campout, be sure to read this information about camping in the Black Rock Desert. This is a "Leave No Trace" event. Bring your own food and water and take out everything you brought in. For more information, call (775) 557-2900. Check the website for camping location before heading out - weather and playa conditions affect where the main Rendezvous site ends up being located.
Saturday and Sunday, May 25 - 26, 2019. The 6th Annual Made In Tahoe Festival will run from 11 a.m. to 7 p.m. on both days. Look for lots of vendor booths providing an opportunity to shop local and see what the community is cultivating. Offerings include ceramics to clothing and home apparel to photography. The event includes live music from local bands and musicians and numerous choices of food and drink. The weekend also marks the opening of the Aerial Tram for the summer season (conditions permitting). The Made in Tahoe Festival will be at The Village at Squaw Valley, south of Truckee at 1960 Squaw Valley Road in Olympic Valley.
Memorial Day service at Northern Nevada Veterans Memorial Cemetery
Monday, May 27, 2019, 11 a.m. This event remembers those who served our country and are buried at this cemetery, 14 Veterans Way in Fernley. It is about a 40 minute drive from Reno.
Sponsored Links