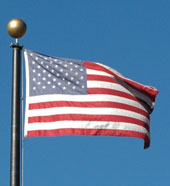 Memorial Day in 2020 will be observed on Monday, May 25. This three-day weekend (May 23 - 25, 2020) is the traditional start of the summer vacation season. Due to the coronavirus, there are lots fewer things to do around the Reno region than is usually the case.
Ride the V&T Railroad
Canceled. Saturday and Sunday, May 23 - 24, 2020. Train rides on the Virginia and Truckee Railroad (V & T) for the 2020 season start on Memorial Day weekend, featuring live music, mimosas and face painting for kids at the Eastgate Station before departing for Virginia City. Weekend trains will be pulled by a 1916 Baldwin Consolidation 2-8-0 or a 1914 Baldwin 2-8-2 steam engine leading three 1914 Pullman cars. For tickets, visit the V&T Railroad or call (877) 724-5007.
Daily excursion trains in Virginia City start running May 23, 2020 for Memorial Day Weekend. Up in Virginia City, V&T "Historic Route" excursion trains run a 4-mile, 35-minute loop through Virginia City and Gold Hill. Reservations are not needed for this ride. Visit the website for Historic Route schedule and ticket prices or call (775) 847-0380. Reservations not required.
Take a Guided History Walk
May, 2020 walking tours have been canceled. Guided walks through some of Reno's historic districts are conducted by the Historic Reno Preservation Society (HRPS). This walk is "West of Wells," a stroll through one of Reno's significant areas that is being restored.
The Discovery Museum
Plan is to re-open on Saturday, June 6, 2020. The Discovery (Terry Lee Wells Nevada Discovery Museum) will be open for Memorial Day weekend, including the Memorial Day holiday on Monday (from 10 a.m. to 5 p.m.). There will be organized activities, but all kids (and adults) can enjoy the many things to see and do at this hands-on museum. The Discovery is located at 490 S. Center Street in Reno. There is free parking next to the museum. The information phone is (775) 786-1000.
Idlewild Park Train
Status unknown at this time. This fun miniature train will run from 11 a.m. to 6 p.m. during Memorial Day weekend. After Memorial Day, the train will run every day (and on state holidays) except Mondays from May 28 through September 2, 2019. Hours of operation are 11 a.m. to 3 p.m. on weekdays and 11 a.m. to 6 p.m. on weekends. The fare is $2 per person, cash only. Kids 2 and under ride free on an adult lap. Idlewild Park is located between Idlewild Drive and a bend in the Truckee River. The main entrance is Cowan Street from Idlewild Drive, which is the way to go for parking close to the train ride.
Reno 1868 FC Soccer
Play has been suspended until further notice. Saturday, May 23, 2020. Come enjoy Reno's pro soccer team playing FC Tulsa at Greater Nevada Field. The game kicks off at 7:15 p.m. Be sure to double check the schedule as this game still could get a coronavirus cancellation.
Wild Island Family Adventure Park
Will not open on May 22 as planned. New opening date TBA. The water park at Wild Island Family Adventure Park in Sparks will be open over the Memorial Day weekend, May 22 - 25, 2020. The water park is open from 11 a.m. to 5 p.m., except on May 22 when it's 4 p.m. to 7 p.m. The Coconut Bowl and other attractions will be open as well. For information about hours, rates, and all the things you can do, visit the Wild Island Family Adventure Park website. The park phone number is (775) 359-2927.
Picnic in a Public Park
Be sure to check with the respective parks departments for the latest information about open / closed parks. Reno and Sparks have a nice variety of public parks, most of which have picnic facilities suitable for both small and large groups. Some picnic areas can even be reserved for groups of families and friends. Nearby state parks like Washoe Lake State Park are also good places to enjoy a Memorial Day gathering. Other parks in Washoe Valley that are nice for family activities are Bowers Mansion Regional Park and Davis Creek Regional Park.
Go Swimming at a Public Pool
Public pools and water play places are still closed. Check with city and county recreation departments for updated information. Many public swimming pools and water play places in Reno, Sparks, and Washoe County will be open for Memorial Day weekend. The pools are inexpensive and some of the water play places are free.
Take a Memorial Day Hike
Numerous hiking and walking trails around the Truckee Meadows and nearby provide opportunities to get outdoors and enjoy the Memorial Day weekend. We have everything from easy strolls to hikes that can be quite challenging. One popular destination for families is the easy trails around Galena Creek Visitor Center.
Another possibility is "Discover Your Parks Walks in Washoe County," which visit a different park each Thursday evening through September. There is a walk just before and just after the Memorial Day weekend.
It isn't really quite summer yet, so we are not necessarily guaranteed nice weather for outside activities. If in doubt, check highway conditions and the weather forecast before heading out.
Memorial Day Events and Activities in Nearby Areas
Virginia City Celebration of Heroes Memorial Day Parade
The parade starts at noon on Saturday, May 23, 2020 and will travel down C Street, Virginia City's main drag. The parade celebrates the heroism and sacrifice of those Americans who have died defending our nation. Call (775) 847-7500 for more information. All entries are welcome. While in Virginia City, check out the other fun things to do while visiting the Comstock, like riding on the V & T Railroad, which opens its 2020 season during Memorial Day weekend.
Steam Trains at the Nevada State Railroad Museum
Closed. Saturday through Monday, May 23 - 25, 2020, 10 a.m. to 4 p.m. A historic steam locomotive will be operating on Memorial Day weekend at the Nevada State Railroad Museum in Carson City. Round trips from Wabuska Station are $8 for adults and $4 for kids 4 to 11. Under 4 are free. This great museum is located at 2180 S. Carson Street in Carson City. Call (775) 687-6953 for more information.
Taylor Creek Visitor Center at Lake Tahoe
Closed. Taylor Creek Visitor Center opens for the 2020 season on Memorial Day weekend. This is a great (and free) family destination, with hiking trails, interpretive programs, a stream profile chamber on Taylor Creek and information about the big variety of natural ecosystems and features found in the Lake Tahoe Basin. Nearby are beaches on the shores of Lake Tahoe and the Tallac Historic Site.
Online Black Rock Rendezvous
Monday through Friday, May 25 - 29, 2020. The coronavirus has turned what is normally a fun gathering in the Black Rock Desert into an online event of early evening programming throughout the week. Grab some dinner, gather the kids, housemates, and settle in for some online educational fun. Programs will include online presentations, virtual activities, exploring, sing a longs and campfire fun. Topics will include some of those usually shared out in the desert, including Emigrant Trail, Black Rock Ecology, Leave No Trace (LNT) and Tread Lightly Workshops, Rocketry and Desert Songs and Sing-a-Longs. Visit the website to see the schedule and get online with live events.
Memorial Day service at Northern Nevada Veterans Memorial Cemetery
Canceled. Monday, May 25, 2020, all day. This event remembers those who served our country and are buried at this cemetery, 14 Veterans Way in Fernley. It is about a 40 minute drive from Reno.
Sponsored Links
Sponsored Link