The Great Italian Festival brings Little Italy to downtown Reno. The 2023 Great Italian Festival is the 41st annual and will be on Saturday and Sunday, October 7 and 8. Hours on Saturday are 11 a.m. to 7 p.m. and on Sunday from 10 a.m. to 6 p.m. This is a fun, family-friendly festival, with street performers, free music from two stages, and plenty of good food and drink. No ticket or entry fee needed. People really enjoy the Great Italian Festival, presented by THE ROW.
Activities at the Great Italian Festival
The main event is enjoying a variety of delicious and excellent Italian food and drink, but there is much more to enjoy (and participate in if you are so inclined) at the Great Italian Festival.
Great Italian Festival Sauce Cook-Off
Lots of Tasty Italian Food
Grape Stomping Contest
Italian Farmers Market
Kiddie Land
Two Stages with Free, Live Entertainment
Location of the Great Italian Festival
The event is along Virginia Street in downtown Reno, in front of THE ROW (Eldorado and Silver Legacy). The area is closed to vehicle traffic during the event. There is lots of downtown Reno parking (both free and paid) for festival goers. You can also get there on the bus and save the parking hassle. The RTC 4th Street Station is only a couple of blocks from the action at the Eldorado Great Italian Festival.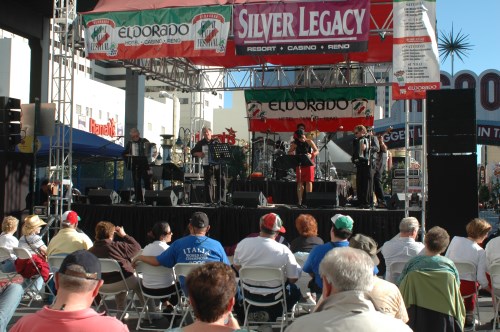 Free entertainment at the Great Italian Festival in Reno, Nevada. Photo © Stan White
Entertainment at the Great Italian Festival
Lively free music is a big part of the Great Italian Festival. Two outdoor stages provide a variety of bands, singers, and performers. The Rome Stage is located at 4th and Virginia Steets, and the Venice Stage is located at 3rd and Virginia Streets.
Rome Stage - Saturday, October 7
10 a.m. to 11 a.m. - Emayla
11:30 a.m. to 1 p.m. - Anthony Nino Lane
1:30 p.m. to 3 p.m. - Capuano n' TRock
3:30 p.m. to 5 p.m. - Ray Massa's Eurorhythms
5:30 p.m. to 7 p.m. - Kiki Bello, Electro Harpist
Rome Stage - Sunday, October 8
10:30 a.m. to 12 p.m. - Italica
12:30 p.m. to 2 p.m. - Mbrascatu
2:30 p.m. to 4 p.m. - Morenzo Fruzzetti
4:30 p.m. to 6 p.m. - Super Diamond, Neil Diamond Tribute
Venice Stage - Saturday, October 7
10:30 a.m. to 12 noon - Ray Massa's Eurorhythms
12:30 pa.m. to 2 p.m. - Mbrascatu
2:30 p.m. to 4 p.m. - Italica
4:30 p.m. to 6 p.m. - Moreno Fruzzetti
Venice Stage - Sunday, October 8
10 a.m. to 11:30 a.m. - Emayla
12 noon to 1:30 p.m. - Anthony Nino Lane
2 p.m. to 3:30 p.m. - Ray Massa's Eurorhythms
4 p.m. to 5:30 p.m. - Capuano n' Trock
Sponsored Links
Sponsored Link