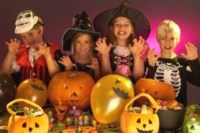 Halloween is a big deal in Reno and Sparks. That means there are numerous events and activities for kids and families, many of which are free (or inexpensive). For trick-or-treating, there are choices that are fun and safe alternatives to the traditional dash between houses out on the public streets.
Teentober at the Washoe County Library
October 8 - 31, 2022. Washoe County Library System is excited to participate in the Young Adult Library Services Association's annual TeenTober celebration. This event highlights the importance of library services geared toward teens. Search our calendar of events to see all the events we have planned. We are also partnering with the Holland Project for a celebration of the Young Blood Carnival art exhibit. This carnival-themed art party and closing reception will be held at the Holland Project on Friday, October 14, 5:30 p.m. to 8 p.m. There will be hands-on activities, music, themed refreshments, and a costume contest.
Harvest Festival at Animal Ark
Saturday and Sunday, October 22 - 23, 2022, 10 a.m. to 4:30 p.m. As part of our behavioral enrichment program, some of the animals will receive pumpkins filled with their favorite treats. Watch the enjoyment experienced by our predators when presented with these unique and delicious treats. Throughout each session, pumpkins will be delivered to different animals. Be sure to bring the camera for animal viewing at its finest. Adults $21; Seniors $19; Children $16. Reservations required. Animal Ark is at 1265 Deerlodge Road, off of Red Rock Road in the Stead area of Reno. (775) 970-3111.
Pumpkin Palooza
Saturday and Sunday, October 22 - 23, 2022. 10 a.m. to 6 p.m. Saturday, 10 a.m. to 5 p.m. Sunday. Experience the magic of Halloween with games, prizes, contests, costumes, and more at the largest fall festival in Nevada. PumpkinPalooza is home to Nevada's only Pumpkin Derby and Jack-o-Lantern Wall. The event also features affordable and wholesome events for all ages including the PumpkinPalooza Midway, the Pumpkin Design Studio, the Purple Pumpkin Pursuit, costume photo ops for people and pets, vendors and food trucks, safe and free trick or treating, live entertainment, and much more. The event is at Victorian Square in Sparks.
Trick-or-Treat Parade with North Valleys Library
Wednesday, October 26, 2022, 5:30 p.m. to 7 p.m. The North Valleys Library will be hosting the 34th Annual Trick-or-Treat Parade at the North Hills Shopping Center. Show off your amazing costumes as you parade about the library and the shopping center stopping for treats. This library branch is at 1075 North Hills Blvd. in Reno.
Roll'n Reno Halloween Disco Rollerskating
Thursday, October 27, 2022, 6 p.m. to 9 p.m. Join the Downtown Reno Partnership for Roll'n Reno Halloween Disco Rollerskating at the Locomotion Plaza next to the Reno Arch. Bring your own roller-skates or enjoy those provided. Entry is free with a Halloween costume or $5 without and is for all ages. Enjoy music and food trucks for a night of fun and vibrancy in Downtown Reno.
Trunk or Treat at St. Lukes Lutheran Church
Sunday, October 30, 2022, 5 p.m. to 7 p.m. Free. All are invited to join in the fun for an evening of costumes, cars, candy, and fun as we welcome our local community for a safe trick or treating event. Enjoy free hot dogs and chips for the first 400 people. Children are encouraged to dress up and must be accompanied by an adult. 3835 Lakeside Drive in Reno.
The Discovery's 11th Annual Trick or Treat
Saturday, October 29, 2022 - Visit the Discovery Museum in costume and trick or treat from gallery to gallery. (For the safety of all museum visitors, no costumes with weapons of any kind are allowed.) There will be spooky decorations and delicious treats for all of the friendly or scary ghosts, ghouls and goblins who dare to attend. Advance tickets encouraged but not required. The cost is $3 for member children and $2 for adults, $4 for non-member kids and $3 for adults. Members only will have exclusive entry from 10 a.m. to 12 noon. Everyone else gets in from 12 noon to 6 p.m.
This Halloween Trick or Treat event participates in the Teal Pumpkin Project. A number of the trick-or-treat stations will offer non-food items for kids with food allergies, as well as other children for whom candy is not an option.
Trunk or Treat at Covenant Presbyterian Church
Sunday, October 30, 2022, 2 p.m. to 4 p.m. Free. The fun starts off as cars with decorated trunks line up in the church parking lot. Children come to the church parking lot to "trick-or-treat" vehicles instead of houses. 6695 Mae Anne Avenue in Reno.
Trunk or Treat CARnival at the National Automobile Museum
Monday, October 31, 2022, 3 p.m. to 6:30 p.m. Join us for a fun, all-new event on Halloween. We've reimagined our annual Halloween event and added a CARnival theme. All new games, candy stations, live entertainment, prizes, and surprises. It's going to be a night of ghoulish fun. We hope to see you here in your best costumes. We'll also be holding a canned food drive. Admission for this spooky event is $3 per person, free to seniors 62+ and kids 3 and under. Purchas tickets at the door. The Museum is at 10 South Lake Street, next to the Truckee River. Parking is free. (775) 333-9300.
Kalin & Jinger's Ghosts! An Epic Magic Adventure
Thursday, October 27, 2022, 6 p.m. and 8:30 p.m. "Ghosts!" is a one-of-a-kind experience, an evening of the mysterious and the impossible. Here you'll experience the chill-down-your-spine of real magic. Your thoughts foretold. Your dreams and nightmares come to life. You'll experience ghostly illusions that have not been seen in over a hundred years as well as brand new amazements from Kalin and Jinger's record-breaking Broadway run. At the Pioneer Center for the Performing Arts, 100 S. Virginia St. in Reno. Tickets are available online.
Trunk or Treat at Sparks United Methodist Church
Friday, October 28, 2022, 4 p.m. to 6 p.m. Admission is free to the Sparks United Methodist Church trunk or treat. Event will be held outdoors in the Happy Days parking lot with the pumpkin patch. The church is at 1231 Pyramid Way in Sparks. For more information, call (775) 358-0925.
Trunk or Treat at St. John's Presbyterian Church
Thursday, October 27, 2022, starting at 4 p.m. Kids are invited to come in costume and trick or treat from decorated trunk to trunk outside in the church parking lot. People at each trunk will hand out the candy. St. John's is located at 1070 W. Plumb Lane in Reno.
Trunk or Treat at Grace Church
Sunday, October 30, 2022. Bring the whole family for some fall fun. There will be candy, family photos, and more candy. Trunk or Treat will happen before and after the 9, 11 and 6 p.m. services with continued fun over in Grace Kids during service. Grace Church is at 1220 Robb Dr. in Reno.
Trick or Treat at Scheels
Wednesday, October 26, 2022, 5 p.m. to 7 p.m. There will be an in-store costume contest and plenty of candy for kids of all ages. Free Ferris wheel rides and arcade games. Tables will be located throughout Scheels for proper Trick-or-Treating. The Scheels store is at 1200 Scheels Dr. in Sparks. (775) 331-2700.
Trunk or Treat at Hope Community
Sunday, October 30, 2022, 6 p.m. to 8 p.m. It's that time of year when we do our Trunk-or-Treat for the community. Cars will be decorated and themed out with fun activities for families the night of the event. At Cyan Park, 2121 Long Meadow Drive in Reno.
Trunk or Treat at Holy Cross Lutheran Church
Thursday, October 27, 2022, 5:30 p.m. to 7 p.m. A fun night of trunks, treats, pizza and fun in a family friendly atmosphere. Holy Cross is at 4895 S. McCarran Blvd. in Reno.
Hauntober in Virginia City
Month of October, 2022. As one of the most haunted destinations in the country, Virginia City is the perfect place to get spooked this October. Celebrate the supernatural and all things unexpected with an entire month of events including ghost tours, haunted ghost town, escape room, safe trick-or-treating, a goblin parade, pumpkin patch trains, visits to the cemetery, and several events for adults.
Hauntober Halloween Parade in Virginia City
Monday, October 31, 2022, 5 p.m. to 6 p.m. Come march the streets of Virginia City in your best Halloween garb and be prepared to scare. Open to kids, adults, and even pets. Stick around for safe trick-or-treating after the parade at the many shops along the boardwalk.
Trick-or-Treat at the Governor's Mansion in Carson City
Monday, October 31, 2022, 5 p.m. to 8 p.m. Governor Steve Sisolak and First Lady Kathy Sisolak will host trick or treating at the Governor's Mansion, 606 Mountain Street in Carson City. Music and entertainment for the whole family. This is also Nevada Day in Carson City. There will be lots of activities all weekend for you to enjoy.
Haunted Hoops at Urban Roots
Thursday and Friday, October 13 - 14, 2002, 6 p.m. to 9 p.m. Join us for a spooky night at the farm. Enjoy some tasty food and drinks, make your own potions (herbal teas), construct your own broomstick to fly on using natural materials, and paint some spiders. Take your chances in our haunted house (opens at 7 p.m.) or snag a photo in your amazing costume inside of our photobooth. Fun for all ages. $10 per person, $20 for families, 5 and under free. Urban Roots is at 1700 E. 2nd St. in Reno.
Halloween Hangout from National Geographic Kids
Halloween Hangout is a fun online collection of activities for kids. Get costume ideas, play games, check out cool photo galleries, watch spooky videos, get jack-o'-lantern carving tips, and more.
Trick or Treat at Red Hawk Golf and Resort
Thursday, October 27, 2022, 4 p.m. to 6 p.m. Join us for some free family fun. We will have local vendors passing out free candy, a pumpkin patch with pumpkin painting and a costume contest. Red Hawk is at 6600 N. Wingfield Pkwy. in Sparks.
Carson City BOOnanza
Thursday, October 27, 2022, 4 p.m. to 7 p.m. Come out for this safe and family fun trick-or-treating event at Mills Park in Carson City. Over 50 local businesses and organizations will decorate spooky booths and pass out candy. There will be food vendors and the Mills Park Train will be in operation during the event. Suggested donation is a non-perishable food item.
Moms Club Reno Sparks Trunk-Or-Treat
Friday, October 28, 2022, 4 p.m. to 6 p.m. Each decorated vehicle will be handing out treats and at the end of the line you can come get some information about what we're all about. Trunk-or-treat is free, however, if you'd like to enter Ferrari Farms, you must pay their fees. At Ferrari Farms, 4701 Mill St. in Reno.
Spooktacular Family Day at The Village at Rancharrah
Sunday, October 30, 2022, 11 a.m. to 2 p.m. We're scaring up a good time with Halloween crafts for the little ones, a bounce house, and trick-or-treating around The Village. We'll also have live music, a pop-up market of artisan makers, and more, so bring the whole family for a good time. The event is free, but you are asked to RSVP online. 7100 Rancharrah Pkwy. in Reno.
Day of the Dead Festival
Sunday, October 30, 2022, 11 a.m. to 4 p.m. Come to celebrate this spectacular tradition to remember those who have already departed. There will be music, food, crafts, arts and more. The center of activities is E. Pueblo Street at the corner with S. Wells Avenue.
Cirque de Drag: Frightmare
Friday, October 28, 2022 at 7:30 p.m. and Sunday, October 30, 2022 at 2 p.m. "Frightmare" is a musical production featuring songs of the Halloween season that you know and love - a tribute to fan-favorites such as Stranger Things, Harry Potter, Hocus Pocus and more. Sparkling lights, creeping fog, and mystical music await you as you step into the theater. Perfect for date night, friends night out, or a family gathering. At The Theatre, 505 Keystone Ave. in Reno. Visit the website for more information and online tickets.
Fun Quest Trick or Treat Event in the Grand Sierra Resort
Monday, October 31, 2022, 5 p.m. to 10 p.m. Fun Quest is a video arcade and lots more inside the Grand Sierra Resort, 2500 E. 2nd Street in Reno. Details about this event are not given on the website.
More Halloween Activities
Sponsored Links
Sponsored Link