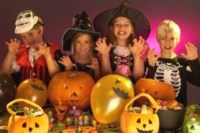 Halloween is a big deal in Reno and Sparks. That means there are numerous events and activities for kids and families, many of which are free (or inexpensive). For trick-or-treating, there are choices that are fun and safe alternatives to the traditional dash between houses out on the public streets.
Animal Ark Harvest Festival
Saturday and Sunday, October 10 - 11, 2020. As part of our behavioral enrichment program, some of the animals will receive pumpkins filled with their favorite treats. Watch the enjoyment experienced by our predators when presented with these unique and delicious treats. Throughout each session, pumpkins will be delivered to different animals. Be sure to bring the camera for animal viewing at its finest. Adults $20; Seniors $19; Children $16. There will be a morning and afternoon session each day. Reservations required. Special COVID-19 rules apply - be sure to visit the website and read about the requirements. Animal Ark is at 1265 Deerlodge Road, off of Red Rock Road in the Stead area of Reno. (775) 970-3111.
Trunk or Treat at Sparks United Methodist Church
Friday, October 30, 2020, 4 p.m. to 6 p.m. Admission is free to the Sparks United Methodist Church trunk or treat event. The church is at 1231 Pyramid Way in Sparks. For more information, call (775) 358-0925.
PumpkinPalooza presents Halloween Reimagined - The Purple Pumpkin Pursuit
October, 2020 - This is a quest to find hidden Purple Pumpkins around the Reno / Sparks area rather than the big celebration in Sparks. Every registered family will receive a PumpkinPalooza Gram which includes the hunt sheet, candy, and other Halloween goodies. All families who register before October 1st will also receive one large pumpkin as well as miniature pumpkins generously donated by Raley's. At registration, please select how many children are in your family, so we can ensure each child receives their own miniature pumpkin. You can choose to pick-up your PumpkinPalooza Gram or you can upgrade for a real treat and have it delivered right to your door by people dressed up in Halloween costumes. There are prizes involved providing incentive to get involved. Go to the PumpkinPalooza website for more details and to get your tickets online. PumpkinPalooza is a benefit for the Northern Nevada Center for Independent Living.
HOWL-oween - Safe Trick or Treating at Nevada Humane Society
Saturday, October 31, 2020, 3 p.m. to 5 p.m. Volunteers will be dressed up in their spooky costumes and stationed next to their vehicles (which will also be decked out for Halloween) in our parking lot. Each vehicle's trunk will be popped and full of candy. Our volunteers will be using tongs to pass out candy, so everyone can stay safely distanced from one another. Kiddos in costume and their parents will be able to visit each car one group at a time to "trunk-or-treat" their way through the event. Attendees will be required to wear masks and to maintain six feet of distance from other groups and our volunteers. The event will be at 2825 Longley Lane in Reno.
Trunk or Treat at Reno Town Mall
Tuesday, October 20, 2020. Bring the kids to Reno Town Mall for safe and free trunk or treating from 7 p.m. to 9 p.m. The Reno Town Mall is located at 4001 S. Virginia Street, across from the Reno-Sparks Convention Center.
Boo at the Zoo
Every weekend in October, 2020, 10 a.m. to 5 p.m. Join us for some good fall fun. Activities include 20 foot Tiger Slide, bounce house, cow milking simulator, expanded petting zoo, hay maze, carnival games and more. The cost is $13 for kids 3 to 12, standard rates for adults. Event is at Sierra Nevada Zoological Park (formerly Sierra Safari Zoo), 10200 N. Virginia Street in Reno / Stead. (775) 677-1101.
Spookaroo at the Zoo
Friday and Saturday, October 30 - 31, 2020, 7 p.m. Take a flashlight tour of the grounds to see the animals in the night. Beware, there may be more than one type of creature in the light, some may even give you a fright. Admission is $15 per person, ages 13 and up. Event is at Sierra Nevada Zoological Park (formerly Sierra Safari Zoo), 10200 N. Virginia Street in Reno / Stead. (775) 677-1101.
Trunk or Treat at St. John's Presbyterian Church
Thursday, October 29, 2020, starting at 4:30 p.m. Kids are invited to come in costume and trick or treat from trunk to trunk outside in the church parking lot. One person at each trunk will hand out the candy. COVID protocols will be observed, with social distancing as much as possible and everyone over age 10 required to wear a mask. St. John's is located at 1070 W. Plumb Lane in Reno.
Trick-or-Treat Lane with the Food Bank of Northern Nevada
Thursday, October 29, 2020, 5 p.m. to 7 p.m. Put on your costumes and masks and make your way down Trick-or-Treat Lane for some drive-through fun while donating food for struggling families in our community. Suggested donation is 5 non-perishable food items or $5 per car. We'll unload your food donations from your vehicle for you, then you'll be off visiting our trick-or-treat booths to check out the fun decorations while collecting contactless treats along the way. PLEASE NOTE: All trick-or-treaters must remain in the vehicle at all times and face masks are required. The event is at Reno's Idlewild Park, 2055 Idlewild Drive.
Virtual Halloween Party with Washoe County Library
Wednesday, October 28, 2020, 5:30 p.m. Calling all goblins and ghosts! You have been summoned to attend your yearly training to learn new spooky stories and crafts. Visit the website to register and learn more about attending the event at the Digital Library. If you missed the original event, you can check it out at "Virtual Halloween Party" on the library's website.
Spooky Family Movie Night
Thursday, October 29, 2020, gates open at 5 p.m., movie starts at 6:30 p.m. Celebrate Halloween with a festive fundraiser at the West Wind El Rancho Drive-In theater. The movie is "Monster House." Costumes are encouraged. Join the fun early to get your spot and enjoy dinner available for purchase from Ray Michelle's Italian Food Truck. COVID-19 protocols will be required. Presented by the law office of Marilyn D. York. Benefit for Nevada Youth Empowerment Project (NYEP). Tickets are $50 per car and available online.
Get Spooky for the Blue Moon
Saturday, October 31, 2020, 6:30 p.m. Join the Truckee Meadows Parks Foundation and explore the proposed Nature Study Area as the Blue Moon rises. We will discuss the importance of the moon, peer at its mountains through binoculars, and listen to the sounds of nightlife around us. This event requires a $10 minimum donation. All proceeds will go to completing the Parks Foundation's proposed Nature Study Area. Costumes welcome. COVID-19 protocols will be observed. Online registration is required, including for children.
Scheels No Contact Trick-or-Treat
Saturday, October 31, 2020, starting at 11 a.m. Drive-thru Trick or Treating on Halloween for a free. All you need to do to participate is drive through the front awning and lower your window to receive prepackaged treat bags. For kids ages 2 to 14. Good until the candy runs out. 1200 Scheels Dr. in Sparks.
Operation Trick-or-Treat from Hope Community
Saturday, October 31, 2020. Hope Community has created a map of safe trick-or-treating locations in Reno and Sparks. The site includes guidelines on how to run a safe and fun trick-or-treat site. You can sign up your house by contacting family and missions pastor Michael Lieberknecht at michael@encounterhope.org.
Trick or Treat at The Discovery
Canceled.
Hauntober in Virginia City
Month of October, 2020. As one of the most haunted destinations in the country, Virginia City is the perfect place to get spooked this October. Celebrate the supernatural and all things unexpected with an entire month of events including ghost tours, safe trick-or-treating, a goblin parade, pumpkin patch trains, and several events for adults.
Hauntober Halloween Parade in Virginia City
Saturday, October 31, 2020, 5 p.m. to 6 p.m. Come march the streets of Virginia City in your best Halloween garb and be prepared to scare. Stick around for safe trick-or-treating at the many shops along the boardwalk.
Halloween Hangout from National Geographic Kids
Halloween Hangout is a fun online collection of activities for kids. Get costume ideas, play games, check out cool photo galleries, watch spooky videos, get jack-o'-lantern carving tips, and more.
More Halloween Activities
Sponsored Links
Sponsored Link