Halloween parties and events for adults in Reno, Sparks, and up at Lake Tahoe provide grown-up revelers a variety of venues for tricks, treats, drinking, and general adult rowdiness at a number of over 18 and 21 venues.
Freaks Come Out at Roller Kingdom
Friday, October 21, 2022, 11 p.m. to 3 a.m. There will be a costume contest with cash prizes at this 18+ adult skate party. Come skate to tunes played by Reno's hottest DJs. $20 per person includes skates. Roller Kingdom is at 515 E. 7th St. in Reno. (775) 329-3472.
Reno Zombie Crawl
Saturday, October 22, 2022, starts at 8 p.m. The Reno Zombie Crawl is one of the top 10 costumed Halloween parties in the nation, attracting around 20,000 walking dead to prowl the streets of downtown Reno. Enjoy thousands of dollars worth of costume contest prizes and drink specials at around 37 bars, clubs, restaurants and taverns, hotel discounts and lots of special features. It's only $10 to join in. You can buy cups online, at various participating shops or at the tent at the ReTrac Plaza next to the Reno Arch (this is the start location) on the night the zombies stalk the streets. From 7 p.m. to 8 p.m., join the zombie hordes for a massive picture under the Reno Arch.
Wicked Wine Walk
Saturday, October 15, 2022. This is the regular Riverwalk Merchants monthly wine walk with a Halloween twist. It's $30 for a glass that lets you sample wine at over two dozen establishments as you wander the Riverwalk district. Wear your costume. The event is from 2 p.m. to 5 p.m. Strollers and pets are not advised because of the large crowds. (775) 825-WALK (9255).
Halloween Bar Crawl
Saturday, October 29, 2022, 4 p.m. to 10 p.m. The crawl starts at Antonio's Pizzeria, 95 N. Sierra St. in Reno, and continues on to other venues throughout downtown Reno. The $25 tickets include two free drinks, deals at five venues, a $1000 costume contest and access to an exclusive afterparty in downtown Reno.
Halloween Bass Ball 4
Saturday, October 29, 2022, 8 p.m. to 1 a.m. The dynamic Bear Grillz is an electronic music legend based in Denver, Colorado. He has many collaborations with other well known Dj's including Getter, Figure and Sullivan King. After touring with Excision on his Paradox Tour back in 2017, Bear Grillz skyrocketed in popularity among the rave community. This is an 18+ event. At Cargo, inside the Whitney Peak Hotel, 255 North Virginia Street, Reno. Tickets available online.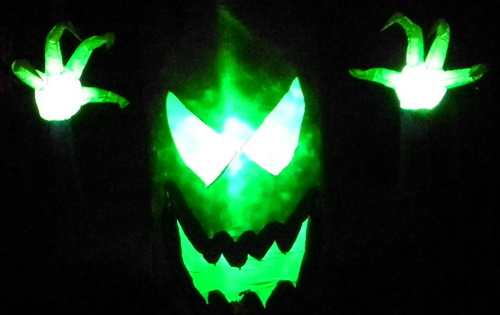 Halloween for Adults at Lake Tahoe and in Las Vegas
43rd Annual Freaker's Ball at Bally's Lake Tahoe
Saturday, October 29, 2022. Tickets to this event get 21+ adults into two different venues at Bally's Lake Tahoe. There will be $10,000 in cash and prizes, costume contest, go-go dancers, music from DJs, drink specials all night long. There are two tickets available - one for admission to Blu only and the other for admission to both Opal and Blu. Visit the website to purchase tickets online. Bally's Lake Tahoe is at 55 Highway 50 in Stateline, NV.
Creeper's Ball at the Crystal Bay Club, North Lake Tahoe
Saturday, October 29, 2022. This Halloween bash features "Tainted Love" in the Crown Room. Online tickets are $25 plus fees. Doors open at 8 p.m., show starts at 9 p.m. The Crystal Bay Club is on the north shore, just west of Incline Village at 14 State Highway 28, Crystal Bay, NV. (775) 833-6333.
Fetish & Fantasy Halloween Ball in Las Vegas
Saturday, October 29, 2022. If you are going to be in Las Vegas for Halloween, the Fetish & Fantasy Halloween Ball might be the adult party you're looking for. Billed as the the world's wildest Halloween party, it will be at The Palms, starting at 9 p.m. Be sure to read the Dress Code and General FAQs before deciding to attend. This party is not for the faint of heart or prudish.
More Halloween Activities
Sponsored Links
Sponsored Link