Update: Reno 1868 FC announced Friday, November 6, 2020, that it would cease operating as a United Soccer League team, effective immediately. Professional soccer in Reno is yet another victim of the coronavirus pandemic.
About Reno 1868 FC Soccer Team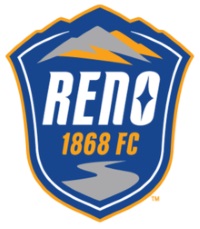 Reno 1868 FC is a professional soccer team in the United Soccer League, a Division II league under Major League Soccer (MLS) in North America. Games are played at Greater Nevada Field, home to the Reno Aces baseball team. Reno 1868 FC is affiliated with the San Jose Earthquakes of MLS.
As you may know, the word "football" refers to soccer just about everywhere else in the world except the United States. The name for Reno's pro soccer team uses the year Reno became a city and FC for "football club."
2020 Reno 1868 FC Modified Home Game Schedule at Greater Nevada Field
Saturday, August 8 - Tacoma Defiance
Saturday, August 15 - Portland Timbers 2
Wednesday, August 26 - Sacramento Republic FC
Saturday, August 29 - Phoenix Rising FC
Saturday, September 5 - Portland Timbers 2
Wednesday, September 16 - Tacoma Defiance
Saturday, September 26 - Sacramento Republic FC
Wednesday, September 30 - Las Vegas Lights FC
Saturday, October 3 - Tacoma Defiance (venue changed to Tacoma)
Saturday, October 10 - LA Galaxy II (first round playoff game)
Reno 1868 FC Home Game Tickets
Update: There will be no ticket sales and no fans in the stands due to COVID conditions, but recent COVID rules changes may allow a limited number of fans to attend the playoff games at Greater Nevada Field. However, all games (both home and away) will be broadcast live on ESPN Radio 94.5 and called by Reno Aces broadcaster Zack Bayrouty. Refer to the Reno 1868 FC online schedule for a complete list of upcoming games.
Online tickets for home games are available online. Here you will find choices including single game tickets, group tickets, memberships and information about game day experiences for fans. For ticket information, call (775) 334-4700. For other information about the team, memberships, special deals and promotions, go to the official Reno 1868 FC website.
Sponsored Links
Sponsored Link