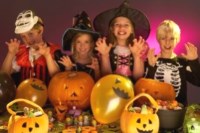 Halloween is a big deal in Reno and Sparks. That means there are numerous events and activities for kids and families, many of which are free (or inexpensive). For trick-or-treating, there are choices that are fun and safe alternatives to the traditional dash between houses out on the public streets.
Animal Ark Harvest Festival
Saturday, October 15, 2016. Most of the animals will receive pumpkins filled with their favorite treats. Watch the enjoyment experienced by the predators when presented with these unique and delicious meals. Throughout the day, pumpkins will be delivered to different animals. The event will be from 10:15 a.m. to 2:30 p.m. Admission is $15 for adults, $13.50 for seniors, $12 for children. Kids under 2 are free. Animal Ark of at 1265 Deerlodge Road in the Stead area of Reno. Call 1-775-970-3111 for more information.
Halloween Howl - Northern Nevada's Biggest Dog Costume Contest
Sunday, October 16, 2016. Dog owners, get ready for lots of outrageous costume contests, amazing prizes, celebrity judges, great vendors, pet photos and much, much more. Cost to enter a dog is $15 at the door, $10 in advance online. The event will be from 11 a.m. to 3 p.m. at Great Western Marketplace, 4855 Summit Ridge Drive in Reno. It is sponsored by Shakespeare Animal Fund. For more information or to register your dog for some fun, call Jennifer Webb at (775) 342-7040.
PumpkinPalooza at Victorian Square in Sparks
Sunday, October 23, 2016 - Celebrate all things pumpkin at Victorian Square in downtown Sparks at the 2016 Pumpkin Palooza. This family event will feature a Pumpkin Derby race, children's costume parade, storytelling in the haunted schoolhouse, craft fair, carnival games, pie-eating, pumpkin seed spitting, marshmallow shooting, and mummy wrapping contests, and live music. It is free to attend PumpkinPalooza, but visit the website for details as there is a fee to enter some of the contests. Pumpkin Palooza hours are from 10:30 a.m. to 5 p.m. PumpkinPalooza is a benefit for the Northern Nevada Center for Independent Living.
Scheels Kids Club - Decorate a Pumpkin
Monday, October 24, 2016. Join Scheels to learn safety tips for a safe Halloween and have some fun decorating pumpkins. Meet in the Scheels Training Rooms. All kids receive a free ride on the Scheels Ferris Wheel. Classes start promptly at 6 p.m. and are limited to the first 100 children ages 4 to 12. The Scheels store is at 1200 Scheels Dr. in Sparks. (775) 331-2700.
Trick or Treat at The Discovery
Saturday, October 29, 2016 - Celebrate Halloween at The Discovery's 6th Annual Trick or Treat. Visit the museum in costume and trick or treat from gallery to gallery. (For the safety of all museum visitors, no costumes with weapons of any kind please.) There will be spooky science demos and delicious treats for everyone. The cost is $2 for member children and adults, $3 for non-members. All kids 1 and under are free. Members only will have exclusive entry from 3 p.m. to 5 p.m. Everyone else gets in from 5 p.m. to 8 p.m.
Trick or Treat Street at Circus Circus Reno
Sunday, October 30, 2016. This is Circus Circus 5th annual Halloween event. Children will be able to walk from booth to booth at The Midway collecting treats provided by Circus Circus. The Circus Circus Reno Security team will also be on hand to complete the Child ID process for all those interested at no cost for children up to 17-years-old. There will be food barrels on site to accept non-perishable food donations benefitting the Food Bank of Northern Nevada. This free event is from 2 p.m. to 5 p.m. Circus Circus is at 500 North Sierra Street.
A Night with Dr. Caligari
Friday, October 21, 2016. Join Truckee Meadows Parks Foundation from 4 p.m. to 9 p.m. at Bartley Ranch Regional Park and the Robert Z. Hawkins Amphitheater for "A Night with Dr. Caligari." Starting at 4 p.m., there will be carnival games, raffle prizes, food trucks, pumpkin decorating, face painting, Halloween costume competition for kids and adults, and beer for the grown-ups. The classic 1920s silent film, "The Cabinet of Dr. Caligari", will show at 6:30 p.m. with a live score performed by local musicians. Tickets are $10, free entry for members. Kids 12 and under are free. All proceeds benefit Truckee Meadows Parks Foundation's 2017 Student Stewards Summer Camp. After the movie, stick around for Discover Your Parks After Dark. View the 2016 Orionid Meteor Shower, hear constellation creation myths, and check out some planets through a telescope.
Halloween Hollow on the Riverwalk
Saturday, October 29, 2016, 5 p.m. to 7 p.m. Free. Not only will costumed candy seeking youngsters get a "treasure map" where they'll find sweet treats at participating Riverwalk District merchant shops, they'll probably run into guys and ghouls in spooky costumes along the way. Live music and entertainment located in the City Plaza offered in partnership with The City of Reno, as well as a special Virginia Street Bridge Pumpkin Carving Contest, Reno's Most Artistic Pumpkin Patch. (775) 825-9255.
Harvest Fest at Idlewild Park
Saturday, October 29, 2016 - Bring the family to the Terrace Shelter in Idlewild Park for this free event designed for kids preschool thru 6th grade. There will be games, bounce houses, prizes, and lots of candy. Activities begin at 11 a.m. Sponsored by The Bridge Church and Boys and Girls Club of Truckee Meadows. Non-perishable food for the food drive will be accepted.
Trick or Treat in the Streets of the National Automobile Museum
Monday, October 31, 2016 - Family Halloween fun at the National Automobile Museum in Reno, with candy stations and games. Special admission for this spooky event is $2 per person. It will be from 4:30 p.m. to 7:30 p.m. The Museum is at 10 South Lake Street, next to the Truckee River. Parking is free.
Safe Trick or Treating at Nevada Humane Society
Monday, October 31, 2016. Bring the family to Nevada Humane Society from 4 p.m. to 6:30 p.m. for safe trick or treating with lots of free treats for kids in costume. With spooky music and décor, the whole family will have fun visiting with pets and people in Halloween costumes. You can even adopt a four-legged goblin. It's safe fun for the whole family and a great way to celebrate Halloween with homeless pets. You can also get involved by donating Halloween candy - individually wrapped candy is preferred. Tax-deductible donations may be made during regular pet adoption hours leading up to Halloween. For more details, contact Nevada Humane Society at (775) 856-2000.
Safe Trick-or-Treating at Reno Town Mall
Monday, October 31, 2016. Bring the kids to Reno Town Mall for safe and free trick or treating from 3 p.m. to 7 p.m. The Reno Town Mall is located at 4001 S. Virginia Street, across from the Reno-Sparks Convention Center.
Halloween Craft Program and Trick or Treating at the Library
Sunday, October 30, 2016. Halloween Craft Family Program at Spanish Springs Library. Make a pinecone owl, a soda bottle jack-o-lantern luminary and a mummy candy holder. All ages welcome.
Monday, October 31, 2016. Safe trick-or-treat all day at Spanish Springs Library. Visit each Service Point in the library including our Drive Through window for treats.
Trunk or Treat at Double Diamond Damonte Ranch Park
Monday, October 31, 2016. This free Halloween event will be from 5 p.m. to 7 p.m. The park is on Steamboat Parkway, east of Veterans Parkway in south Reno. Sponsored by Hope Community.
Trick or Treating at Scheels
Monday, October 31, 2016. Kids, wear your costumes and come join us for some Halloween fun. Scheels will have stations set up around the store for trick or treating. There will be fun activities and goodies for all the kids. This is a free event. Free Ferris Wheel rides from 3 p.m. to 9 p.m. The Scheels store is at 1200 Scheels Dr. in Sparks. (775) 352-3664.
Goblin Parade and Safe Trick-or-Treat in Virginia City
Monday, October 31, 2016. The Goblin Parade is for kids to show off their costumes and have fun during Hauntober in Virginia City. The parade starts at 5 p.m. (sign-up starting at 4:30 p.m.) and is just one of many Halloween events in one of three of the most haunted towns in the United States. Free trick-or-treating after the parade with partiipating merchants along C Street.
Paranormal Investigations at Mormon Station State Historic Park
Saturdays, October 15 and 29, 2016. Find out if Mormon Station is haunted during a real paranormal investigation. This experience includes a tour of the park, a light Dutch oven dinner and a haunting paranormal investigation under the light of the moon. Participants will have the chance to experience the park and its history through the eyes of a practiced paranormal investigator. This program is limited to 8 participants and registration is required - call (775) 782-2590. The event is free and both evenings will be from 5 p.m. to midnight. This program is intended for ages 15 and up. Minors must be accompanied by an adult. Mormon Station is located 20 minutes south of Carson City via Hwy. 395, and about one hour south of Reno.
All Hallows Eve at Fort Churchill State Historic Park
Saturday, October 29, 2016, 4 p.m. to 7 p.m. This family-friendly event will feature a variety of activities including harvest games on the museum lawn, a scavenger hunt around the fort ruins and pumpkin carving and scarecrow building contest. Pumpkins, straw, and scarecrow frames will be provided. Please bring your own pumpkin carving tools and clothing to dress your scarecrow. Park entrance fees apply - $5 per vehicle for Nevada residents and $7 per vehicle for out-of-state visitors (cash or check only). There is no additional cost to participate in the event. Fort Churchill is located 8 miles south of the Highway 95A/Highway 50 intersection on Highway 95A at 10000 Highway 95A, Silver Springs, NV 89429.
More Halloween Activities