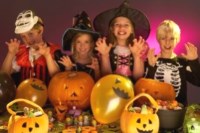 Halloween is a big deal in Reno and Sparks. That means there are numerous events and activities for kids and families, many of which are free (or inexpensive). For trick-or-treating, there are choices that are fun and safe alternatives to the traditional dash between houses out on the public streets.
Animal Ark Harvest Festival
Saturday, October 13, 2018. Most of the animals will receive pumpkins filled with their favorite treats. Watch the enjoyment experienced by the predators when presented with these unique and delicious meals. Throughout the day, pumpkins will be delivered to different animals. The event will be from 10:15 a.m. to 2:30 p.m. Admission is $16 for adults, $14.50 for seniors, $12 for children. Kids under 2 are free. Animal Ark of at 1265 Deerlodge Road in the Stead area of Reno. Call 1-775-970-3111 for more information.
Touch-A-Truck and Fall Festival
- Saturday October 13, 2018, 11 a.m. to 3 p.m. The event features a spooky haunted house, costume contest and parade (1 p.m.), pumpkins, crafts, a magician, a photo booth and more. The first 125 children arriving in their Halloween costumes will receive a goodie bag. Attendees will have a chance to see – and touch - a variety of unique vehicles, including a 10-wheeler, a Reno fire/rescue truck, motor boat and more. Families are invited to talk to the operators to learn about the job and the vehicle. The event also includes a food drive to benefit the Food Bank of Northern Nevada. It is free to attend and will be at Somersett Town Square. Take I-80 to the Robb Drive exit and turn left on Sharlands Avenue. Follow Sharlands as it turns into Somersett Parkway. Turn at the second roundabout to the Somersett Town Square and The Club at Town Center; 7650 Town Square Way in Reno.
All Hallows Eve at Fort Churchill State Historic Park
Saturday, October 20, 2018, 2 p.m. to 5 p.m. This family-friendly event will feature a variety of activities including harvest games on the museum lawn, a scavenger hunt around the fort ruins and pumpkin carving and scarecrow building contest. Pumpkins, straw, and scarecrow frames will be provided. Please bring your own pumpkin carving tools and clothing to dress your scarecrow. Park entrance fees apply - $5 per vehicle (cash or check only). There is no additional cost to participate in the event. Fort Churchill is located 8 miles south of the Highway 95A/Highway 50 intersection on Highway 95A at 10000 Highway 95A, Silver Springs, NV 89429. (775) 577-4880.
PumpkinPalooza at Victorian Square in Sparks
Sunday, October 21, 2018 - Celebrate all things pumpkin at Victorian Square in downtown Sparks at the 2018 Pumpkin Palooza. This family event will feature a Pumpkin Derby race, children's costume parade, storytelling in the Haunted Schoolhouse, craft fair, carnival games, pie-eating, pumpkin seed spitting, marshmallow shooting, pumpkin beauty salon, and mummy wrapping contests, and live music. It is free to attend PumpkinPalooza, but visit the website for details as there is a fee to enter some of the contests. Pumpkin Palooza hours are from 11 a.m. to 5 p.m. PumpkinPalooza is a benefit for the Northern Nevada Center for Independent Living.
Hallo-week at the May Arboretum
Monday through Friday, October 22 - 26, 2018. Join us with your 6-10 year-olds for a week of fun STEAM inspired autumn activities. Kids will use problem solving skills, further develop fine motor skills, and think like scientists. We will also go on an exploratory nature hike after every activity, to reinforce what we learned inside. We will meet in the ranch house, by the south arboretum entrance. Parent attendance required. Cost: $5 donation per day, or $20 to register for the whole week. Registration is required and limited to 15 children. Contact the arboretum educator, Katie, at (775) 785-4153 to register. The May Arboretum is in Rancho San Rafael Regional Park in Reno.
Safe Trick or Treat at Sparks United Methodist Church
Friday, October 26, 2018, 4 p.m. to 7 p.m. The Sparks United Methodist Church safe trick or treat event will be in the church's social hall. Admission to the event is free. The church is at 1231 Pyramid Way in Sparks. For more information, call (775) 358-0925.
Trick or Treat at The Discovery
Saturday, October 27, 2018 - Celebrate Halloween at The Discovery's 8th Annual Trick or Treat. Visit the museum in costume and trick or treat from gallery to gallery. (For the safety of all museum visitors, no costumes with weapons of any kind are allowed.) There will be spooky science demos and delicious treats for everyone. The cost is $3 for member children and $2 for adults, $4 for non-member kids and $3 for adults. Members only will have exclusive entry from 3 p.m. to 5 p.m. Everyone else gets in from 5 p.m. to 8 p.m.
ParaNorman in the Park
Saturday, October 27, 2018, 5 p.m. to 8:30 p.m. This free community event from Truckee Meadows Parks Foundation will feature trick or treating, costume contests, raffles, and a showing of the 2012 stop-motion hit, "ParaNorman," at the Robert Z. Hawkins Amphitheater at Bartley Ranch Regional Park. Donations will be accepted. Please RSVP as seating is limited.
Safe Trick or Treat at The Summit
Sunday, October 28, 2018, 4 p.m. to 6 p.m. Children ages 2-12 are welcome to come trick or treat at select stores at The Summit. No headwear, masks or heavy face make-up. Safe Trick or Treat participants include: Old Navy, Bab Cafe, Century Theater, B Ortho, Orvis, Charming Charlie, Burger Me, Eyehook Gallery, Dojo Reno, Guest Services Office (closes at 5 p.m.) and Concepts by Fine N Funky.
Laughter House at Greater Nevada Field
Sundays, October 7 - 28, 2018. Don't miss out on the giant inflatable maze and many more activities. Free parking across from the stadium. General admission tickets are $10. Various times. Visit the online tickets site for details.
Halloween Hollow on the Riverwalk
Saturday, October 27, 2018, 5 p.m. to 7 p.m. Free family fun. Not only will costumed candy seeking youngsters get a "treasure map" where they'll find sweet treats at participating Riverwalk District merchant shops, they'll probably run into guys and ghouls in spooky costumes along the way. Live music and entertainment located in the City Plaza offered in partnership with The City of Reno. (775) 825-9255.
Trick or Suite at Greater Nevada Field
Monday, October 29, 2018, 5 p.m. to 7 p.m. Come trick or treat with us at Greater Nevada Field. This event is open to all and remember to dress in your Halloween best. Entrance for children 12 and under is $3 or 3 cans of food. Adults are free. Held upstairs in the Greater Nevada Field Suites.
Trick or Treat in the Streets of the National Automobile Museum
Wednesday, October 31, 2018 - Family Halloween fun at the National Automobile Museum in Reno, with candy stations and games. Special admission for this spooky event is $2 per person. It will start at 4 p.m. The Museum is at 10 South Lake Street, next to the Truckee River. Parking is free. (775) 333-9300.
Halloween Harvest Festival at Idlewild Park
Wednesday, October 31, 2018, 4 p.m. to 8 p.m. - Bring the family to Idlewild Park for this family-friendly event. It will include train rides, costume contest, midway games and more. The event is free (except for train rides). Train rides are $5 per person (ages 5 and older). Under 5, pay your age.
Halloween at Fun Quest in the Grand Sierra Resort
Friday through Sunday, October 26 - 28, 2018, 4 p.m. to 6 p.m. Dress up in your spookiest, kookiest Halloween costume then head on down to Fun Quest for some ghoulish giggles and ghastly games. Prizes for best Halloween costumes and safe trick-or-treating space.
Daily until October 31, 2018. Get in the carnival spirit at Fun Quest's all-new Midway. Buy $10 in Midway credits and receive $20 worth of play.
Fridays nights in October, 2018, 6 p.m. to 8 p.m. At Grand Adventure Land, strap in for Halloween-themed Fear Flights on Ultimate Rush (weather permitting). $15 per flyer. Must be at least 42" in height to fly.
Howl-O-Ween - Safe Trick or Treating at Nevada Humane Society
Wednesday, October 31, 2018. Bring the family to Nevada Humane Society from 4 p.m. to 6:30 p.m. for safe trick or treating with lots of free treats for kids in costume. With spooky music and décor, the whole family will have fun visiting with pets and people in Halloween costumes. You can even adopt a four-legged goblin. It's safe fun for the whole family and a great way to celebrate Halloween with homeless pets. You can also get involved by donating Halloween candy - individually wrapped candy is preferred. Tax-deductible donations may be made during regular pet adoption hours leading up to Halloween. Trick-or-treating will be at both Nevada Humane Society locations - 2825 Longley Lane in Reno and 549 Airport Road in Carson City. For more details, contact Nevada Humane Society at (775) 856-2000.
Free Trick-or-Treating at Reno Town Mall
Wednesday, October 31, 2018. Bring the kids to Reno Town Mall for safe and free trick or treating from 3 p.m. to 6 p.m. The Reno Town Mall is located at 4001 S. Virginia Street, across from the Reno-Sparks Convention Center.
Halloween Movie Marathon at the Washoe County Library
Monday, October 1, 2018. Come to the Sparks Library for this series of family-friendly spooky movies.
"The Nightmare Before Christmas" - 11 a.m. to 12:30 p.m.
"Hocus Pocus" - 1 p.m. to 2:30 p.m.
"E.T. The Extra-Terrestrial" - 3 p.m. to 5 p.m.
Halloween Storytime and Trick or Treating Fun with the Washoe County Library
Wednesday, October 31, 2018. Halloween Story Time and special holiday-themed craft at the Sparks Library. Includes stories, songs, and trick or treating in the library. Be sure to wear your costume. 10:15 a.m. to 12 noon.
Wednesday, October 31, 2018. From 3 p.m. to 5 p.m. Northwest Reno Library will be having a Trick or Treat Parade. There will be games and treats and lots of fun.
Wednesday, October 31, 2018. All day. Wear your costume and trick or treat at the Spanish Springs Library.
Wednesday, October 31, 2018. Don your cutest or scariest costume and join us for some trick or treating fun around the North Hills Shopping Center. 5:30 p.m. to 7 p.m. Sponsored by North Valleys Library.
Wednesday, October 31, 2018. Come to the Verdi Community Library and Nature Center for Halloween stories and an erupting pumpkin experiment. 2:30 p.m. to 4 p.m.
Wednesday, October 31, 2018. Come help us add to our Day of the Dead altar from October 25 - November 2. Feel free to bring a copy of a photo of a departed loved one to add to the altar during the week. Make a craft stick photo frame, papel picado (Mexican paper art), and crepe paper marigolds, too. At Duncan/Traner Community Library, Sierra View Library, and Northwest Reno Library.
Trunk or Treat at Double Diamond Park
Wednesday, October 31, 2018. This free Halloween event will be from 7 p.m. to 8:30 p.m. The park is on Steamboat Parkway, east of Veterans Parkway in south Reno. Sponsored by Hope Community.
Goblin Halloween Parade and Safe Trick-or-Treat in Virginia City
Wednesday, October 31, 2018. The Goblin Parade is for kids to show off their costumes and have fun during Hauntober in Virginia City. The parade starts at 5 p.m. (sign-up starting at 4 p.m.) and is just one of many Halloween events in one of three of the most haunted towns in the United States. Free trick-or-treating after the parade with partiipating merchants along C Street.
More Halloween Activities