Food trucks (and trailers) and food truck events have both quickly grown in number in the Reno and Sparks area. There are several regularly scheduled food truck gatherings listed below, but you will also find these mobile eateries at other events and locations all around the Truckee Meadows. All events are free to attend, but you'll need money for food and drink.
Reno and Sparks food trucks are not the old roach coaches of yore. These food trucks offer a wide variety of high quality dishes, from various Oriental flavors to BBQ, baked goods, sandwiches, fish, pizza, beer, ice cream, vegan, and more. Besides getting some great food, you will be supporting local business instead of some out-of-area corporation.
Reno Street Food - Party in the Park
Come to Reno's Idlewild Park for an evening of fun, music, and lots of good things to eat and drink from Reno's fleet of food trucks, plus available beer and wine. It's free to come enjoy the park every Friday from 5 p.m. to 9 p.m., but the food and drink are for sale. Dates in 2016 are Fridays from May 20 through September 30. For more information, call (775) 825-2665.
Feed the Camel
Feed the Camel is a food truck event and arts bazaar. The first 2016 event is on Wednesday, June 1. It will be every Wednesday through September 28. The location is under the Keystone Bridge at the McKinley Arts and Culture Center, 925 Riverside Drive in Reno. Hours will be from 5 p.m. to 8 p.m. Enjoy a family evening with the area's best food trucks, local crafters and artisans, and beer and wine. The event's name is a play on Wednesday being Hump Day in the world of work. For more information, call (775) 450-0062.
Moana Food Truck Round Up
The Moana Food Truck Roundup will consist of Reno / Sparks mobile kitchens, including Fatburger, Battleborn, Still Rollin, Schmee's, Schnitzel, All Wrapped Up, Tap Wagon, Bibo Freddo, Java Ship, Slater's Ding a Wing and many more. There will be plenty of parking, family-friendly activities such as Level Up Curbside Gaming, comfortable outside seating and live music. The Moana Food Truck Roundup starts on April 28, 2016 and will continue every Thursday through early September. Hours are 5 p.m. to 9 p.m. The event is in the parking lot of Rounds Bakery, 294 E. Moana Lane in Reno.
South Reno Food Truck Fest
South Reno Food Truck Fest is the only regular food truck event during the winter months. It is held on the last Friday of the month from November through April at the Damonte Family Event Center at Sage Hill, 7370 Desert Way in south Reno. There is free musical entertainment, a bar for the adults, and inside seating for when it's nippy. The time is 5 p.m. to 9 p.m. The last 2016 fest will be on April 29.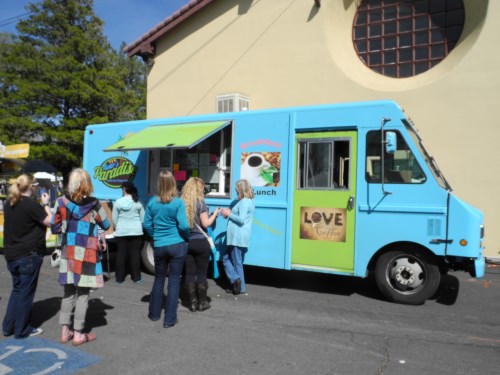 Food trucks at Reno Earth Day. Photo © Stan White